4-star WR Adam Hopkins recaps what he liked from watching FSU practice
Even with Florida State's spring football practice getting back under way on Tuesday after spring break, the Seminoles' staff still had a strong focus on recruiting.
FSU hosted several important prospects on Tuesday, including Rivals250 wideout Adam Hopkins, who arrived with the rest of his Thomas County Central (Ga.) team.
A longtime key target at the wide receiver spot for the 'Noles, Hopkins broke down the visit, what he saw during the Seminoles' return to the practice fields, and where FSU stands in his recruitment.
"Like I've been coming here, like it's family," Hopkins said. "I have been watching everybody play and everything, see how things go."
*** Don't miss our exclusive FSU football and recruiting coverage. 30-day Free Trial ***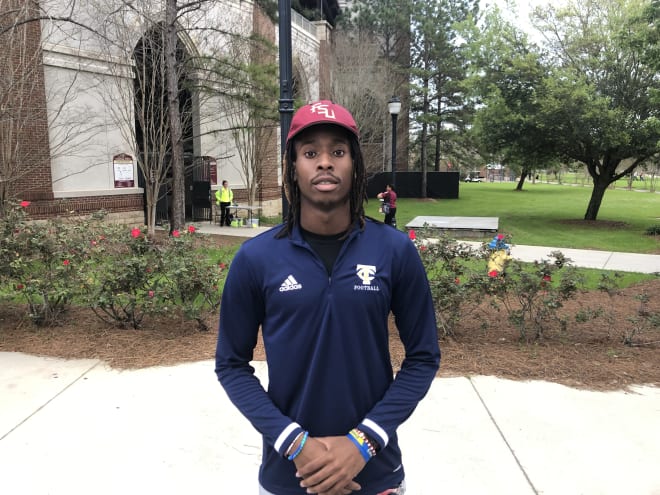 With a fast pace being a staple of FSU head coach Mike Norvell's practices, Hopkins seemed to be impressed.
"I like how the pace is different from high school," the four-star wideout said. "Seeing how it is in college, how you have to set your standard and show your work ethic."
A rising senior, Hopkins was able to get a glimpse of what football will be like at the next level.
"Things were moving fast out there. In high school, you have your little time. But here ... you have to move rapidly," Hopkins said. "The more fast you play, the more the defense can't contain it."
Hopkins mentioned his main contacts at FSU being receivers coach Ron Dugans and defensive backs coach Marcus Woodson. He even said FSU is recruiting him at both wideout and defensive back.
"They told me I can be like a gift. Just play both," Hopkins said. "Basically, whatever I can do to help the team, I can just do everything I can do for them."
Of course, once practice kicked off, Hopkins focused a keen eye on the Seminoles' receivers in particular.
"For me, I was just really watching the releases, because that's something I am trying to work on myself," he said. "Me seeing them do all the moves and stuff, I can see how they get out their routes. How I can try to practice on it and see how I do it."
While he has been visited FSU many times, Hopkins said this was his first chance to see any college football team practice.
"Never. I have never been or seen another team practice," he said. "This is the only time I've been, or watched an actual practice."
Before and after the practice, Hopkins also had the chance to meet up with the FSU staff.
When asked where the Seminoles stand with him, he said the 'Noles are in a "good" spot. But even though he was sporting an FSU hat, the Thomasville, Ga., product added that he doesn't currently have a leader in his college decision.
"Nah, everybody is neutral. The same. Keep it balanced," Hopkins said. "I try to talk to everybody."
As a local prospect, does Hopkins have plans to visit FSU again soon?
"I have no idea yet. But I know for sure I am going to come back," he said. "It's only like 30 minutes away, so for sure I am going to come back."
Now that he has seen an FSU practice in person, Hopkins said he has a great idea of how the player-coach relationship plays out on the field in Tallahassee.
"It's good to watch all that. I can see how, if I come here, how it will be. The relationships with the coaches and stuff," he said. "It's basically just like that, in a good way."