A quick exit for Seminoles in ACC Tournament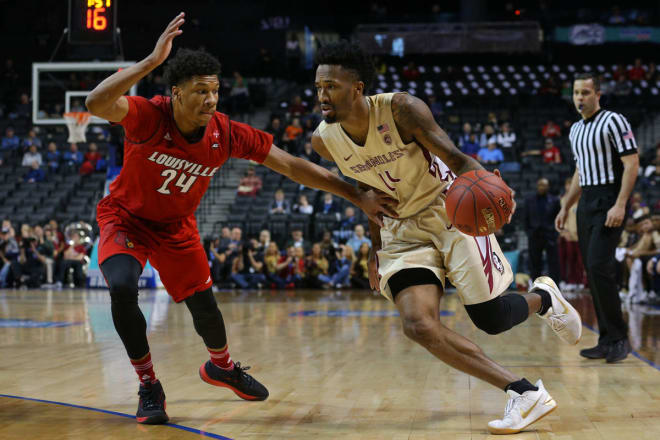 Louisville 82, Florida State 74
One team played like it already had an NCAA Tournament bid wrapped up.

The other played like its season was on the line.
At least for the first 25 minutes.
The Louisville Cardinals, who desperately needed a win to keep their NCAA Tournament hopes alive, withstood a furious Florida State rally in the final 10 minutes to beat the Seminoles 82-74 on the second day of the ACC Tournament in Brooklyn.
Louisville was up by as many as 26 in the second half, but fueled by Trent Forrest (14 points, six assists, five rebounds) and Phil Cofer the Seminoles cut the deficit to eight with three minutes still to play. But they couldn't get any closer until a dunk by Mfiondu Kabengele cut the lead to six with 15 seconds left. By then it was too late and the ACC Tournament was over for Florida State.
The Seminoles played with little energy on defense and absolutely no execution on offense, collapsing in the final 12 minutes of the first half.
Louisville went on a 27-5 run to close out the half - FSU went the final five minutes without a point - and the Cardinals went into the locker room with a 19-point lead after making a 3-pointer at the buzzer.
Two straight Terance Mann turnovers led to runouts on the other end early on in the second half and the Cardinals built the advantage to as much as 26.
But P.J. Savoy made two straight 3's. Phil Cofer made three straight. And Mfiondu Kabengele added 10 points and six rebounds as the Seminoles stormed back in the second half.
Florida State shot 61 percent from the floor in the second half and scored 52 points. The abysmal first half was just too much to overcome, though, as the Cardinals advanced to play No. 1 Virginia in the quarterfinals on Thursday.
Florida State was thought to be comfortably in the Tournament before the game started - a 9 seed in both the ESPN and CBS brackets. Louisville was on the outside looking in.
Now the Cardinals are assumed to be on the right side of the bubble after the dominant win on Wednesday.
And as awful a showing as FSU had for much of the day, it's still considered to be a lock by most bracket analysts.
-----------------------------------------
Talk about this story with other FSU fans on the Seminole Hoops Message Board.