After 5-7 season, FSU prez Thrasher expects changes to Taggart's staff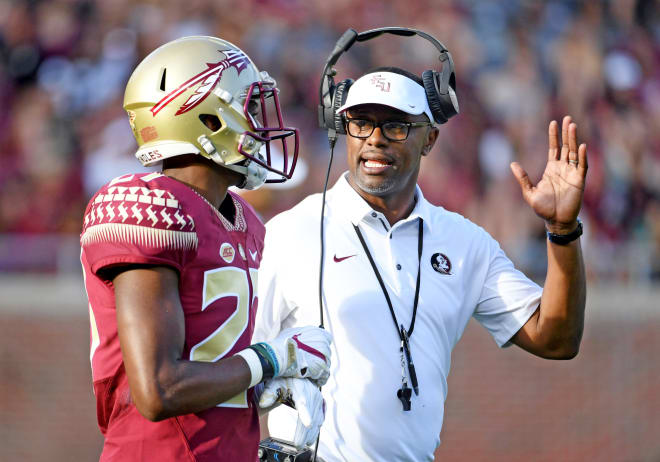 Year Two of the Willie Taggart era at Florida State is going to have a different look than Year One.
Florida State University President John Thrasher, in a sit-down interview with Warchant.com, confirmed on Wednesday that Taggart's coaching staff is expected to be reshaped following a 5-7 season in 2018.
Thrasher did not offer specifics on any changes, but he said the university will step up to make sure that Taggart can surround himself with a high-quality staff.
"In my view, there will probably be some assistant coaches -- a couple, I don't know how many -- but I think there's maybe a couple that may go other places," Thrasher said. "So we're going to have to fill those, and we'll be judicious about that and supportive. I'm gonna make sure he gets the resources he needs to hire -- if he has to hire some others -- the best and the brightest that he has to get."
Thrasher said he hesitated to make any public comments about Florida State's disappointing season while there were still games to be played. But four days after the Seminoles saw their year end with a 41-14 blowout at the hands of rival Florida, he explained that he thought there were several factors that hampered the head coach's inaugural campaign.
For starters, he pointed out that Taggart had to piece together a coaching staff in short order last December, while also working to salvage a recruiting class that had been largely neglected by former head coach Jimbo Fisher.
"I think any time you bring in new folks, there's going to be some chemistry issues and things like that until you get the right mix," Thrasher said. "And I think that's what Willie's still going to be working on."
Along with that issue and a very challenging schedule, Thrasher added that there were obvious shortcomings on the roster Taggart inherited.
"They're good kids and motivated," Thrasher said. "But clearly, it showed that recruiting, over the last few years, had not been at a high enough level in certain areas."
*ALSO SEE: The 3-2-1: What comes next for Willie Taggart and FSU Football?
Thrasher said he and interim athletics director David Coburn have both talked with Taggart about his plans for making improvements in 2019, and he said the head coach is already pursuing those objectives by holding individual meetings with players and assistant coaches.
After visiting practices once each week this season -- the way he has throughout his tenure as university president -- Thrasher believes there are three priorities that are likely the most urgent.
There needs to be continued improvement in the strength program, the talent on the roster needs to improve, and the offensive system needs to be implemented properly,
"Those are the fundamental things I think he's got to work on," Thrasher said.
Although he is disappointed that the 2018 team failed to win six games and snapped two very important streaks -- the 41 seasons with a winning record and 36 consecutive bowl appearances -- Thrasher did say that he wasn't necessarily expecting Taggart to hit the ground running with a big first season.
"We knew what we were up against," he said. "And I remind everybody, too, you know when Jimbo left last year, he was 5-6. And we basically kept the same team with a few different players.
"You hope for improvement, but here's the other thing -- our schedule. You look at our schedule -- three teams in the top 10 that we had to play. I think our schedule was a big part of it."
It wasn't all of it, however.
The Seminoles' offense was ineffective for most of the season, the defense fell apart late, and the special teams performed poorly across the board. On top of that, FSU was the most penalized team in the country.
"I know we need to make adjustments," Thrasher said. "But I'm confident -- I'm absolutely confident -- that Coach Taggart understands that too."
-------------------------
Talk about this story with other Florida State football fans in the Tribal Council