Another four-star LB commits to the Noles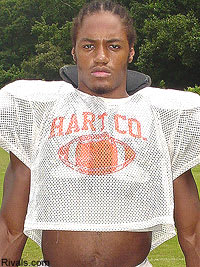 Florida State linebackers coach Kevin Steele should be a happy man right now. Late last week the Seminoles were without a single commitment from a prep linebacker but just a few days later FSU has two of the nation's best. Last Thursday South Carolina linebacker
Lawrence Timmons
gave FSU the nod on a local TV station, and on Sunday Hart County linebacker
Jae Thaxton
committed to the 'Noles over Georgia and LSU.
"He has committed," Thaxton's father Warren, told Warchant.com. Mr. Thaxton went on to read a prepared statement from his son:
"I did a lot of praying and a lot of thinking and the Spirit led me to Florida State."
With the addition of Timmons and Thaxton to the 2004 recruiting class, the Tribe now has commitments from a top ten outside linebacker (Timmons is ranked No. 5) and a top ten inside linebacker (Thaxton is ranked No. 8). That number could increase tomorrow as Rodney Gallon, the nation's No. 9 ranked outside linebacker, is scheduled to announce his decision Monday night on WCTV (CBS affiliate) in Tallahassee during the 6:00 p.m. newscast. In addition to those three, JUCO standout
Barry Wright
is already enrolled at FSU, and
Willie Williams
, the nation's No. 1 outside linebacker, is still a good possibility.
Thaxton, a first-team all-state linebacker, averaged nearly 20 tackles a game during his senior season, set the all-time tackle record for his school, and has well over 500 for his career.
Thaxton's father reports that Jae is fully qualified.