Who is Deondre Francois? And could he be FSU's next starting QB?
ORLANDO -- She had her first child at 14. Her second at 16. As a teenage mother, she knew she wanted more for her children despite being a child herself.

Janice Francois left Little Haiti, a neighborhood north of downtown Miami, for Orlando. It was in Central Florida's largest city where she raised her young and still growing family.

Being on a limited income meant making tough choices. She couldn't afford the exorbitant fees typically associated with youth sports. But for anyone who caught a glimpse of her son, they were willing to take care of the cost.
"I'm like, 'There's five of you and I cannot afford to be paying for this type of stuff,'" Janice recalls. "And from the first time he got on the field, his [fees via scholarship] were paid every year. I was like, 'Wow!' And they were like, 'Yeah, Miss Francois, we're going to go ahead and pay for his scholarship. You don't have to worry.'"

To this day, she is not paying anything other than attention. So is everybody else.
Her son is Florida State quarterback Deondre Francois. A four-star prospect in high school, he redshirted as a true freshman. Francois used his first year as an understudy to gain an intimate knowledge of Jimbo Fisher's offense, a scheme that has won national championships while sending numerous players into the NFL.
After a 10-3 season mired by offensive inconsistencies, the 2016 campaign is building toward one of national title expectations. FSU returns its entire offense, including one of the nation's top offensive linemen in junior Roderick Johnson and star junior tailback Dalvin Cook, a Heisman Trophy candidate.
There is one caveat. Redshirt senior Sean Maguire also returns.

Maguire is proven, whereas Francois could go from a player with untapped potential to being the piece who puts the Seminoles into serious contention. At 6-foot-1 and 214 pounds, his arm could be the strongest on the roster. His athleticism provides much-needed mobility for a team still working through its offensive line issues.
Francois, a redshirt freshman, will be on the clock starting Wednesday when FSU opens spring practice. Maguire will miss all of spring with an ankle injury sustained in FSU's 38-24 loss to Houston in the Peach Bowl. While Francois is not the only other quarterback on the roster -- he will compete this spring with redshirt sophomore J.J. Cosentino and freshman Malik Henry -- he is the one with the greatest odds of challenging and possibly replacing Maguire when fall camp begins in August.

And if he can do all that, some around the program believe he could lead the Seminoles to their fourth national championship.

"Deondre goes after what he wants," Janice Francois said. "He's a very unique type of boy. Whatever his mind is set on, his mind is set on. I learned that with him when I came to Orlando."

'The little, bad redhead boy'
"Who is Deondre Francois?" is a singular question eliciting several answers.
Janice starts at the beginning. She says her son's personality tends to leave an indelible mark. She's frequently approached by Deondre's old classmates and teachers wondering how he's doing.
"I'll walk into the store and people will ask, 'Where's the little redhead boy?'" she says. "'The little, bad redhead boy.' He leaves memories everywhere he goes."
A third child was on the way, and Janice was still potty-training Deondre.
She recalls how she worked tirelessly with him to stop using diapers. Janice says she was getting nowhere until she came home from the hospital one day with her new baby.

"He sees the baby and he yanks the diaper off," Janice recalls. "He said, 'No more diapers for me. This is for the baby.' And I'm like, 'Really Deondre? All this time I'm trying to potty train you?' And as soon as he sees the baby, he just knew it was over."
By the time Janice was 22, she had five children. The pressure was becoming so great she sent Deondre and his sister, Rochealle, to South Florida to live with her mother, Rosemary, for a few years.
Janice had two brothers -- Pat and Josh Julmiste -- who were about to leave home to play college football at the University of South Florida. Pat was a quarterback and Josh played defensive line.

Hanging around with his uncles is how Deondre got into football, and more specifically, it's how he became a quarterback.
"When he got back [to Orlando], he just knew that was what he wanted to do," Janice said. "My brother would throw with him all the time, and when he came back, he was just so into playing ball."
Janice and the rest of the family soon learned how serious Deondre was about following through on his instincts.
At the time, the family lived in a rough part of Orlando. Deondre would get into fights at school, and he felt like he was constantly being picked on. He told his mom they had to move somewhere better.
That way, the family could be safer and have more positive influences than negatives.
"He was always different," Janice said. "As he got older, I told him he was different, but he didn't know that he was different. That's why he would get into all of the fights. Because he was always different, with the red hair and the freckles and orange skin. He always stood out."
'Felt good about what we were getting'
A number of coaches came to Francois' home and pleaded with Janice to convince her son to play for their program. And these weren't college coaches. They were from a youth league.
Deondre was entering his freshman year at Olympia High in Orlando. He could either play one more year of youth football or go play in high school. He opted for high school.
Deondre started as a sophomore at Olympia, where he threw for 1,789 yards and 10 touchdowns while completing 58 percent of his passes. His junior year was not as successful.

His first coach at Olympia left to coach at Winter Garden-West Orange. With a new coach, Deondre threw for 1,373 yards, 18 touchdowns and only completed 48 percent of his passes.
Soon, more coaches would come to the house -- as in high school coaches trying to get Deondre to join their programs.

Janice said losing his first high school coach left her son in tears. But from that came the chance for him to transfer to IMG Academy for his senior season.
"We played against him in his junior year, which was the first year of our program," said former IMG Academy Coach Chris Weinke. "Going into that game, he was the one we highlighted that we felt would obviously be a threat. That held true."
Deondre completed 14 of 24 passes for 135 yards and a touchdown in a 21-6 loss to IMG.
Initially, the thought of Deondre leaving Orlando for Bradenton, where IMG is located, didn't seem like a good idea.
Janice remembers being a little on edge at first. The idea of sending away her 16-year-old son was not appealing. But after hearing what IMG could provide her son in terms of coaching, exposure and opportunities, she encouraged him to leave and live at the school's Bradenton campus.
"At first, he didn't even want to leave for IMG because he didn't want to leave us," said Hardson Francois, Deondre's 17-year-old brother. "Then he had to make sure it was OK with my mom."
Once Deondre got his mother's blessing, he was on his way.
"We felt very good about what we were getting early on," Weinke said. "He continued to improve as we went through the process."
Weinke, who won FSU's second Heisman Trophy in 2000, said Francois had "God-given ability," but there were still adjustments. At Olympia, he ran a spread offense. He would have to learn a pro-style offense at IMG.
Weinke said Francois clearly "wanted to learn." He also said Francois picked things up at a quick pace.
Francois' senior year was successful. He threw for 1,488 yards, 18 touchdowns and four interceptions. He also had 281 rushing yards and averaged 6.1 yards over 46 carries. At Olympia, he averaged 1.1 yards over 110 carries.
"He was a joy to work with and he was a leader from Day 1," Weinke said. "Although he wasn't a big vocal leader, he never stopped working."
This led to numerous schools coming after Deondre. Scholarship offers flowed from practically every school with national title aspirations. He was rated by Rivals as the No. 1 dual-threat quarterback in the nation and the No. 39 player in America.

His recruitment was intense, and it ultimately came down to Florida and Florida State.
Deondre kept everyone, including his mother, guessing as to what school he would select.
If it were up to his brothers, he would be going to FSU with no questions asked. Kenson, 13, said he "always loved" FSU, and the Seminoles were his favorite team. Hardson liked FSU so much he actually wore a Seminoles sweatshirt when Florida came for an in-home visit with his brother.
Janice was also big on FSU, but for a different reason. Or reasons.
Part of it had to do with wanting her son to make a decision. She said recruiting "drove me nuts" because of the constant phone calls from coaches.

"You know what made me like FSU out of all the schools? FSU was forward," Janice said. "They didn't try to cut any corners. They came directly to who they needed to go to, whereas a lot of schools were cutting corners and talking to people they didn't need to speak to instead of coming directly to me.
"FSU came directly to me. That's what I liked about FSU. Jimbo came directly to me. It was the way they did it. It was like they were not trying to play games or talk to this person or that person. They came directly to me. 'Who is the mom? Who is the parent of this boy?' That's what I liked about FSU."
And on July 31, 2014, Deondre held a commitment ceremony that featured a bit of drama.

FSU, on the same day, received a pledge from quarterback Kai Locksley. Between Deondre, Locksley and De'Andre Johnson, the Seminoles would have three commits at the same position.

Many people attended Deondre's ceremony, including future FSU teammates Nyqwan Murray, Jacques Patrick and Kermit Whitfield, who all played youth football together at some point.
Deondre chose FSU.

"I knew that he wanted to go to FSU," Janice said. "Deondre plays a lot. He was like, 'Oh you love FSU and you want me to go to FSU,' and I was like, 'Hey, it's your college career and wherever you want to go, you go.' But I just knew he wanted to go to FSU."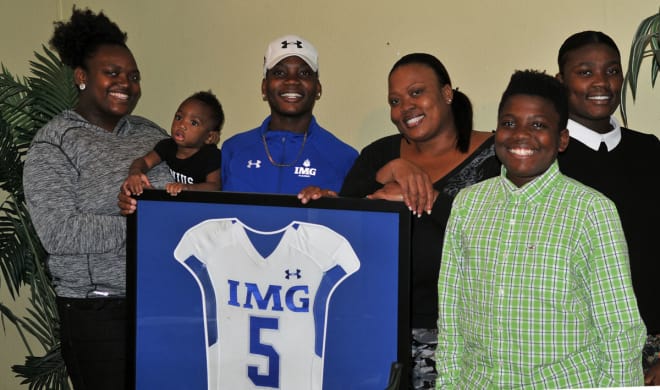 'I don't want you to see me on the bench'
Where there was once a painting of Jesus, Deondre's IMG jersey now rests inside a black-trimmed picture frame. It's the most prominent feature inside the Francois' home.
Deondre took the Jesus painting among other items when he left for college. He wanted to take his framed jersey, but Janice said she had to hold onto something.
Comforts of home surrounded Francois during his freshman year. Thought to be one of three freshmen quarterbacks at FSU, he entered the season as the only one. Locksley decommitted and signed with Texas, while Johnson was dismissed for striking a woman in a Tallahassee nightclub in July.
FSU entered the 2015 season with five quarterbacks on its roster. While Maguire and graduate transfer Everett Golson battled for the starting spot, Deondre's job was to prepare the defense by running the scout-team offense.
"Playing on the scout team really helped me because I was going against the first-team defense every day," Deondre told Warchant after the Peach Bowl. "So by that, it would help my anticipation and my scrambling skills and working on people running at me."
His performances drew rave reviews from Fisher and teammates.
Deondre and Janice spoke twice a day and texted constantly. They would talk about how he was handling the transition from highly recruited phenom to being No. 12 on the Seminoles' roster.
Janice wanted to come up for a game, but her son discouraged it. "I don't want you to see me on the bench," Deondre told her.
In December, FSU sent its players home so they could spend time with family for the holidays before coming back to prepare for the Peach Bowl.
"They told him just rest for Christmas break," Hardson said. "He would still work out. He would go ask me to work out. He'd get a bunch of weights. He'd go to the pool and work out in the pool. Even when they told him to rest, he'd be up at 5 in the morning just right here at this table looking at plays.
"He would take out his playbook and look at all his plays. He would keep saying the play over and over in his head. He'd even come call me to come say a play out, and he'd have to tell me what play it is."
Hardson said Deondre "barely even got sleep" when he was home. He spent most of his time working out.

FSU held a team banquet at the end of the season, and it gave Janice a chance to speak with the coaching staff. She was surprised by a conversation with offensive coordinator Randy Sanders. He told her how hard the coaching staff was pushing Deondre on a daily basis.
This was news to her. Deondre never mentioned it.
"I told Deondre, you're among the best of the best," Janice recalled. "All of the guys that are there are the best at what they do. Anything you do to be better, you have to go through training. And at the end, he realizes this is what he needed."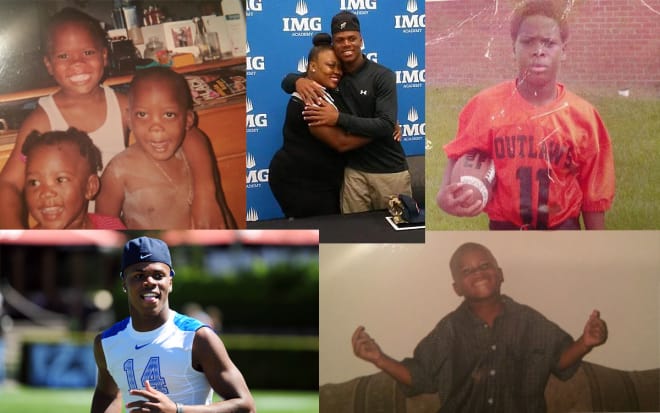 'You like to be around him'
There was a year when Janice lost her job right before Christmas. She could not afford gifts for her children. Deondre did something about it.
He got his brothers and sisters together a few days before Janice sent them to South Florida to spend Christmas with their grandmother. They knew their mother loved to see them dance, and they worked tirelessly on a dance routine so Janice could have a Christmas gift.

"They had me rolling when they started dancing," Janice said. "Everyone had their own skit. That was my Christmas gift before they left for Miami."

Somewhere between goofy and serious is how family members best describe Deondre. They know he likes to play around, but only when time allows for it.
He tells his younger brothers to be careful with who they hang around with. Hardson and Kenson both recite how Deondre has told them to stay away from crime, drugs and people who do not care about them.
Hardson recalled how his brother would stop fights between younger kids in the neighborhood.
"You like to be around him," said Destiny, Deondre's 15-year-old sister. "He's funny. He'll make you feel like you want to hang around him. At the same time, he's like, 'Don't play that.' He'll be up front with you about a situation if it comes down to it."
Except for when he got his first tattoo.

Janice said she grew frustrated one day when she had a conversation with Deondre's father, who was trying to get back into his life.
She was so upset that she told Deondre, "Don't talk to me. I'm not talking to you, and go do what you want to do."
Deondre left. Then he came home and knocked on his mother's door. He asked if she was still mad.
Janice said she was.
"He said, 'Why are you being mad at me Mommy? You know I love you. You see what I did for you?'" Janice said while mimicking a voice of a saddened, young boy.

She then returned with a normal voice and a bit of a sly tone when she said, "That was a nice way of sliding that tattoo in."
Deondre had gotten a tattoo of his mother's name on his neck.
Janice wasn't happy about the tattoo, but she appreciated the gesture.
That was only the first. Rochealle said her brother's tattoos all have meaning. The rose on his neck is for their grandmother, Rosemary, and Janice's middle name is also Rose.
Rochealle said her favorite Deondre tattoo is a five-sided diamond. It represents all five of the brothers and sisters.
Every member of the Francois family, except Kenson, has learned the downside to having a somewhat famous brother. They've had weird encounters with random people.
Both Destiny and Rochealle have met girls who have called them "Sis" because they claim they're going to marry Deondre one day. Janice has met women who've tried to pair her son with their daughters.
But Hardson said Deondre is particular about the girls he chooses to spend time with.
"If there's a guy he knows who has talked to a girl he likes, he won't talk to her," Hardson said. "Deondre wants to be with a girl who he respects and has respect for herself."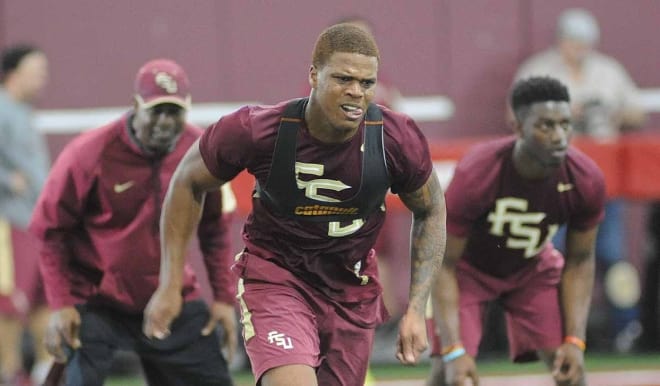 'May the best person win'
With spring drills scheduled to open this week, Janice can see why her son should start for FSU. She also can make an argument for why Maguire should be the starter.
"I know with the Sean Maguire thing, everyone feels like he stuck it out and he's been there a long time," Janice said. "But I feel like, let the best man win. If Deondre goes out there and shows them he can do the job, then he should have the position. If Sean goes out there and does the job, then he should have the position.
"Either way it goes, when it's Deondre's time to go out there and do the job, Deondre's going to go out there and do the job."
Spring practice could serve as the perfect platform for Deondre's bid to become FSU's next starting quarterback.
With Maguire out, he will take many of the first-team snaps. He will have to show he understands Fisher's offense, and he also will have to continue gaining the trust of his teammates.
"I felt like my mindset and my approach was going out there and outwork everybody," Weinke said, reflecting on his days at FSU. "That's when you gain respect from your teammates and start to build a foundation to be the quarterback at Florida State.
"My spring and summer were spent outside throwing to receivers, and we spent that time together throughout the course of the offseason because we wanted to hit the ground running when fall came."
Weinke said offseason preparation can be more important, at times, than how a quarterback prepares during the season.
Deondre showed Weinke he could do the work as a high school student. At Olympia, he played out of the shotgun. When he came to IMG, he had to learn how to operate the offense from under center.
Given what he's learned in one year at FSU, there's a belief Deondre's mobility and strong arm could provide attributes the Seminoles were missing in 2015.
"I would say I would not disagree that he has a strong arm," Weinke said. "What I think really separates him is his ability to get the ball so quickly out of his hand and the revolutions he has on a football. A guy throwing a tight spiral, it's going to look like he has a stronger arm, a quicker release. And putting more revolutions on the football bodes very well for him.
"There's not a throw this kid can't make."
Weinke made it a point to not play favorites when he was at IMG. But when Francois committed to his alma mater, the relationship strengthened.
If anyone could understand what Deondre was walking into, it was Weinke.
Playing quarterback at FSU is far from a low-pressure job. The three Heisman Trophy winners at the school were all quarterbacks -- Charlie Ward, Weinke and Jameis Winston.
All three of those quarterbacks also won national championships.
* MORE ON THIS STORY: Additional insights from Chris Weinke and others in reporter Ryan Clark's "Warchant Extra" post on the Tribal Council
Since 2000, FSU and Southern Cal are the only schools to have three quarterbacks taken in the first round of the NFL Draft.
"I shared with him knowing and understanding the expectation level," Weinke said. "It's knowing you have to earn everything you get. It's knowing this is a pressure-filled situation. You're maybe more in a fishbowl in Tallahassee when you are the quarterback of Florida State.
"We never had any major 'State of the Union' sit-downs, but over the course of time we did talk about what it takes to be successful at that level. He was a sponge ... I think that helped him prepare for that transition and have no doubt Deondre Francois can lead Florida State and do it at a very high level."
---------------------------------------------
Talk about Florida State football with thousands of Seminole fans on the Tribal Council