Bacon, Beasley lead FSU to 84-74 win over Davidson to open NIT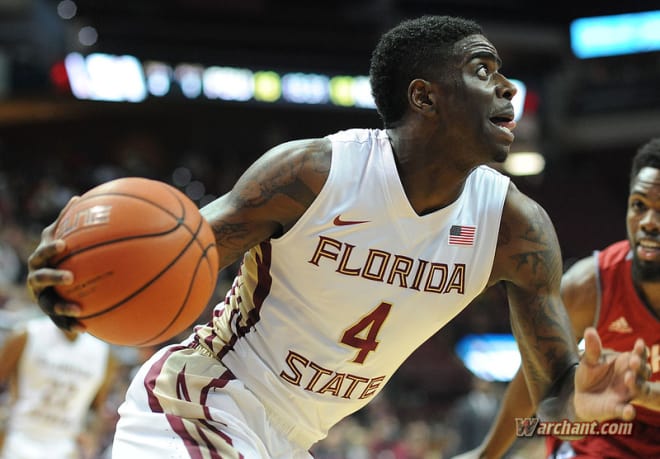 BOX SCORE: Florida State 84, Davidson 74
Madison. Square. Garden. This is the pace at how Dwayne Bacon describes what is commonly billed as "The World's Most Famous Arena."
His pitch and the emphasis of how he says those three words are spoken by someone in awe of an arena that's part of the lexicon of American sports.

"I told them that there's nothing like it," Bacon said. "Yeah, it's the NIT and yeah, the tournament could be somewhere else. But it's still at Madison Square Garden. Madison Square Garden might be better than the gyms they're playing in the NCAA Tournament.
"It's so much ... it's big time. You want to be on that stage."
Bacon and Florida State (20-13) took the first step in getting there with an 84-74 victory over Davidson on Tuesday in the first round of the NIT at the Civic Center.
Early on, there were struggles. FSU shot 37.5 percent from the floor and only made one of seven 3-pointers in the first half for 14.3 percent.
It wasn't such a strong start for Bacon and his freshman running mate Malik Beasley either. They combined for nine points.
Davidson (20-13) at one point missed eight in a row. Over the last 14 minutes and 44 seconds of the half, the Wildcats only made four of their 21 shots.
"Watching the films in our preparation, we knew they were a very good shooting team," said Seminoles coach Leonard Hamilton. "And I thought our guys did a very good job in the first half of just forcing them to have consistent ball reversals and not give them anything easy."
FSU built a little bit of a cushion in the second half. But with the Seminoles ahead 41-32 with 14:19 left, Davidson began making a run. The Wildcats drilled six consecutive shots and reduced the lead to 47-46 with exactly 11 minutes remaining.
Then Bacon and Beasley made their mark.
As they've done all season, the freshman tandem could go from run of the mill one minute to virtuoso the next.
Beasley responded with a jumper to push the lead out to 49-46 with 10:49 remaining, and the Seminoles then made seven of their next eight. They also had a stretch of six shots in a row.
Even as Davidson cut the lead to single digits, Bacon and Beasley closed out by combining to score nine points with 2:35 left. Then, the Wildcats were forced to foul and send Bacon and Beasley to the line.

Beasley, who finished with 21 points, went 4 of 4 on free throws in the half. Bacon, a 71 percent free-throw shooter, went 9 of 10 from the line and led everyone with a game-high 23 points.
"I think defense helped us again to get out in transition," Beasley said. "We had good dribble-drive. Bacon had a lot of easy buckets in the paint. I was offensive rebounding, so a lot of little things helped us get easy buckets."
So how was the win celebrated? By watching more basketball.
Not like going to a restaurant, eating wings and checking out a game. But as in the entire basketball team went to one player's apartment and watched Texas Southern vs. Valparaiso.
Valpo, a No. 1 seed, beat Texas Southern to set up a 7 p.m. Thursday game at the Athletics-Recreation Center in Valparaiso, a city in northwestern Indiana.
"I think it is more of a team-building thing and getting a feel for how that team plays and the tendencies they have," said senior guard Devon Bookert.
Bookert said he expects the week to go by fast but for everyone on the team to have urgency.
Hamilton showed it when he stopped taking questions after seven minutes and headed to his office. The lights of his third-floor office were on as the last few cars were leaving the Civic Center parking lot.
Valpo's win didn't come until 11:15 p.m, a little more than two hours after FSU finished.
"The whole staff, the managers, the G.A., all of them, work really hard," Bookert said. "Like really, really hard. They stay up really late looking over game film and seeing the tendencies of the team that we play next and charting the stuff that we do to get us better. They work extremely hard."
Bacon said it is normal for the team to hang out after games, but catching a game of a future opponent for planning purposes is different.
Getting to The Garden for the NIT Final Four would bring Bacon full circle.
His last game for Oak Hill Academy, the famed basketball power in Mouth of Wilson, Va., was at Madison Sqaure Garden last spring. Oak Hill played Monteverde Academy (Fla.) in the finals of the DICK'S Sporting Goods High School National Tournament.
Oak Hill lost the game, but the memories are still fresh for Bacon.
"The same momentum and intensity we had tonight, just keep that going," Bacon said. "If we keep this going, we'll be unstoppable. We can get all the way to Madison Square Garden and get a NIT ring."

-------------------------------
Talk about this story and other items related to FSU Basketball on our Seminole Hoops message board.