Barron: No steps taken towards conference alignment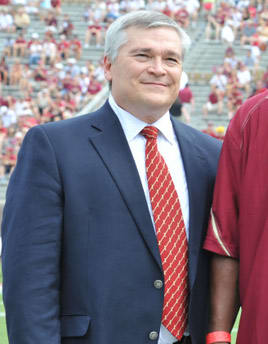 SARASOTA - In the face of rampant speculation about Florida State and its conference alignment, FSU President Eric Barron said that no steps were taken towards making any decision on conference issues following two days of FSU Board of Trustees meetings at the Ringling Museum in Sarasota.
Barron broached the topic of realignment during the workshop portion of the BOT meeting on Thursday afternoon, authoring a two-page handout that listed seven bullet points of conference discussion including academic success, fan support, cost factors, conference payout and the future of the BCS. On Friday, Barron classified it as a "briefing on the apples and oranges and all of the different factors" and was clear when saying that no substantive steps towards investigating conference realignment were taken. No power was given to Barron or the board to make a decision on the issue. Barron also maintained that there will be no fact-finding committee formed to look at the conference issue.
And when asked if there was anything to keep an eye on between now and August 15, when FSU would be required to notify the ACC it was leaving, Barron said "No".
"We are not seeking anything, we are not expecting anything, there are no conversations that are going on," Barron said. "But as my board chair (Allan Bense) said, all boards that are responsible would take any opportunity presented and study it. OK, that's not an invitation, that's just a statement of fact."
"President Barron was very thoughtful and deliberate and asked us to be very thoughtful and deliberate about what's going on in respect to conferences," Bense said Thursday. Bense took over as the BOT chairman on Friday following Andy Haggard's two-year term. "It was a good analysis, a lot of it is still a moving target but I think we need what President Barron said, just gather all of the facts and make sure that we are doing our due diligence and so on.
"I would assume all of us who are trustees are following this closely. I'm sure that President Barron is following it closely. So I think it is being given the proper attention. We'll see what happens."
Haggard told Warchant.com Thursday that the BOT "could" empower Barron to make conference decisions in the future, but there is no plan in place to do that currently. The next BOT meeting is on Sept. 6.
Barron has been reserved in any talk of FSU changing leagues since the speculation began with Haggard's comments regarding the ACC to Warchant last month. His last public comments on the matter came in the form of a memo that was sent to FSU fans and alumni outlining the benefits of the ACC compared to the Big 12 soon after Haggard's comments. His handout on Thursday was a balanced breakdown of the pro's and con's of both leagues.
"Basically this is the way to think about it: We have a happy existence. Like anybody else, we would like to have more money. We have a lot of opportunities for more money. And I said (during the workshop on Thursday), there are a lot of reasons why conference issues are in the news. More money is one of them. Another one, quite frankly, is sort of a feeding frenzy over this particular topic. It gets a lot of people's attentions and they have a lot of opinions. But of course any decision that you make is based on a whole host of things, including comparing apples to apples, not apples to oranges on what the resources are like."
Barron expressed his pleasure with the $1.6 million in additional revenue FSU received from the ACC earlier this month - which may have come from two teams earning BCS berths - calling it a "pleasant surprise." He said FSU only received about $300,000 to $400,000 in additional payout last season.
Barron stressed the importance and his personal feeling that any four-team playoff format should include conference champions. The breakdown of the playoff format has been considered by many as a turning point issue on whether the ACC would stay viable for Florida State as a football conference.
"My personal feeling is that a huge factor has to be conference champions (included in the BCS)," Barron said. "If you look at any kind of four-team playoff system for example, and you've got more conferences eligible than that, than winning a conference championship is not enough so you're going to have to look at strength of schedule or some other analysis by a committee or by polls or by something. But for my particular viewpoint, the most important factor here is that you have to be a conference champion. And that should be step one in my opinion."
Click
Here
to view this Link.