Big first half sends Florida State to 98-49 win over Southern Miss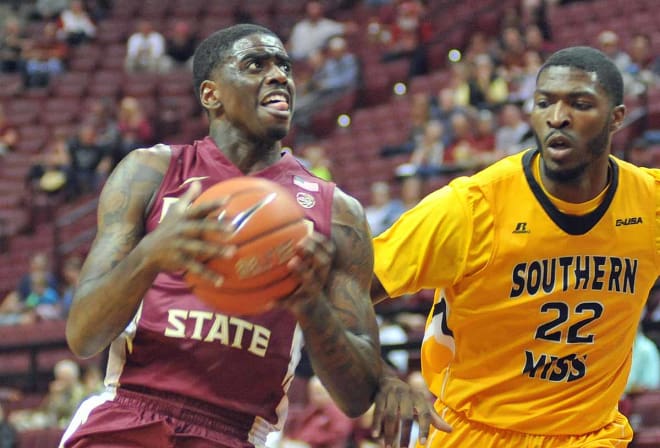 Box Score: FSU 98, Southern Miss 49
-----------------------------
On Tuesday, the Florida State men's basketball team was without rising star freshman forward Jonathan Isaac and venerable junior forward Phil Cofer.
It didn't matter. The Seminoles pieced together their best first half of the season. They parlayed a 22-point advantage and cruised to a 98-49 win over Southern Mississippi at the Tucker Center.
Cofer and Isaac were not expected to play. They reportedly were doubtful prior to the game and did not even dress during warm-ups.
Again, it didn't matter.
"I thought our guys once again gave us a tremendous amount of effort on the defensive end," Seminoles coach Leonard Hamilton said. "I thought the energy was good. But from a fundamentals standpoint, we still have a lot of areas where we need to improve."
FSU stormed to a 28-7 lead with 8:39 left. The Seminoles (8-1) opened with three straight 3-pointers -- one from Dwayne Bacon and two from power forward Jarquez Smith. A Terance Mann free throw made it 10-2 with 14:46 left.
By then, it became a barrage. The Seminoles were taking 3-pointers, mid-range shots and even easy drives inside to get points. It was the opposite for the Golden Eagles (3-4), who were 10 of 30 for 33.3 percent from the floor.
FSU's rotations were essentially wholesale line changes with Leonard Hamilton cycling out all five players. At one point, Hamilton went with a five-guard rotation with Mann, who is 6-foot-6, deployed at center.
"What we're trying to do is develop a [defensive] system which is consistent regardless of who's on the floor," Hamilton said about the different rotations. "That we all are executing our defensive fundamentals. Our system stays the same regardless of who is on the floor.
"That's probably been the most problematic thing for us as a staff, doing it with 25 to 30 different combination of guys for each game, but they seem to be adjusting."
FSU played 11 players, and they all logged more than 10 minutes.
Certain rotations were comprised of more experienced players like Bacon, Mann, Xavier Rathan-Mayes, Michael Ojo and Smith. Other lineups featured first-year players like Trent Forrest and C.J. Walker.
The moves led to the Seminoles shooting 60 percent from the floor, 48.3 percent from 3 and converting 12 of 13 free throws for 92.3 percent in the first half.

Players like Bacon, Mann and Smith did what was expected. Bacon would finish with 13 points while Mann and Smith scored 7 and 14, respectively. Freshmen like Forrest and Walker also contributed. Forrest only had four points but did pull down a game-high nine rebounds. Walker finished with nine points, five assists and three rebounds.
Guard P.J. Savoy, however, was the star of the evening.
Hamilton described Savoy earlier in the season as arguably the team's best 3-point shooter. He scored six points in FSU's 67-48 win over George Washington on Sunday.
A junior college transfer, the sophomore torched Southern Miss for a game-high 27 points on 8-of-11 shooting in an efficient 14 minutes. Savoy was 7 of 10 from beyond the arc.
"Obviously, P.J. is a guy who hasn't had an opportunity to show what he's capable of doing," Hamilton said. "We all knew he was a really good shooter. You all saw a little bit of what I was talking about."
* Also Read: Observations from FSU's blowout victory against Southern Miss
FSU's 22-point first-half margin was the largest halftime lead the Seminoles have had this season. The Seminoles would eventually push their lead to 36 points when they held a 77-41 edge with 8:01 left in the second half.
"You know, going into the game, I told Leonard and I told some of their coaches, I think I had one team when I was at Nebraska that Kansas came in and played the way I thought they would play," Golden Eagles coach Doc Sadler said. "I thought before the game this team could really, really give us all kinds of problems because they're so long and so athletic."
------------------------------------------
Talk about this story with other Florida State basketball fans in the Seminole Hoops Talk