Bowden: QB Jameis Winston Reminds me of RG3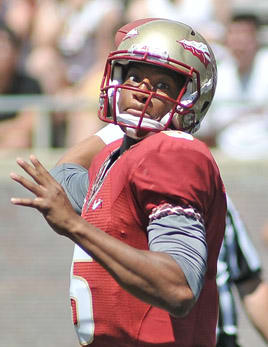 Before he's pierced the Doak Campbell Stadium air with a pass that counts, quarterback
Jameis Winston
has been labeled a future No. 1 overall draft pick. He's already tapped as a Heisman Trophy contender for 2013.
And yes, it's still May.
But you can add former FSU head coach Bobby Bowden to the growing list of lauders.
"This kid has got some talent," Bowden told Warchant.com on Tuesday. "Reminds me of RG3. (Winston) doesn't remind me of the kid at Texas A&M (Johnny Manziel), he reminds me of RG3."
That's high praise from the coaching icon and all-time FBS wins leader. Griffin, one of the most explosive dual threat quarterbacks in college football history, won the Heisman Trophy at Baylor in 2011, racking up more than 4,200 passing yards, 699 rush yards and 47 touchdowns. He was taken No. 2 overall by Washington in the 2012 NFL draft and led the Redskins to their first playoff appearance in seven years. His ability translated to the NFL quickly; he was named the NFL's Offensive Rookie of the Year.
"(Winston is) built like (Griffin), moves like him, got a great arm," Bowden said. "I've watched him as much as I could in film, on television."
Aware of the buzz surrounding his prized quarterback prospect, FSU coach Jimbo Fisher has not officially named Winston the starter, saying Winston will battle sophomore Jacob Coker in fall camp. The situation has charged Fisher with a delicate balancing act between praise for Winston and keeping the authenticity of the position battle.
With or without the official starter title, Winston has been the overwhelming talking point of FSU's offseason, the hype receiving a hearty kickstart with a stellar 12-for-15, 205-yard, two-touchdown performance in the spring game. To add to the intrigue, Winston posted those numbers against FSU's celebrated first-team defense and his first pass attempt went for a 58-yard touchdown.
While the hype ramps up, Winston has used the offseason down time to impress on the baseball field. He has become a fixture in the FSU lineup, hitting .241 in 32 starts as an outfielder and designated hitter while going 1-2 with a 2.88 ERA in 16 relief appearances. The Seminoles begin NCAA Regional play against Savannah State on Friday.
Bowden is familiar with handling multi-sport athletes including quarterbacks Brad Johnson and 1993 Heisman Trophy winner Charlie Ward. Ward played two sports while holding the starting quarterback duties for Bowden.
Bowden believes the extra workload is a hurdle for a young player's potential, especially at quarterback.
"That's the only thing that could hurt (Winston). The quarterback has got to study (football) all of the time. He not only got to know what he's doing, he's got to know what everybody is doing, on his team and the other team," Bowden said. "I imagine the kid is dedicated enough that he's going to spend whatever amount of time Jimbo says you've got spend."
If nothing else, Fisher has made it clear all spring that he isn't concerned with Winston's work ethic.
"He works at the game. It's not where he's, 'Hey, I'm all natural and I get it,' Fisher said at a booster tour stop in Pensacola last month. "He spends his time in the film room, he's up there in the morning -- just like Jacob and Sean (Maguire) are. But he puts his time in, puts the work in. You say the guy's so natural -- those guys are good, you go back and hear the stories on Deion Sanders, they say he's the hardest practicing player ever at Florida State. It may look easy, but there's a lot of work behind the scenes and (Winston) is doing a lot of it."
While he coached two-sport athletes, Bowden isn't as familiar starting a youngster. He coached 26 years at FSU before he started a freshman (Chris Rix, 2001) in a season opener.
Bowden admits the game has changed.
"I think it's difficult, but kids nowadays are so mature and so much better athletes. Every year they get better and better," Bowden said. "Look at Manziel, a freshman winning the Heisman Trophy. They just get better and better and if they can handle it (mentally), they can handle it."
So can Winston can handle it?
"I don't know that much about him, all I know is what I've seen and what I've read," Bowden said. "But I can't think of a single thing the boy has done to make me think he can't do it. Now you've got to (go) do it, but I haven't seen a thing that disturbs me."