While following family footsteps, Dylan Busby creates his own path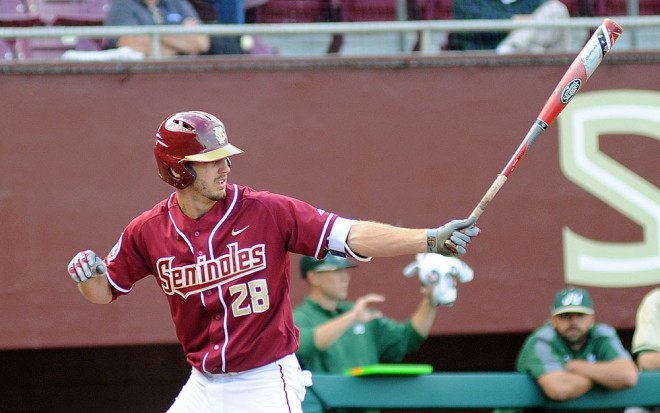 Dalton Busby loves his younger brother and couldn't be happier for him.
He also can't resist the idea of getting his younger sibling, Dylan, in a little bit of trouble.
Since the start of the ACC Tournament, Dylan is hitting .515 with six home runs, four doubles, one triple and 19 RBIs in 33 at-bats. Those performances have helped Florida State win seven of its last eight games and earn a Super Regional showdown with in-state rival and No. 1 national seed Florida.
But while Dylan sports garnet and gold now, that wasn't always the case. Or so Dalton claims.
"I'm not going to rat him out," Dalton told Warchant. "Not saying a word. No comment on that one. I will tell you that he bleeds garnet and gold now. But, no, I'm not ratting anyone out."
After hearing his brother's comments, Dylan smiled and paused.
He said when they were younger, they always competed. If Dalton liked a team, Dylan would go out of his way to like that team's rival.
"But as I got older, I always wanted to be like my brother," Dylan said. "And when Florida State came up as an option, I was right on it. My brother wanted to do it, so, do something your brother can't. Right?"
Dalton is older by three years, yet he could never shake off Dylan no matter how hard he tried. If Dalton was playing baseball, guess what? So was Dylan.
Dalton played junior college baseball and then signed with Georgia Southern. A few years later, Dylan went to FSU.

"His older brother has been the measuring stick for him since he was three, four years old," said their father, Wayne Busby. "He was always trying to chase his brother around. When he was 14, 15, he would play with his brother's 17-and 18-year-old teams when they needed players."

Eventually, the sibling rivalry began to subside and the focus turned to how to make each other better.
Dalton and Dylan would talk and text after their respective games. Dalton, who just finished his career at Georgia Southern, said he would tell Dylan to keep everything simple.
Prior to the ACC Tournament, Dylan wasn't hitting at a torrid pace. He was actually in a mini-slump, as Dalton recalls.
"They kind of struggled in the last two weekends [of the regular season], and he wasn't so down about him but he felt like he wasn't hitting and the team wasn't winning," Dalton said. "He can deal with it if he's not hitting but the team is winning. I told him to trust your work. Don't go out there and try to hit eight home runs."
Dylan said having a brother who has played college baseball and knows his swing adds to what he's learned from FSU's coaching staff.
It gives him multiple perspectives as to what he's doing right or what he needs to fix.
The prime message coming into 2016 was for Dylan to reduce his strikeouts. He struck out 73 times in 62 games as a freshman last season. Through 60 games, he's struck out 61 times.

"Sometimes, I want to get a hit worse than the pitcher who wants to get me out, and they know that because they know I love to hit," Dylan said. "He'll talk to me after a game and say, 'That little curveball in the dirt. What are you doing?'"
The Busby brothers got their love of baseball early.
Wayne played at Mississippi Valley State and was drafted in the 19th round by the Chicago White Sox in 1988. The Mississippi native bounced around the White Sox system for five years but never reached the major leagues.
All these years later, he sounds as if he has no apprehensions about his career. If anything, he's just happy his sons love the game.
Dylan is starring for one of the nation's elite college programs, and Dalton enjoyed plenty of success in his own right. He was a two-year starter at shortstop for the Eagles and actually played a pivotal role in Georgia Southern's shocking upset of Florida State in the 2014 NCAA Tournament.
In the first round of an NCAA Regional at Dick Howser Stadium, the Eagles pounded out 16 hits in a 7-0 victory. Dalton went 3-for-3 with a home run, double and 2 RBIs.
"If you look at Dalton's career, nothing came easy for him. The kid worked his butt off," Wayne said. "Dalton has passed that on. Dylan sees how hard it was for his brother. I know at times, Dylan does not want to let his brother down."
One of Wayne's stops in the White Sox system was Sarasota, Fla., which is where he decided to eventually raise his family.
Dylan starred at Sarasota High and began drawing college interest. During the recruiting process, Wayne and Dylan came to Tallahassee for a visit and ran into someone's from Wayne's past.
"[Seminoles pitching coach] Mike Bell was my bat boy with the White Sox," Wayne said. "He said something to me about it, and all I thought was, 'Tell me I was nice to him.'"
Bell, who grew up in Sarasota, said he knew who Dylan and his father were well before they came to Tallahassee for his visit.
"When you recruit, you recruit through people you trust," Bell said. "As he was going through the recruiting process, when he became available and knew that the talent was there, we did what we needed to do to make sure we got enough looks at him.

"Having a little bit of history through the people that were around him and knowing his dad kind of helped things out. I don't know if dad put two and two together because you probably don't remember every bat boy that you've ever had. It's kind of a neat story."
Those sorts of baseball connections are common for the Busbys.
Wayne remembers having his sons learn the game by watching players like pitcher Wilson Alvarez and Baseball Hall of Famer Frank Thomas.
Dylan said having a father who was a professional player meant he did not have to take lessons. He could just ask his dad and brother for help -- whether it be with hitting or fielding.
The work is paying off. Dalton said his younger brother will be playing for Hyannis this summer in the Cape Cod League, the nation's premier summer league for college players.
There's already talk of Busby parlaying his current efforts into being a valuable prospect for next year's MLB First-Year Player Draft.
"I'm not worried about what's going to happen a year or two years from now," Dalton said. "Right now, he's going to Gainesville this weekend and is trying to get a flight to Omaha [for the College World Series]."
-----------------
Talk about this story with fellow FSU Baseball fans in the FSU Baseball Forum