Clark: Here's a New Year's resolution for the ACC ... Make refs accountable
Here's a column idea we can all get behind.
Florida State fans might disagree on the starting quarterback or the defensive coordinator or some fourth-down decisions by the head coach. Opinions vary wildly on those types of matters.
But almost every single FSU fan in the country, probably every college football fan for that matter, is fed up at the officiating at this level. Particularly, in our case, in the ACC.
So, with that in mind, as sort of a launch into 2022 and beyond, I thought it might be a good idea to remind you of some of the most egregious missed calls of the 2021 season, and argue that college football does itself a serious disservice by not ever, ever, ever addressing those missed calls after the games have concluded.
*** Don't miss our exclusive FSU football coverage. 30-day Free Trial***
Let's start at the end.
Florida was leading Florida State 17-7 early in the fourth quarter of the regular-season finale. After a penalty wiped away a Gator touchdown and was set to move the ball back to the 20-yard line, Jammie Robinson was called for a personal foul. So that half-the-distanced the ball back to the 10 and gave UF an automatic first down.
Two plays later, Florida had the ball at around the 5. It was third down. But the head official didn't notice -- or care -- that the first-down marker on the sideline had never been pulled off the field. It was still at the 3. From the previous set of downs ... before the penalties.
So, Florida gets 2 1/2 yards on the third-down play, which should have set up a pivotal fourth-down call at the FSU 2. An interim Gators coach was going to have to decide if he was going to go for it in that spot or kick a field goal to go up 20-7. Pretty big moment in the game.
Instead, the confused referee signaled first down. Because the ball had gotten past the yard marker on the sideline.
Florida ran it in easily -- much easier than I imagine it would have been if the FSU defense thought it was fourth down (which it was) -- on the next play to go up 24-7 on its way to an eventual 24-21 win.
Now, do I think this officiating blunder cost FSU the game? No. I don't. But my question is this: Does the head official even know he made a mistake?
Did the ACC reach out to him? Did his boss? Did they say after the game, "Hey man, I hope you have a great holiday season, but could you maybe not completely lose track of the downs ever again? That was sort of embarrassing."
Does anything like that happen in the ACC? Ever?
I truly have no idea. Like, for real, there is a pretty good chance that official has no idea how badly he screwed up that moment. And that's what, to me, is so frustrating about all of these absurdly missed calls throughout the course of a season.
We have no way to know what, if anything, is done about them after the fact?
The personal foul in the Boston College game when an FSU player was blocked into -- and still barely nudged -- the Eagles' punt returner. The back-to-back illegal formation calls on Darius Washington. The ridiculous, and I do mean ridiculous, offensive pass interference call on Jordan Wilson.
These were all preposterous flags.
And Mike Norvell said as much -- without saying anything at all -- when asked about them after the game and then again during his Monday press conference.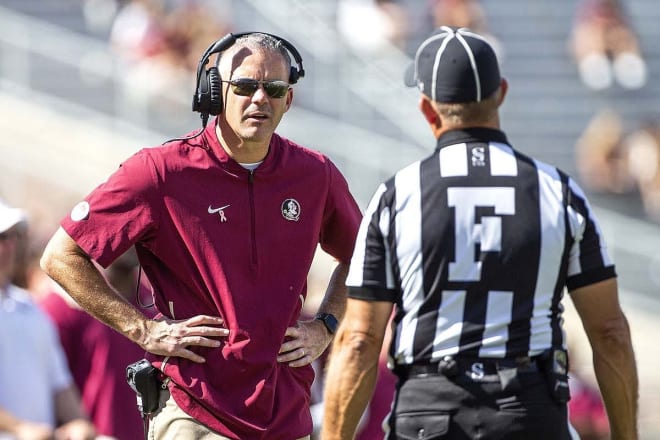 But the question remains: Did the officials who threw the flags get reprimanded? At all?
Maybe not a fine, maybe not a suspension, but at least an email? Like, "Hey Billy, you really blew that personal foul call, man. How about next time you don't flag a guy for being blocked into a punt returner's toenail. How's that sound?"
Or after the Wake Forest game: "Hey Joey, you weren't even looking at the play when it happened, but that FSU defender only tried to hold up the Wake receiver. He didn't push him. Didn't tackle him out of bounds. There was nothing there. So, what, in the actual F, were you looking at? That was third down, man. You gifted Wake Forest a first down when they would have kicked otherwise. Be better! Do your job!"
Maybe I'm just cynical, but I don't think those things are happening.
Either way, it's maddening. For coaches and fans alike.
The NBA releases a report the next day for every single game, in which the league's head of officials looks back at the final two minutes of a game -- when the calls matter the most -- to grade how many were correct and how many were incorrect. Then releases it publicly, for all of us to consume.
How great would it be for the ACC, or just football conferences in general, to do something similar every Monday? Not every call, but maybe the three to five biggest calls. Just so we know these officials are actually being watched, they're actually being graded. And held to account.
Again, I'm not advocating for firings or suspensions (unless guys are consistently getting it wrong), and I certainly don't think referees are just out to get Florida State. There were plenty of bad calls that went in FSU's favor this year as well (a "running into the kicker" call in the Notre Dame game and a missed holding call on the final drive against Syracuse come immediately to mind).
We all just want some transparency and accountability. In pro sports, when there is a controversial call that drastically impacts a game, a pool reporter is often sent down to ask the head official about the ruling. Just to get his viewpoint of what happened. For the fans' sake.
In college football? Heck no.
Officials make their calls (mostly good, some horrendously bad) and then just go about their lives. With no explanations given, and as far as we know, no oversight at all.
And coaches are reprimanded and fined if they dare complain publicly.
It would be really fun if the powers that be in college football started treating their sport like the billion-dollar business that it is. Maybe train these officials better? Maybe make them more accountable? Maybe announce publicly when one made a really bad call and that you regret the error?
In all seriousness, as I sit here typing this, I know I've thought more about that colossal screw-up in The Swamp than the guys who did the screwing up. I'm convinced of it.
Because I'm not convinced he even knows he made a mistake. Why would he? The ACC never came out and said a darned word about it. Just like they didn't address the three-hour flag show in Boston.
Officials make mistakes. Lots of them. It's a really hard job. I don't expect them to be perfect. Everyone makes mistakes in life.
But when some are so egregious, when some are so vital to the outcome of a game and perhaps a season, and when you're making billions of dollars off these games, it sure would be nice to know somebody noticed or cared.
Contact senior writer Corey Clark at corey@warchant.com and follow @Corey_Clark on Twitter.
----------------------------------------------------
Talk about this story with other Florida State football fans in the Tribal Council