Clark column: No. 13? No. 24? How can anyone project this FSU team?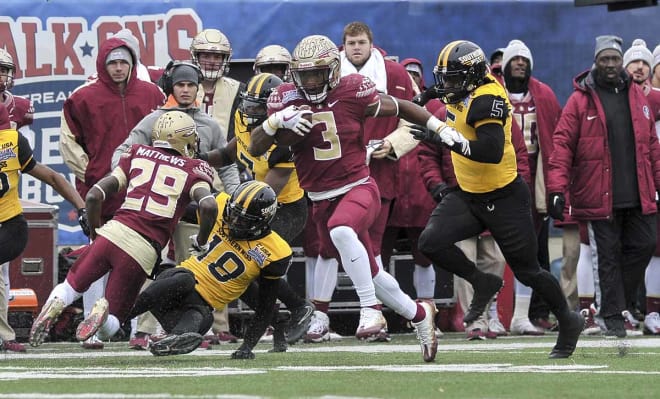 In case you missed it, and I know there's a good chance you did, Athlon Sports released its preseason Top 25 on Monday morning.
Your beloved Florida State Seminoles are ranked No. 13.
Not bad, right?
Despite coming off a 7-6 season and with a new coaching staff in place, the talent in Tallahassee is such that a national publication still sees the Seminoles as being one of the top 13 teams in the nation.
Start booking your trips to Charlotte, baby!
Or don't. Because, you know, Clemson is still going to be really good. Again. And as we all learned last year -- and virtually every year before that -- preseason rankings matter about as much as a piece of parsley on a dinner plate.
They have no impact. At all.
I wonder how many of you were like me growing up. I couldn't wait to rush to the grocery store in June and July and start grabbing up all the college football magazines. To read about each team, to see the preseason rankings, to (believe it or not) look at who the best incoming recruits were.
Those days are over.
These days, we know who the best recruits are before they're old enough to drive. And, I think, most of us have come to the conclusion that preseason rankings are a bit silly.
For instance, Athlon has Florida State ranked No. 13.
Dennis Dodd put out a preseason ranking on CBS.com where the Seminoles are No. 24. Behind both Florida (No. 22) and Miami (No. 9!).
Is he right? Wrong?
Well, neither, of course. How can any of us know right now? Which explains the wild fluctuations in rankings from one publication to another. Nobody knows.
Last year, in my previous job, I had to put together a Top 25 preseason list. Here's what I did: I looked at the final rankings from the year before, massaged them just a little bit (depending on who each school lost to graduation or the draft) and plopped that thing in the system and hit "send."
Because preseason rankings are impossible.
Except at the very top. Just put Alabama there. And even if you miss on them finishing No. 1, well, you know you won't miss by much.
Everything else, with a few possible exceptions (like Clemson being good again, for instance) is just guesswork and fodder for the next 100 days as we long for the start of college football season.
I had Florida State ranked in my Top 5 last season -- like many other people. And like many other people, I was completely and emphatically wrong.
The Seminoles looked good on paper. They had a returning quarterback, an experienced defense, decent special teams (or so we thought) and a future first-round pick in Derwin James returning to the lineup. Then the quarterback got hurt, the defense was nothing special, and the coach bolted for College Station after his team spiraled to the worst season at FSU in over four decades.
In Florida State's case, the "pre" in preseason rankings stood for "premature." Because we were all much too willing to assume the Seminoles were about to have a great season despite never seeing greatness from many (any?) of the kids on the actual roster.
Don't need to make that mistake again.
I think No. 13 is a fair ranking. I think No. 24 is fair, too. Heck, I think unranked would be fair. This team is coming off a 7-6 season. It's best win was against an overmatched Southern Miss team on a bitter, gray day in a city that time forgot. Or never knew about.
So anything is fair when it comes to projecting how the 2018 Florida State team will do. If you want a high ranking, go out and earn one. Because nobody is assuming FSU is going to be a juggernaut this year.
If you're wondering, here's what Athlon had to say about your Seminoles.
13. Florida State

It's a new era at Florida State with Willie Taggart taking over in 2018. While there are a few big changes on the way for the Seminoles, this program is poised to rebound from last year's 7-6 record. Taggart is transitioning the offense from a pro-style approach to more of a spread, up-tempo attack. The shift should be a relatively seamless move, as Taggart has plenty of weapons to build around. Of course, there's still an ongoing battle at quarterback. However, Taggart has to feel good about his options under center. Deondre Francois was one of the ACC's top returning quarterbacks last fall but suffered a season-ending leg injury in the opener against Alabama. James Blackman was pressed into duty to replace Francois as a true freshman and threw for 2,230 yards and 19 touchdowns. Additionally, redshirt freshman Bailey Hockman ranked as a four-star recruit in the 2017 signing class. The Seminoles don't have a clear answer under center yet, but there's no shortage of options. The running back corps is among the best in the nation, with rising star Cam Akers joining Jacques Patrick to form an effective one-two punch. More depth is needed at receiver, but Nyqwan Murray is one of the ACC's top returning targets, and sophomore D.J. Matthews is poised to take on a bigger role in 2018. The line returns four starters, but this unit needs to take a step forward after giving up 32 sacks last fall. New coordinator Harlon Barnett inherits a defense that returns only three starters, but the cupboard isn't empty on talent. Brian Burns and Demarcus Christmas anchor a talented line, with cornerback Levonta Taylor poised to challenge for All-America honors. Defensive tackle Marvin Wilson, cornerback Stanford Samuels III and safety Jaiden Woodbey are three promising players to watch this fall. Barnett's biggest concern rests at linebacker following the departures of Matthew Thomas, Ro'Derrick Hoskins and Jacob Pugh. Florida State will be tested right away with Virginia Tech visiting Tallahassee in the opener. And Taggart's team has a chance to make even more noise in the Atlantic Division with Clemson visiting Doak Campbell Stadium on Oct. 27.
That all seems fair, doesn't it?
There is depth at quarterback. The running back duo is very good, although I think the rest of the nation doesn't quite understand yet how good Khalan Laborn is going to be (I have a feeling it will be a running back trio). And the defense and the offensive line are question marks.
If Florida State can win nine games in the regular season, it will definitely be ranked in the Top 15 in the country. If it can win 10, it will be in the Top 10. And if it can win 11, well, then Athlon and Dennis Dodd are going to look like fools!
And we all might actually be heading back to Charlotte to watch a football game in December. How crazy would that be?
As for now, I think I speak (write) for the rest of us when I say: Hey, college football season! Please hurry up and get here.
Contact senior writer Corey Clark at corey@warchant.com and follow @Corey_Clark on Twitter.
------------------------------------------------
Talk about this story with other Florida State football fans in the Tribal Council