Club seat section one step closer to becoming a reality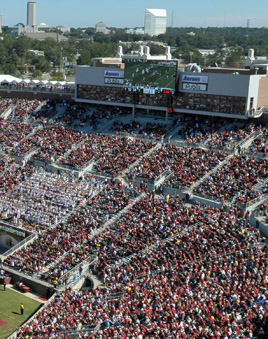 The addition of club seats to Doak Campbell Stadium took another step towards becoming reality this month.
The Seminole Booster Executive Board gave its approval for the club seat project to move forward. The next step is getting approval from Florida State's Board of Trustees when the proposal is presented during its June meeting.
When the club seat proposal was first drawn up a couple years ago it was estimated the new section would include approximately 2,200 seats, but that figure has grown significantly. The preliminary plan presented to the Booster Board earlier this month it called for a little more than 6,000 club seats to be added to the south end zone. That number is on the high side when compared to club seats in other college football stadiums.
The process for construction of the club seats has also seen change. Consistent throughout is that it will encompass and go hand in hand with the University Center Club located at the top of the south end zone.
"In this plan we would expand the (University Center Club) third floor ballroom all the way out to right behind the Marching Chiefs. There would be a glass wall right behind the Marching Chiefs." Kutz explained. "Right beneath the two tiered decks on either side of the University Center Club, there's a concourse there and a ramp system. We will be able to blow that out and have a glass wall that runs the full length of the end zone from elevator tower to elevator tower across the field."
At this stage there is only a preliminary design for the project. Kutz said the Seminole Boosters will be taking bids over the next few weeks in hopes of having a final design ready by this fall.
Even after getting the go-ahead from FSU's Board of Trustees in June, final approval will still need to come from The Florida Board of Governors, a 17-member board that oversees all public universities in the state of Florida. At that time, the final cost will be presented along with how much of the project will have to be financed through loans. Kutz expects that meeting to take place sometime this fall.
If the project goes through as expected, the plan is for the club section to offer much more than just comfortable seat backs. Kutz promises a wide variety of amenities to enhance the game day experience and give FSU fans more reasons to attend in person on fall Saturdays.
"People will be sitting outside with the game atmosphere and can also go inside - we are adding about 50,000 to 60,000 (square feet) of air-conditioned space," said Kutz. "What is now the terrace on the top floor, in this design it would be a permanent roof structure with an outdoor living feel. It would have kind of shade awning that would protect you from the sun and rain. There will also be flat screen TVs up on the decks, a bar and restrooms. Your primary seat would be reserved in the club but you could come up and sit on a high top table with a buddy that also has a club seat... There's about six or seven experiences within this design but all of it has a view of the field."
The addition of a 6,000-plus seat club section will have an impact on the maximum number of people will be able attend games in Doak Campbell Stadium. Kutz estimates that there will be a drop of a little over 3,000 total seats, lowering total capacity to a little over 80,000.
There is still a lot to work out between now and when FSU breaks ground nearly a year-and-a-half from now. One of the sticking points will be to come up with a workable price point for the purchase of a club seat. Kutz estimates that most schools with a similar club section charge their boosters approximately $2,000 or more per season.
"We are going to be able to come in under that," said Kutz, who declined to estimate the price per seat. "That (price) would include your game ticket and University Club experience, at least for what we are looking at."
If all goes as expected, FSU hopes to break ground in 2015 with the club seats being ready to occupy in time for the 2016 season.
Notable
Kutz says the initial sale of the club seats will be tied into the new Champions Campaign, which will be launched on July 1st. The campaign will go towards financing football projects such as the new player dorm, locker room, indoor practice facility, team meeting rooms, coaches' offices, and overall renovations to Doak Campbell Stadium. It is being proposed that there will be a one-time $1,000 capital campaign contribution that will go towards enhancements to Doak Campbell Stadium.
Club seat holders will also have access to Wi-Fi, beer and alcohol.