Colton Vincent's pivot to switch-hitting provides a spark for FSU offense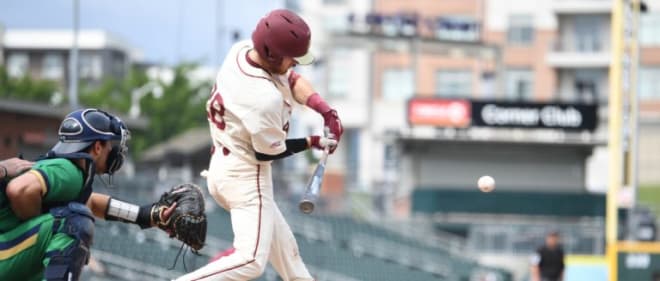 Florida State catcher Colton Vincent has a pretty natural left-handed swing. He's made a habit of smashing baseballs off the right-field fence at Dick Howser Stadium early this season.
So suffice it to say, it comes as quite a surprise that this is his first season ever hitting from both sides of the plate.
A redshirt senior who turned 23 in January, Vincent's entire college, high school and Little League career saw him exclusively work as a right-handed hitter. He always messed around with left-handed swings in his free time, but it wasn't until new FSU head coach Link Jarrett saw him messing around with a lefty swing in the batting cage last fall that Vincent ever thought he would be a switch hitter.
"I was hitting off the tee, kind of just messing around and (Jarrett) said, 'Come over and here and do some front flicks. Let's see if this is something that I like,' " Vincent said. "I did about six swings and he was like, 'Alright, you can hit (batting practice lefty) today.' "
Neither Vincent nor Jarrett could have known in that moment the type of revelation that would be for the catcher's approach at the plate. After playing through a hand injury last season and posting a .195 batting average, Vincent enters FSU's (9-3) first ACC series this weekend against Pitt (7-6) as probably the hottest hitter in the Seminoles' lineup.
"It's amazing. This is probably the most fun I've had playing baseball games," Vincent said.
Entering Vincent's final season at FSU, it wasn't clear if he was ever going to be an especially effective hitter for the Seminoles. In his debut season in 2021 after transferring in from College of Central Florida, he backed up Matheu Nelson and hit .118 in 17 at-bats.
In 2022, Vincent entered the starting lineup, but never found much momentum. His sub.-200 batting average was not indicative of how hard he hit some balls that became outs, but it was still a tough stat line to overlook.
In retrospect, Vincent knows how badly his approach at the plate was affected by an early-season injury to the thumb on his throwing hand. With no consistent backup option behind Vincent, he had to push through the injury. The effect it took on him over the course of the season was most evident at the plate.
"I got to know (Brandon Stone), our trainer, really well. Me and him had a good relationship," Vincent said. "We had a rigorous routine leading up into games every day. He made sure my thumb was ok. I just had to grind through it for the team."
Entering the offseason with Jarrett replacing Mike Martin Jr. atop the FSU baseball program, Vincent was unsure of his role entering what would be his final season of eligibility.
While some in his shoes could have been threatened by the addition of West Virginia transfer McGwire Holbrook through the portal, Vincent saw it as a challenge.
"Coming into this year after the regime changes, I didn't really know where I stood so I called Link and asked him what he wanted of me. He wanted me to stay and be the older guy on the team," Vincent said. "When I found out McGwire (Holbrook) was coming, I was actually really excited because every successful team that I have been on, it's been very competitive in the catcher corps. That got me excited because I knew we were going to have a lot of talent back behind the plate and that drives me to be better."
A preseason injury to Holbrook assured Vincent he would be the catcher to start the season. His play through the first three weeks of the season likely assures him it'll be his job as long as he's available this season.
Over 58 games and 169 at-bats in 2022, Vincent had 33 hits, six extra-base hits (all doubles) and 19 runs batted in. In 12 games (41 at-bats) this season, the Palmetto, Fla., native already has 18 hits, nine extra-base hits (including his first career triple and home run) and nine RBI.
Of FSU players with 20-plus at-bats this season, Vincent's .439 batting average is the best on the team entering ACC play.
"I think I would have had better numbers last year if I didn't immediately hurt my hand. I was really struggling with that. But I think this is showing the work that I've put in…" Vincent said. "It's awesome to see that pay off."
Added Jarrett, "He's had some huge hits…Colton, what he's done behind the plate, pitch-by-pitch, blocking and receiving, having to do it over and over with minimal rest, he's been great."
FSU's rotation change entering the Pitt series
Vincent credits the new FSU head coach with a notable contribution to his turnaround.
"Having a plan at the plate makes all the difference…" Vincent said. "He has an approach for every situation that we come across. Having confidence in those approaches, knowing that I have a plan at the plate every time I go up there, no matter whether it's two strikes, 0-0, 3-2. It's satisfying."
As he comes into his own at FSU, Vincent will get to meet one of his inspirations for wanting to be a Seminole this weekend. Former FSU catcher and three-time World Series champion Buster Posey will have his jersey retired before Saturday's game vs. Pitt.
Vincent didn't want to let himself think he'd have time to hang with Posey during what will surely be a busy day for the FSU legend. However, he's hopeful he can introduce himself.
"He's a big reason why I came to Florida State," Vincent said. "Growing up, I was always a Florida State baseball fan. The end of his career was when I really started to watch Florida State baseball and was able to understand baseball. To see his career with the Giants, knowing that kid went to Florida State made me want to try and come here."
Follow The Osceola on Facebook
Follow The Osceola on Twitter
Subscribe to the Osceola's YouTube channel
Subscribe to the Osceola's podcasts on Apple
Subscribe to the Osceola's podcasts on Spotify