Column: Too many negatives in new FSU-USF series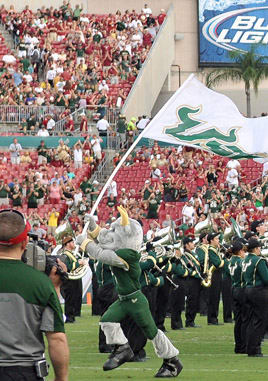 Click
Here
to view this Link.

Click
Here
to view this Link.


Those who cannot remember the past are condemned to repeat it.
Apparently the Florida State administration didn't take to heart the famous saying from Spanish philosopher George Santayana when it scheduled another home-and-home series with South Florida.
The recently completed two-game series between the Seminoles and the Bulls didn't leave many with fond memories. The upset loss to USF in 2009 was horrific and for some marked a low point in recent FSU football history. While the 'Noles got by with an ugly win in 2012, the road trip to Tampa was a rough one for the FSU program, fans and players.
The
the 2009 contest had all the makings of an upset
. South Florida had all off-season to prepare for one game and put all its eggs into one basket, while it was just another game for FSU. That's a fact of life when a second-tier program is looking to gain respect against a major in-state power. The same can be said for a vast majority of USF's players who never received an FSU scholarship offer and have a chip on their shoulder when they take the field against FSU.
But playing another home game against USF isn't really the issue. The upset in 2009 was against a very different Florida State program and it's unlikely history will repeat itself in 2015. And the next home matchup is likely to generate a few more ticket sales than your average snoozer against lower-tier teams such as Idaho or Murray State.
The issue is returning to Tampa to play a road game against a substandard program that should have no business hosting FSU twice over a four year period. Outside of escaping with a win against what turned out to be a 3-9 team last year, there were very few positives to take away from the 2012 game.

After the game USF executive associate athletic director Bill McGillis told the Tampa Tribune that tickets were not held back to prevent FSU fans from filling up the lower sections. That's a bit hard to believe considering the Tampa Sports Authority reported actual attendance of 58,808 even though USF said 69,383 tickets had been sold. Does anyone believe that there were over 10,000 no-shows for one of the biggest home games in USF history?
Florida State Director of Athletics Randy Spetman had a very different impression of the fans' experience in Tampa last year.
"The last time we played in Raymond James versus USF the atmosphere was excellent and the excitement generated among our fan base was unmatched," said Spetman in a press release announcing the new two-game series.
I guess unmatched excitement is in the eye of the beholder.
"It was such a great affair down there and we got a lot of positive feedback from our alumni and fans in Central Florida and saw some real benefit for the promotion of our program," added Spetman during this week's ACC meetings in Amelia Island," so we've been working it out and see if it would work in the scheduling format with the conference and it did."
A lot of FSU fans that attended the 2012 game and pregame events might not look back on the experience as a "great affair".
The FSU players also had to endure poor sportsmanship from their USF counterparts. The chippy play and minor scuffles, several initiated by USF players finally got the attention of the ACC officiating crew in the fourth quarter. A USF player was flagged for personal foul only after he kicked EJ Manuel and pushed another player down well after the whistle.
South Florida's administration also stumbled through trying to run a big time game in an NFL stadium. The gaffes continued after the game when nobody had a clue where FSU head coach Jimbo Fisher was supposed to hold his press conference. Instead if doing it in one of the rooms normally reserved for NFL press conferences, Fisher ended up standing against a wall in a dark hallway to address the media. He looked baffled by the surroundings and started the presser joking "Didn't they just play a Super Bowl here?" It was also surprising that USF's sports information staff left shortly after the media returned to the press box (the time they are generally needed most).
Florida State was allotted 5,500 tickets for last year's game but that number was later increased to a little over 10,000 after FSU requested more for its fanbase. The new contract will provide FSU with 10,000 tickets to sell to its fans for the game in 2016. Whether or not that number can be increased is uncertain. If not, there's no guarantee that the same ticketing issue that frustrated Seminole fans in 2012 won't repeat itself.
While the negatives of renewing the series are numerous, there are some positives as well.
All in all over 10 million people live within a 150 miles Tampa compared to 1.8 million within that distance from Tallahassee. With 40,000 FSU alumni living within this 150-mile range it's understandable why some in FSU's administration and the Seminole Boosters might see this as an appealing matchup.
There's little doubt that scheduling quality opponents is a daunting task for Florida State's administration. However, you have to wonder if the home-and-home deal with USF was the easy way out.
Ultimately it comes down to whether these positives outweigh the proven negatives of another two-game series against the upstart Big East foe?
Only time will tell but it sure looks like history is doomed to repeat itself.