Cooks attorneys file demand for speedy trial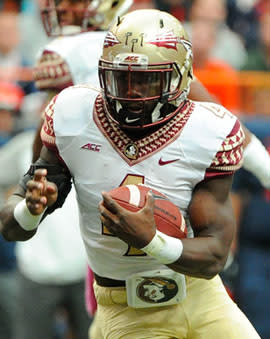 Attorneys for Florida State running back Dalvin Cook have filed a demand for speedy trial, which could expedite his legal process and possibly clear the way for an early return to the Seminoles' football team.
Cook, who was charged with misdemeanor battery in July for allegedly punching a woman outside of a Tallahassee nightclub, is suspended indefinitely from the FSU football team. He has not participated in any practices and is not expected to suit up when the Seminoles open the season on Sept. 5 against Texas State.
Cook's first arraignment hearing was scheduled for Sept. 2, but his trial could actually take place before that if a Leon County judge grants his request for a speedy trial.
The request, which was filed in Leon County court on Thursday by the Miami law offices of Farrell & Patel, states that Cook, "is available for trial, has diligently investigated the case, and that he will be prepared for trial by the date established by the court."
Cook's attorneys have previously stated the running back denies the charges and says that he did not touch his accuser.
According to Florida Rule 3.191 (b), the trial can be set between 5 and 45 days from the time of the filing, depending on the schedules of the assigned judge and both parties.
A source within Florida State's athletics department told Warchant.com that if Cook's case is resolved quickly, he could return to the team in the first month of the season. In 2014, Cook rushed for a freshman school-record 1,008 yards.