FSU considers tweaking defense for huge game at Notre Dame
With two games remaining in the regular season, the Florida State men's basketball team still controls its destiny when it comes to winning the ACC regular-season championship and earning a No. 1 seed for next week's conference tournament.
A victory tonight at Notre Dame would be enormous for the Seminoles, of course, considering their regular-season finale will come at home Saturday against struggling Boston College.
But as much as any game the Seminoles have played this season, this Notre Dame contest is incredibly difficult to handicap.
** Spring Special: Sign up and get six bonus months and a $50 eCard to Garnet & Gold **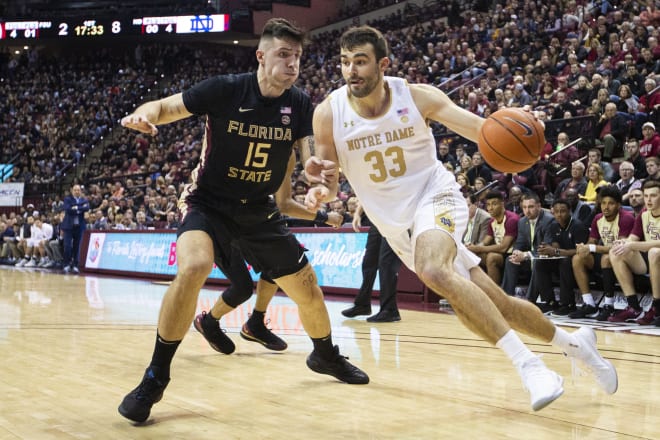 On the one hand, it has been a very long time since FSU has lost consecutive games. The Seminoles haven't suffered back-to-back losses since January 2019, and they are coming off of a defeat this past Saturday at Clemson.
On the other hand, FSU has never won a game in three trips to South Bend, Ind. The Seminoles' Elite Eight team lost by 15 points there two years ago; FSU lost by 12 there in 2016 and by 20 in 2014.
The Seminoles defeated the Irish earlier this season at home, but it was only a one-point win, and FSU needed a career game from reserve Wyatt Wilkes (19 points, 5-of-6 shooting on 3-pointers) to pull it off.
The Irish, meanwhile, are riding an ignominious streak of 20 consecutive losses to teams ranked in the AP Top 25, and Florida State currently sits at No. 7. At the same time, Notre Dame has been playing its best basketball of the season in recent weeks, compiling a 7-3 mark since the loss in Tallahassee.
"There's no doubt that they have our attention," FSU coach Leonard Hamilton said.
If the Seminoles are going to pull off the win, they'll likely have to shore up a defensive issue that has plagued them at different points of this season and especially in the Clemson loss.
Because FSU plays so aggressively at that end of the court, pressuring the ball and often overplaying passing lanes, opponents have taken to using their guards to repeatedly attack the basket off the dribble. And because the Seminoles don't have a dominant shot-blocker in the post as in previous years, they sometimes have been unable to do much about it.
FSU's top two true centers, Dominik Olejniczak and Balsa Koprivica, have combined for just 23 blocked shots all season. One year ago, Christ Koumadje blocked 52 shots by himself. The year before that, Ike Obiagu led the team with 71.

That lack of a "rim protector," as Hamilton calls it, was most problematic against Clemson. The Tigers scored 40 of their 70 points in the paint, including the final two on a game-winning layup in the final seconds.
While Hamilton would prefer to keep playing his traditional brand of high-pressure defense on the perimeter, he acknowledged this week that he might need to tweak some things going forward.
"From a philosophical standpoint, we might need to back off a little bit," Hamilton said. "Not try to play so tight on the perimeter to give these guys a little more opportunity to drive, being that we don't have guys in there discouraging the drive, like we've had in the past."
*ALSO SEE: Our Corey Clark provides additional insight to FSU's loss at Clemson
Solving that issue will be extremely important tonight because the Irish make a living off of attacking defenses with the dribble. Unlike the Tigers, however, Notre Dame's primary objective is not to score at the rim. They prefer to draw off-ball defenders into the paint, which allows them to kick the ball out for open 3-pointers.
Notre Dame leads the ACC with 816 attempts from 3-point range this season.
"They are such a well-oiled machine that plays to their strengths, especially on the offensive end," Hamilton said. "They really, really make it hard for you, and they challenge every defensive principle you have. They have developed a system where they know they're going to have five guys on the floor that all shoot 3s. ...
"You start helping on them, and that's what they want you to do. They're going to dribble into the paint to make you think they're gonna try to make a layup, and if you converge on them, they've got four shooters spotted up all over the place. So it's a Catch-22."
Even though FSU pulled off the win the first time around, the Seminoles didn't exactly turn in a stellar defensive performance. Notre Dame scored 84 points, with sophomore guard Prentiss Hubb leading the way with 24, and forwards John Mooney and Juwan Durham each scoring 16.
Beating the Irish on the road will require one of the Seminoles' best defensive performances of the season. And with so much on the line, they say they're looking forward to the challenge.
"They're all fantastic shooters," Wilkes said of the Irish. "If you give anybody enough time in this league, they're going to bury one on you. And we know that going in. I think we have a good game plan -- we've tweaked a couple things -- and I think we're gonna do well."
-----------
Discuss the game with fans on Warchant's Seminole Hoops message board.