Florida State schedules Savannah State in 2012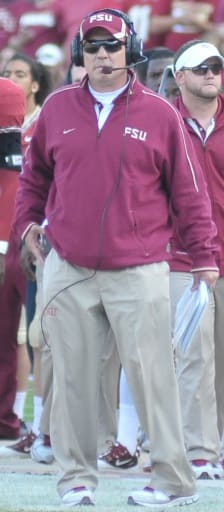 With less than seven months until the 2012 season begins, Florida State has finally completed its schedule.
The Seminoles announced Wednesday that it will take on Division I-AA Savannah State on Sept 8.
The opening on the schedule came because West Virginia opted out of its contract to play in Tallahassee on Sept. 8. West Virginia notified Florida State in writing on Feb. 4, and according to the contract, the Mountaineers would be on the hook for a $500,000 penalty.
FSU will pay Savannah State $475,000 to come to Doak Campbell Stadium. Savannah State went 1-10 last season and lost to Florida A&M at home 47-7.
It will be Florida State's second game against a I-AA opponent; FSU is forking over $450,000 to play Murray State in the season opener on Sept. 1.
"We did a lot of negotiation and we put some sizable sums of money out there in hopes that we could entice somebody to come here," FSU Athletic Director Randy Spetman said. He said that they contacted more than 50 schools - including top tier Division I-A power like Oklahoma, Texas A&M and Boise State - in hopes of filling the 12th game. Spetman said that ESPN even tried to help schedule a game against quality Division I-A opponent.
"We were fortunate enough that Savannah State had an opening in our time frame, so we're going to bring them down here and hope for the best," Spetman said.
According to Spetman, the biggest hurdle in landing a game with a Division I-A power was the fact that Florida State was unwilling to travel for out of conference game in 2012. The Seminoles were not going to travel due to the ACC going to nine conference games as soon as 2013.
Spetman also said that Jimbo Fisher was involved in the process of finding the replacement game and was updated as news unfolded.
"He's our football coach, he's a key part of what we do," Spetman said.
Spetman estimates that Florida State will lose between $2 million and $2.5 million because of West Virginia's decision to cancel its 2012 meeting, and said that the school has not ruled out a potential lawsuit. It should also have a major effect on the potential economic boom that a game the caliber of Florida State-West Virginia would create. Both teams will likely start the season in the top 15 in both polls.
"According to Bonn Marketing Research, the direct economic impact of a FSU home game can range anywhere from $1 million to $10 million depending on the opponent and time of the game," said Lee Daniel, the Executive Director of Visit Tallahassee. "This impact is certainly significant and important to our hotels, restaurants, retail establishments and other businesses."
But Spetman said that proving the losses in potential season ticket sales and other data may make the lawsuit difficult to prove.
Still, as of now, Spetman said the school plans to make the trip to West Virginia in 2013.
"We're planning to go there. We're planning to go up and play that game," Spetman. "It's on our schedule, we'll go there."