Former FSU CB Greg Reid accepted at VSU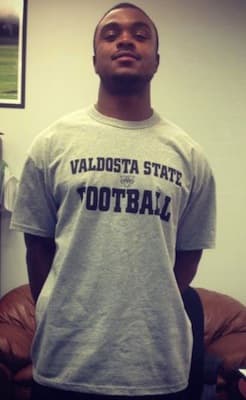 Reid accepted to enroll at Valdosta State



D.C.Reeves
Warchant.com Managing Editor
Former Florida State cornerback Greg Reid has been accepted to enroll in classes at Valdosta State University.
The Valdosta State sports information office confirmed Reid's acceptance at the university on Monday afternoon. Reid latertweeted a picture of himself wearing a Valdosta State t-shirt on Monday evening.
The sports information office could not confirm that Reid has enrolled in classes as of Monday, which is the first day of classes for the fall semester at Valdosta State. Because he is not officially enrolled, Reid is not officially a part of the VSU football team as of yet.
Warchant.com reported that Reid, a Valdosta, Ga. native, showed interest in enrolling at VSU shortly after he was kicked off the FSU football team on Aug. 1.
If Reid enrolls as expected and joins the team, he will be eligible to play his senior season for the Blazers this fall. NCAA rules allow a student to transfer from a FBS school to a Division II or Division III school without sitting out a season.
Reid had 32 tackles and two interceptions last season, was slated to be one of Florida State's starting cornerbacks before he was kicked off the team. He was also on pace to break the school's punt return yardage record held by FSU great Deion Sanders. Reid tallied seven interceptions in his FSU career.
But Reid battled off the field issues, the latest coming July 10 when he was arrested in Valdosta for misdemeanor marijuana possession, driving with a suspended license and a seatbelt violation.
"I love Greg to death, but it was a situation where rules are rules and what we have to go by and we wish Greg the best," FSU coach Jimbo Fisher said last week. "I don't think that it's the end of his career. He can play and reach all of the goals he has, I wanted him here as bad as anybody. But that's part of this. Sometimes being the head coach, there's a lot of good things but there's some tough things."
Valdosta State, which sports a historically strong football program, ranked 90th in Division II in pass defense (215.3 ypg) and 101st nationally in kickoff returns. VSU junior Quin Roberson ranked 17th in D-II in punt returns last season, averaging 12.9 yards per return, and scored one touchdown.