Former FSU stars Cook and Rudolph return during Lift For Life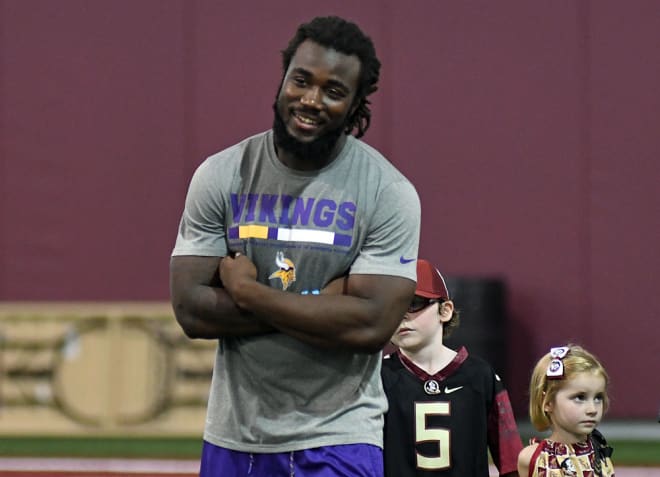 As the current members of Florida State's football team were flipping tires and pushing golf carts, a few of its former stars were off to the side reminiscing.
Both Dalvin Cook and Travis Rudolph were working out Tuesday while FSU was participating in Life For Life through Uplifting Athletes inside the team's indoor practice facility. Several college football teams have partnered with Uplifting Athletes over the years to raise money for various charities.
This the the fourth year FSU has been involved with Lift for Life. Proceeds from the event goes to Kidz1stFund, the foundation started by Jimbo Fisher's family in an attempt to both cure and raise awareness for Fanconi anemia.
Fisher's youngest son, Ethan, was diagnosed with the blood disorder in March 2011. The Kidz1stFund has raised more than $4.5 million, according to its website.
* Commit Watch: Seven candidates that could be next in line
"I know this event means a lot to this organization and it became part of our culture," Cook said. "So, it means a lot to Coach Fisher and I know he did everything for me that was within his power. I wanted to come back and show the love to them."
Cook and Rudolph were in town training as the prepare for training camp which starts next week across the NFL.
It's quite a change compared to where they were a year ago. Both players were with their teammates and active in familiar events like the tire flip, the golf cart push and the extremely competitive tug-of-war battle.
They're now getting ready for their first NFL season and are spending time in Tallahassee to train.
Cook, who is the school's all-time leading rusher with 4,464 yards and 46 touchdowns, was drafted by the Vikings in the second round. He's expected to play a leading role in powering the Vikings' running game in 2017.
Rudolph, who finished with 2,311 receiving yards and 18 touchdowns, went undrafted but signed with the New York Giants as a free agent. He showed flashes during rookie mini-camp and hopes he find a place on the Giants' 53-man roster.
"Coming into it, I knew what I could do, I knew that eventually it was going to show," Rudolph said of rookie camp. "It's just going day-by-day, going one play at a time and showing what I could do."
He also talked about how he's tried to manage the last few months.
Rudolph lost his father, Darryl, in an accidental shooting days before the NFL Draft. The elder Rudolph was 55. The Palm Beach County Sheriff's Office determined Darryl Rudolph was repairing items at a local night club when the gunshot came from an adjacent room where one of the club's workers was moving a firearm from a shelf.
"It's just about being strong and battling through adversity," Rudolph said. "I've been going through adversity all of my life and just going through that really showed what I'm capable of, especially going into camp and everything, with how I did."
Cook and Rudolph, who both signed with the Seminoles in 2014, signed autographs and took photos with fans after they were done working on.
As for the event itself, the Seminoles were trying to raise at least $5,000. Redshirt junior center Alec Eberle, who helped organize Lift for Life, said the team raised more than $4,000 as of 6 p.m.
Eberle said the team saw a late push last year and hopes for as similar result this time around.
"I'm glad they got a chance to come back," Fisher said of Cook and Rudolph. "Like said, this is home. They helped build this. They helped build the tradition and the culture of this great university. They're part of our success of what we've done in the past.

"It's awesome to have them back and I wish them the best of luck."
----------------------------
Talk about this story with other Florida State football fans on The Tribal Council