Freshman M.J. Walker helps FSU shoot down Colorado State, 90-73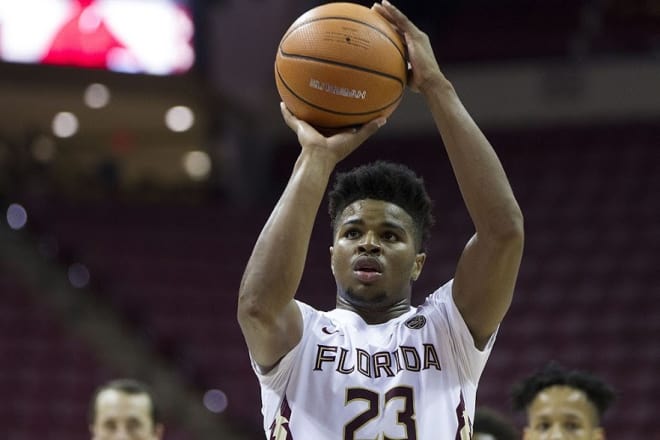 Box Score: FSU 90, Colorado State 73
MONTEGO BAY, Jamaica — M.J. Walker came off the bench to hit five 3-pointers and score a career-high 22 points, Terance Mann added 20 and Florida State pulled away from Colorado State 90-73 at the Jamaica Classic on Sunday night.
Mfiondu Kabengele added 12 points and CJ Walker had 11 for the Seminoles (3-0), who used an 11-0 run for a 76-60 lead with 6:28 to play.
The Rams (2-2), who scored the first 11 points of the second half to wipe out an 11-point halftime deficit, got 22 points from Prentiss Nixon, 16 in the second half, and 14 points and 10 rebounds from Che Bob. Lorenzo Jenkins scored 14 points off the bench, hitting 4 of 5 3's, including one that put CSU on top 50-48.
Walker had a career high by halftime with 14 points and Mann added 12 as the Seminoles shot 62 percent to lead 47-36 at halftime.
BIG PICTURE
Colorado State: The Rams are 4-9 against ACC teams with all of the wins coming at neutral sites. … CSU outrebounded Florida State 37-34 but had 22 turnovers to just 14 for the Seminoles. Those miscues cost the Rams 23.
Florida State: In beating Fordham 67-43 in their first game in Jamaica, the Seminoles had their fifth-best field-goal percent defense (.231) in school history, giving up just 12 made baskets. … FSU, which led the nation with 183 dunks in 2016-17, is looking to win the nation's dunk crown again with 17 in the first three games. The Seminoles averaged 5.2 a game last year.
DOING BETTER
Colorado State shot 45 percent in the first half, 42 in the second. It wasn't great but certainly better than in its 80-53 loss to Tulane two nights earlier. The Rams shot 35.5 percent for the game, 22 percent in the second half. Considering what Florida State did to Fordham, that is a marked improvement.
JUST SAYING HI
PJ Savoy of Florida State left the game early in the first half after talking an elbow to the face and did not start the second half. Robbie Berwick delivered the unintentional blow. Berwick played his first two seasons at Florida State. Savoy did contribute a basket in the 11-0 run that helped the Seminoles take control and scored seven points in eight minutes. Berwick missed all four of his shots and did not score in 12 minutes.
UP NEXT
Colorado State: The Rams stop at New Mexico State on their way home for a game on Wednesday.
Florida State: Home against Kennesaw State on Wednesday.
----------------------------
Discuss this story with fans on Warchant's Seminole Hoops message board.