FSU athletes chip in to help Miracle Sports Leagues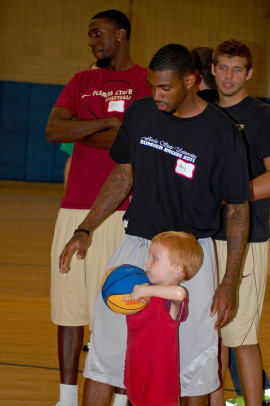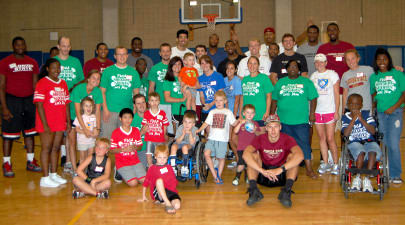 Florida State, community outreach events like hospital visits or sports clinics seemed insignificant to him as 20-year old.
But Sprague, now a father of four, sees how much just showing up can impact a child's day. Now back in Tallahassee, the former FSU tight end is involved with the Florida Disabled Outdoors Association Miracle Sports Leagues.
On Thursday, Sprague and his group of over 20 volunteers were joined by at least 17 Seminole athletes, including the majority of the Men's basketball team, for their basketball league at Tallahassee Community College.
As a father and someone involved with the league, Sprague hopes to help current student athlete volunteers have the perspective of events like Miracle Sports leagues he lacked as a member of the 1999 National Championship football team.
"As a player I felt awkward. As a team we would go to children's hospitals and things like that and I always felt almost out of place. Sort of like 'who are we?'" Said Sprague. "19, 20 year old kids just felt kind of stupid, corny doing it.
"It wasn't until now I have a son, and a son with disabilities and I know how important it is to him. He loves the Seminoles, he's a huge fan and loves going to games and knowing how special it makes him feel getting to meet the guys and work with them and then cheer for them in the game. It just gave me a whole new perspective for what the value and importance of a student athlete giving their time to kids, and particularly kids with disabilities, how important that is."
The student-athletes on hand helped the other volunteers put kids with disabilities ranging from cerebral palsy to autism through shooting and passing drills before taking them on in game of pick-up.
"They contacted us a while back about doing this a few times. We were actually really excited about it," Loucks said on Thursday. "Anytime we can give back to the community and do our part and help kids out it's a blessing. As soon as they contacted us it was no question we were going to come. It's been a lot of fun, all these kids have great attitudes and they make you happy too."
The goal of the Miracle Sports leagues is to give every kid the opportunity to participate in sports. The FDOA also sponsors, football, soccer, baseball, and many other leagues.
"The goal is we want to give kids access to athletics," Sprague said. "We want to give kids that maybe wouldn't have the opportunity to play a chance to play. We're not a competitive league, we're participation, we want to get them out here. A lot of our families will find themselves almost homebound, because whatever disability may be in their families may keep them from experienced different things. Whether it be going to the movies or playing baseball. So our goal is to help those families find an environment where there are no barriers, no walls, and they can come out and participate and experience success."
Sprague hopes that getting student athletes involved will not only help the program, but will also impact the athletes. He hopes that being around the Miracle Sports' athletes will give them a better appreciation for what they have, but also make them want to be more involved.
He is also hopeful that eventually the FSU student athletes will become a part of his regular group of volunteers. The core group of 20 volunteers made up mostly of FSU students really allows the programs to run themselves.
"They make the thing work, I get to kind of sit back and watch and coordinate and tell people what to do," Sprague said. "Those guys are hands on with our athletes, communicating with them, talking with them, experiencing their culture, their world. They make it tick. The athletes coming out they become support.
"My goal would be to see some of our student athletes become that same category as volunteers that are out here all the time. Toshmon Stevens, he's been out here now three weeks in a row and he's just dove right in. He's loving it and it's cool to see. Now he's got Dan Hicks plugged in and they're not out here because the football team is here, they're out here because they're enjoying what's happening and they're enjoying the athletes. That's a cool thing and that's what I love to see."