FSU bats go quiet in series-ending loss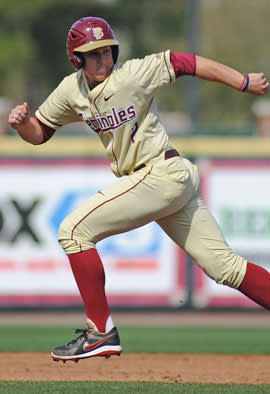 After cranking out 24 runs in the first two games of its series against visiting Coastal Carolina, the Florida State baseball team entered Sunday looking for an important sweep of the nationally ranked Chanticleers.
Then the Seminoles met Coastal Carolina reliever Bobby Holmes.
Holmes, a freshman right-hander from Athens, Ga., was called upon to quiet a fourth-inning Florida State rally, and he did much more than that. He pitched six innings of no-hit ball to help the Chanticleers pull off a 4-2 victory before an announced crowd of 3,978 at Dick Howser Stadium.
"I tip my hat to Holmes; the guy did a great job," FSU coach Mike Martin said. "Today is what you see every night in the big leagues - somebody has a great outing. This guy had a great outing."
It was Florida State's first loss in its Sunday gold uniforms this season and only its second regular-season loss in them since 2011.
Holmes, who entered the game with a 3-0 record, 1.41 ERA and three saves in 21 relief appearances, wasn't overpowering. He recorded just two strikeouts and issued four walks, but the Seminoles (35-14) only hit a few balls hard and the Chanticleers (32-15) played flawless defense.
FSU's only runs came in the bottom of the fourth inning, when they knocked out starter Shane Sawczak. Senior right-fielder Josh Delph led off with a single, and he went to third on a double by second baseman John Sansone. A balk scored Delph and sent Sansone to third, and then Sansone scored on a passed ball.
But after DJ Stewart walked for the first of three times on the day, Holmes came out of the bullpen and silenced the 'Noles. Those two fourth-inning hits would be the Seminoles' only hits for the day.
"They moved the ball around a lot, and [both] of their pitchers had cutters," Delph said. "That was kind of new. We haven't seen many cutters before. They just did a good job of hitting their spots and keeping the ball down."
FSU starter Drew Carlton (3-4) took the loss after giving up three runs in an uneven 3 1/3-inning performance. The freshman was touched for five hits and also committed a throwing error that helped the Chanticleers take a 3-0 lead in the third.
With a runner at second base, Carlton fielded a sacrifice bunt attempt cleanly but missed the target when he tried to gun down the lead runner at third. Not only did the run score, but the batter advanced to second base.
"He didn't have a grip [of the ball]," Martin explained after the game. "And instead of shifting and going to first, he tried to throw it [to third]. That happens sometimes when freshmen are in that situation. … If you don't have that grip, it's an automatic first base."
Despite the series-ending loss, Martin was very pleased that FSU was able to take the series against a top-25 Coastal Carolina team, one week after taking two of three from nationally ranked Miami.
"As we said starting this thing, that's [an NCAA] regional team," Martin said of Coastal Carolina. "And they played very much like a regional team today."
FSU will take Monday off before hitting the road to face Stetson in a non-conference game Tuesday and then traveling to Louisville this weekend for a highly anticipated showdown with the ACC-leading Cardinals.