FSU blows 18-point second half lead, falls to Temple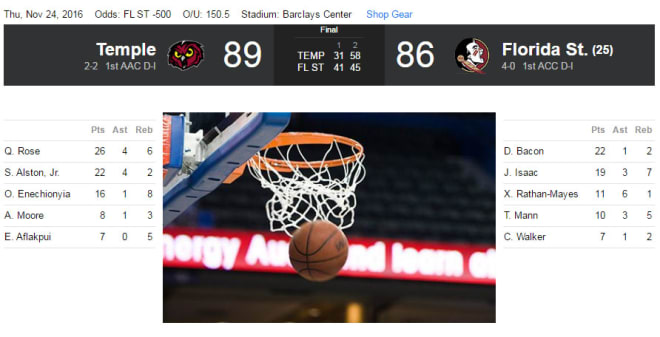 Full Box Score: Temple 89, Florida State 86
No. 25 Florida State (4-1) lost its first game of the season falling to Temple 89-86 in the first game of NIT Season Tip-off. The Seminoles blew an 18-point second half lead and gave up 58 second half points to the Owls.
Freshman Jonathan Isaac, who scored 19 points, had a chance to win the game in the final seconds of play but the layup attempt slipped out of his hands. Sophomore Dwayne Bacon led FSU in scoring with 22 on 9-of-12 shooting.
The Seminoles will play in the third place game on Friday versus either Illinois or West Virginia. That game will tip-off at 12:30 p.m. ET and be shown on ESPNU.