FSU 'climbing the ranks' with 4-star CB Avery Stuart after official visit
When he made his first visit to Florida State in early May, four-star Alabama cornerback Avery Stuart described the experience as "eye-opening."
This weekend, the Seminoles were looking to doing some closing.
Stuart was one of eight prospects taking official visits to FSU this weekend, and he came away even more impressed with what the Seminoles have to offer.
"I loved it," Stuart said. "I saw a lot more new stuff because I've been here for two days now."
Stay connected to all of your favorite FSU Sports Coverage!
*** Get the FREE Warchant App in the Apple Store or on Google Play
*** Subscribe to our YouTube Channel for fresh new videos every day
*** Sign up for our exclusive Newsletter to never miss important FSU news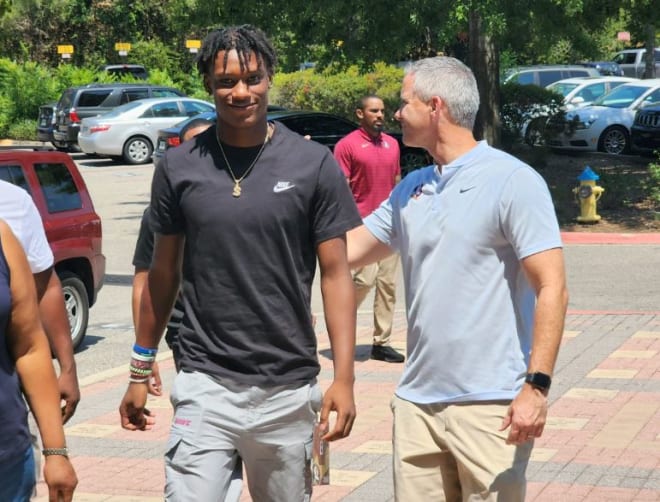 The 6-foot-2, 185-pound cornerback said one of the big things he wanted to see was how he interacted with the current players on the roster. And FSU checked off that box in a big way.
"The players made me feel like I was already a player here," Stuart said. "They made me feel like it was home. They made me feel like I was their brother."
While he spent time with many players on the visit, the Rivals250 prospect said most of his interactions were with the Seminoles' defensive backs. And they had a fairly common theme throughout the weekend.
"Trust the coaches," Stuart said he heard often. "The coaches know what they're talking about."
The four-star recruit also continued to give high marks to FSU defensive backs coach Marcus Woodson.
"He really showed me that he would like me here," Stuart said. "Coach Woodson has always been like in my ear. So I appreciate him."
*ALSO: LIVE Updates as FSU Football wraps up big recruiting weekend
Along with learning more about the university and academic programs, Stuart said the players got to check out different parts of the city as well. And he said he was impressed by how warmly the Seminoles were greeted everywhere they went.
"It's like a whole big family in Tallahassee," he said.
When he met personally with Mike Norvell, the head coach explained to Stuart that he would be pushed to his limits if he ends up signing with Florida State.
But Norvell also showed his lighter side when he had the recruits and some current players visit his house for a meal and entertainment on Saturday.
Norvell also had them take part in a cooking contest. (Stuart said he teamed up with DE Keldric Faulk and they finished in second place.)
"Seeing the relationship the coaches have with all the teammates," Stuart said. "They all just connect on a different level."
Faulk recently took an official visit to Kentucky, and his top six list is FSU, Auburn, Arkansas, Kentucky, Michigan State and Miami. He said he plans to make a decision on July 6.
So where do the Seminoles stand now in his recruitment?
"They're climbing the ranks," he said.