{{ timeAgo('2021-09-14 06:56:27 -0500') }}
football
Edit
FSU disappointed with offense, but not in McKenzie Milton's first start
McKenzie Milton didn't do anything to lose Saturday's game against Jacksonville State.
He didn't necessarily do a whole lot to win it, either.
Making his first start in nearly three years, Milton completed 18 of 31 passes with one touchdown and one interception -- and that turnover ended up not being a factor in the game, as Florida State's defense forced a three-and-out on the ensuing drive.
But the former UCF star also only threw for just 133 yards, converted 5 of 14 third downs and produced only three points after halftime against an FCS opponent.
Don't miss out on any of our great Football coverage. Get your 30-day FREE trial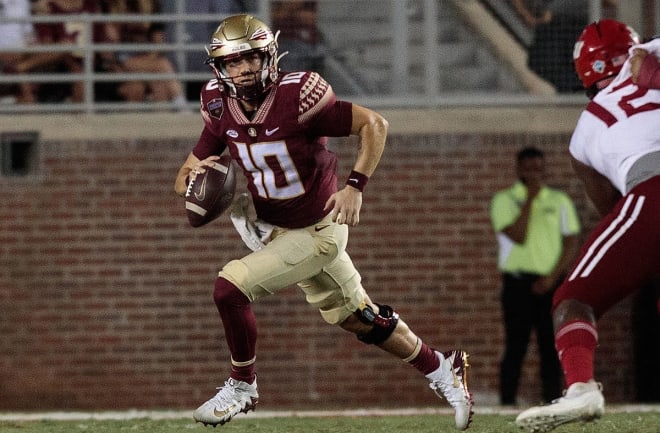 While the Milton-led offense wasn't very prolific, FSU's coaches apparently saw enough good things to decide he will be the starter again this week against Wake Forest. When FSU's Week 3 depth chart was released Monday afternoon, Milton was listed as the starter with Jordan Travis behind him as the backup.
They were listed as co-starters for the first two games.
"We felt like McKenzie did a good job managing the game, delivering the ball" FSU offensive coordinator Kenny Dillingham said at Monday's press conference. "He was efficiently moving the ball down the field until we got into bad situations. He was dealing the ball left and right -- hitches, stick routes -- until we got into the second-and-17s and second-and-18s of the world."
Unfavorable down-and-distances were indeed a significant problem for FSU's offense in the second half -- and most of it was self-inflicted.
After committing just two penalties in the first half for 15 yards, the Seminoles were flagged nine times in the second for 99 yards. And six of those penalties came on offense.
The issues started right after halftime, as the Seminoles' first drive of the third quarter was derailed by three penalties by the offensive line. First, tackle Devontay Love-Taylor was called for holding to negate a 5-yard run by Milton. Then after tailback Treshaun Ward picked up a first down on second-and-16, his next carry -- which would have been another big gain -- was called back due to a block below the waist by guard Dillan Gibbons.
That set up first-and-25. Then two plays later, guard Dontae Lucas was flagged for holding, which pushed the offense back into a second-and-35. The Seminoles punted two plays later.
"It's not a whole lot of fun playing quarterback in those situations," FSU head coach Mike Norvell said.
FSU's next drive resulted in a field goal, but it also was hurt by an ineligible receiver downfield call.
Even the Seminoles' best drive of the game -- one that started at their own 8-yard line at the end of the third quarter and ended at Jacksonville State's 3-yard line 15 plays later -- had to overcome a pass interference call against receiver Andrew Parchment and a false start by Lucas.
"Those things can't happen [for us] to be good offensively," Norvell said of the slew of penalties.
But those weren't the only problems on offense. The Seminoles also were brutal in short-yardage situations -- with the most notable being a two-yard loss by tailback Lawrance Toafili on a third-and-goal from the 1-yard line, a two-yard loss by Toafili on a third-and-2, and a one-yard loss by Jashaun Corbin on a third-and-1.
Dillingham said the offense faced five plays in that category and, "all five plays were negative plays in those situations."
He said some of those failures were caused by lack of focus and missed assignments. "A few of those times, we got pushed back a little bit," he said.
Along with going 5-for-14 on third downs, the Seminoles went 0-for-2 on fourth downs.
"Our third- and fourth-down situations were poor," Norvell said. "That's something we have to be better at. We've got to be able to extend drives."
At the end of the day, FSU's offense generated just 335 yards of offense and 17 points. Even the two touchdown drives were not exactly special; they both were set up by great field position and were aided by Jacksonville State penalties.
But Dillingham and Norvell both expressed confidence that the offense can be productive if the Seminoles can avoid all of their self-inflicted woes -- beyond just the penalties. The second-year offensive coordinator said they had at least one missed assignment on 65 percent of their plays this past Saturday.
On the plays with no missed assignments, he said, the offense averaged 8.9 yards per snap.
"We've got to have all 11 guys doing the exact same thing," Dillingham said, adding that the responsibility for that ultimately rests with him. "That's the challenge. And that is the only challenge."
Milton and the offense also were plagued by dropped passes, including one by veteran receiver Keyshawn Helton, which would have gone for a 44-yard touchdown on the game's opening drive. Milton also threw what could have been a 3-yard touchdown pass to receiver Malik McClain in the fourth quarter, but the freshman couldn't complete the catch before falling out of bounds.
"He had some plays that he'd definitely like to have back," Norvell said, when evaluating Milton's first start at FSU. "As he went through it, I thought he did some really nice things, even being able to extend plays with his legs, find open receivers."
While Milton is listed as the clear starter, both coaches said Travis would remain a factor in the offense.
Travis threw three incomplete passes in Saturday's game, and he had one seven-yard carry. The Seminoles also used Milton and Travis together for one series in the first quarter, with each quarterback lining up in various positions.
But while that series was unproductive, advancing just 17 yards on seven plays, Dillingham said that was mostly a result of a holding call. He suggested the Seminoles could use both quarterbacks on the field again in the future.
"Then had a holding penalty," Dillingham said. "So I don't think that had anything to do with the grouping. ... That is something we're probably going to continue to do, just to utilize skill sets."
One thing that would definitely help FSU's offense is a return to full health. Center Maurice Smith missed the Jacksonville State game due to injury, and left tackle Robert Scott left the game with an undisclosed ailment. The Seminoles also were without starting wide receiver Ontaria "Pokey" Wilson.
Norvell said the team hopes to have all three back soon, but he sounded the most confident about Wilson for this week against Wake Forest.
----------------------------------------------------
Talk about this story with other Florida State football fans in the Tribal Council