FSU drops thriller to Duke, 100-93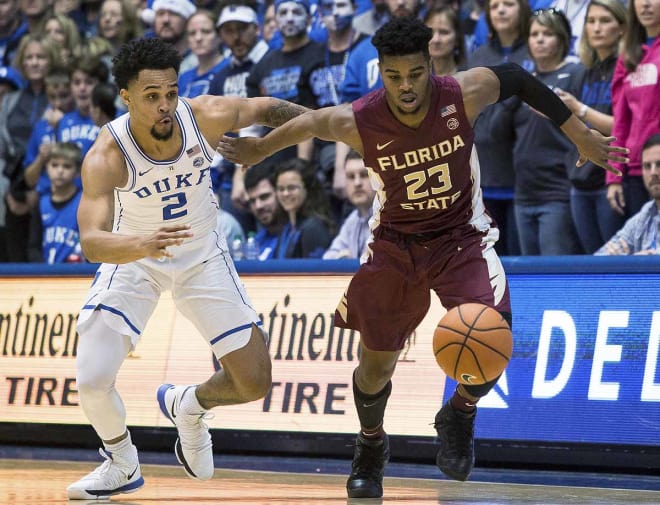 After playing well offensively all afternoon, the Florida State Seminoles picked the absolute worst possible time to go cold.
They missed their last eight shots from the floor - many of them open looks - and that allowed No. 4 Duke to close the game on a 9-0 run and foil the Seminoles' upset bid with a 100-93 win in Cameron Indoor Stadium.
Florida State drops to 11-2 on the season and 0-1 in the ACC. Duke improves to 13-1 and 1-1.
Despite the loss, it was an impressive showing from the Seminoles, who went toe-to-toe with the supremely talented Blue Devils all game long.
Phil Cofer scored 22 of his career-high 28 in the first half. And Braian Angola scored 17 of his 23 in the second half as the Seminoles kept pace with the high-scoring hosts until the very end.
Despite missing its final eight shots, FSU still finished with 15 3-pointers as a team. Cofer had 6, Angola had five and freshman M.J. Walker added two in the first half.
But as well as the Seminoles shot it, it wound up not being enough because they couldn't contain Duke's monster freshman forwards on the other end. Marvin Bagley, who might be the No. 1 pick in the 2018 NBA Draft, finished with 32 points and 21 rebounds (11 offensive).
Wendell Carter had 14 points and 16 rebounds (7 offensive) as the Blue Devils totaled 23 offensive rebounds as a team - which led to 28 second-chance points. Florida State had 12 second-chance points.
Angola hit three straight 3's during one stretch, helping to give the Seminoles a lead late in the second half. But sophomore C.J. Walker missed a wide-open 3 from the top of the key on one possession and then missed a contested layup a possession later.
Meanwhile, Duke continued to score on the other end as the Seminoles just couldn't get the stops when they desperately needed them.
FSU leading scorer Terance Mann didn't score for the 25 minutes of the game but still finished with 9 points, 6 rebounds and five assists. Redshirt freshman Mfiondu Kabengele added 10 points off the bench.
Grayson Allen scored 22 for the Blue Devils.
-----------------------------------------------------
Chat with other FSU fans about the win on the Seminole hoops board