FSU faces financial crunch, but Coburn sees light at end of tunnel
This is the first of three stories examining Florida State's financial predicament, which saw the Seminoles register a $3.6 million deficit in 2017-18, with additional shortfalls expected in '18-19 and '19-20.
Part I -- FSU faces financial crunch, but Coburn sees light at end of tunnel
Part II -- Seminoles take aim at lagging season ticket sales
Part III -- A closer look at College Town and what it does for FSU Athletics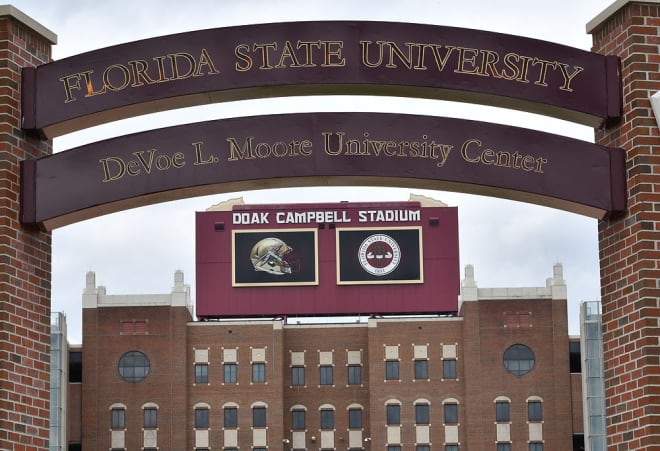 As he settled into a Fort Lauderdale conference room with the Atlantic Coast Conference's top brass at the ACC winter meetings this week, David Coburn had every reason to beam with pride about Florida State's recent athletic accomplishments.
* The women's soccer team won its second national championship in December;
* The softball team is beginning defense of its 2018 national championship;
* The baseball team is ranked in the top 15 of the major polls;
* The men's and women's basketball teams are ranked in the top 20;
* The men's and women's track teams are in the top 15;
* Golf, swimming and just about every other sport on campus seem to be trending in the right direction.
Football was a bit of a mess in 2018 -- and 2017, for that matter -- but Coburn, FSU's interim athletics director, is confident second-year head coach Willie Taggart is making the necessary changes to his coaching staff and roster to get the Seminoles back on track in short order.
Taggart already has brought in two new offensive coaches -- coordinator Kendal Briles and receivers coach Ron Dugans -- and he's expected to name veteran offensive line coach Randy Clements to replace Greg Frey, who was fired on Friday. The Seminoles earlier dismissed special-teams coach Alonzo Hampton after one season, and one or two more changes are still expected before the shakeup is complete.
In a lengthy interview this week with Warchant.com and the Tallahassee Democrat -- conducted before the Frey dismissal was announced -- Coburn made it clear that FSU is determined to put a much better product on the field in 2019.
"I think you are going to see a very different, very exciting offense in the fall," he said. "I think you will see that begin to develop through the spring. We had a very good recruiting class, notwithstanding what some people thought. And we are not finished. I want to make that clear ... we are not finished."
Whether or not the Seminoles are successful in landing another quarterback and offensive lineman on the transfer market, Coburn likes the new direction of FSU's football program. And now that most of the heavy lifting there is done, he's eager to get back to tackling some major issues on his own plate.
When Coburn was asked to take over the interim A.D. role following Stan Wilcox's sudden departure for the NCAA last summer, the expectation was that he'd fill the post for a few months, assess the strengths and weaknesses of the department and then help lead the search for a permanent replacement this spring.
That is no longer the plan.
What Coburn realized soon after stepping in was that the Seminoles' financial picture was a little more daunting than he expected.
During his hour-long interview with Warchant and the Democrat, Coburn explained that FSU's athletics budget is getting hit hard from both sides -- revenues and expenses. The result for the 2017-18 fiscal year was a $3.6 million deficit, and a similar shortfall is expected for 2018-19, despite several cost-cutting measures Coburn put into place during the fall.
And if a series of revenue-generating ideas are not successful in the coming year, the athletics department could have an even tougher time making ends meet in 2019-20.
"I have come to view this as a three-year challenge," Coburn said, adding that he won't be leaving the interim A.D. position any time soon. "I think I am going to be here until some of this works out."
FSU smacked by spike in expenses, softer revenues
While soaring operating expenses are an issue for every college athletics program, Coburn said the Seminoles' current predicament is compounded by a handful of big-ticket, one-time expenditures.
There was the buyout FSU had to pay to hire Willie Taggart away from Oregon, which according to published reports was about $4.5 million. Since then, FSU has picked up more expenses related to the hiring and firing of several assistant coaches. Coburn said all of those payments will be on the books for another two or three years.
The Seminoles also are paying off the new HD scoreboards and ribbon boards that were installed in Doak Campbell Stadium before the 2016 and '17 seasons. FSU also has had to invest about $4.5 million in infrastructure and technology to prepare for the new ACC linear television network, which is set to launch later this year.
And then there have been other unanticipated costs, including a newly enacted 21-percent excise tax on salaries in excess of $1 million.
When Coburn left his full-time position as chief of staff for FSU President John Thrasher and took over the athletics department, one of the first things he did was cut expenses by freezing vacant positions, eliminating non-essential travel and reducing administrative costs. That helped somewhat, slicing about $600,000 from a nearly $110 million budget.
But now that he has been in this position for nearly six months, Coburn said he knows there are too many fixed costs to balance the budget by trimming.
"Over the long term, because so many of our costs are fixed – coaching salaries, scholarships and recruiting -- [the solution] is going to lie in revenues," he said. "I'm working at it every day. We're going to drive some revenues to this place."
It won't be easy.
For Florida State and most athletics programs, football season ticket sales are the key to maintaining solid financial footing. Selling every seat in the stadium is important, but season tickets are doubly vital because they are accompanied by annual booster contributions.
And that market has grown softer for the 'Noles in recent years.
According to FSU, the school sold 45,000 season tickets in the lower bowl for the 2014 season -- one year after the Seminoles won their third national championship. Four years later, in 2018, FSU sold 32,194 season tickets. (Note: That number did not include about 6,500 premium seats sold in the Champions Club and stadium suites, but still represents a sharp decline.)
Overall attendance at Doak has taken a hit as well. FSU's average home attendance in 2014 was 82,211; it has not eclipsed 76,800 since, and it was only 70,943 in 2017.
Part of that dropoff has been a result of struggles on the field. But Coburn points out that schools across the country are experiencing similar challenges, due in part to the vastly improved home-viewing experience as well as changing consumer habits.
Despite those declines, the Seminoles remain convinced they can buck the trend by continuing to enhance the game-day stadium experience, improving the product on the field, and also strengthening the home schedule.
Traditionally, FSU's season ticket sales are much stronger during even-numbered years, when rivals Clemson and Florida both make trips to Doak Campbell. The Miami Hurricanes travel to FSU in odd years, but there frequently is not another marquee opponent on the slate to entice season-ticket buyers.
That will change in the very near future.
Florida State already has home games with Notre Dame scheduled for 2021 and 2029, as part of the ACC's partial membership pact with the Irish. And Coburn confirmed that the Seminoles are working to schedule some high-profile home-and-home series to bolster the schedules in '23, '25 and '27.
FSU isn't abandoning the practice of playing lucrative neutral-site games, but improving the home schedule also is a top priority.
"We are trying to schedule these home-and homes so the [game] here is in the odd year," he said. "I am trying to get out of that cycle, and Willie has been receptive."
That initiative won't take place in time to help FSU's 2019-20 budget, however, which is why Coburn is particularly worried about that year. The Seminoles' non-conference home opponents this fall will be Alabama State, ULM and Boise State (in Jacksonville). The home ACC foes are Miami, Louisville, N.C. State and Syracuse.
And it's not yet known how big of an impact back-to-back sub-par seasons -- the 'Noles are a combined 13-13 the last two years -- will have on ticket sales.
To help make up for any losses, FSU is working to schedule other events inside Doak Campbell Stadium. Coburn confirmed that a TopGolf event is in the works for later this year, and concert dates also are being pursued.
"We are trying to monetize the stadium more effectively," Coburn said. "We are working really hard, trying to figure out how to get use out of this building more than six, seven times a year. I think we can generate some revenue there."
Better days ahead
As challenging as FSU's situation is right now, Coburn is quick to point out that the Seminoles have made it through lean times before. FSU saw sharp decreases in revenues toward the end of legendary head coach Bobby Bowden's tenure, when the team was struggling and the economy was plagued by a recession.
And Coburn is confident that brighter days are coming soon, particularly once the ACC's member schools start seeing returns from the new linear television channel. Financial forecasts have not been made public, but each program is expected to receive several million dollars per year.
"Once we get through '19-20, things begin to look a little better," Coburn said. "The ACC revenues, the base revenues continue to improve steadily. The ACC Network comes online and generates money, and that will improve steadily. Some of our long-term vendor contracts continue to improve revenue-wise. And the schedule is going to improve significantly, in my view."
In the meantime, any FSU budget deficits will be covered by Seminole Boosters Inc., the athletics department's fundraising arm. Coburn met with the support organization's board of directors last weekend to outline the ongoing financial issues, and he described the meeting as reassuring.
"They've established reserves for precisely these kinds of situations," he said. "And they're willing to step up."
On that note, the Boosters also have reported extremely strong progress with the Unconquered Campaign, which was launched in September to raise money for a standalone football facility and other athletics projects.
The campaign was designed to raise $100 million over five years, and Coburn said they've already received pledges for about $60 million in less than six months. Of that total, about $34 million is designated for the $60 million football facility.
"We're really doing well," Coburn said, noting that Seminole Boosters also recently raised $350 million as part of Florida State's campus-wide Raise The Torch campaign, which generated $1.15 billion. "It's been very gratifying to see the response [from donors] coming on the heels of the university's own big campaign. I think everybody's been surprised by how well it's going."
As much as he appreciates that support on the capital side, however, Coburn said he's looking forward to the day when the athletics department doesn't need to lean so heavily on the Boosters to balance its operating budget. And he believes that is coming soon.
"Historically, we've either broken even or made money," Coburn said. "And I want to get back to that point. This should be a self-supporting enterprise over here, I think. That's the intent of the president and the Board [of Trustees] chair. And I think the majority of our fans and the university community believe that it should."
Coming Monday: Seminoles take aim at lagging season ticket sales
----------------------------------------------------
Talk about this story with other Florida State football fans in the Tribal Council