FSU finalizing raise, extension for Fisher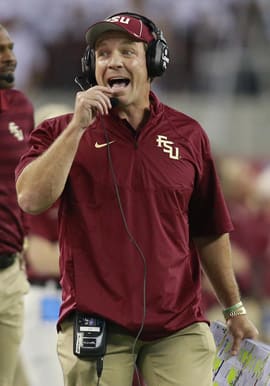 Limited Time Promo Offer: Get Warchant FREE through National Signing Day
Barring any last-minute snags, Florida State officials and head coach
Jimbo Fisher
are expected to announce a new long-term agreement, which will make him one of the highest-paid coaches in college football, before the Seminoles take on Oregon in the Rose Bowl.
Fisher, in his fifth season as FSU's head coach, has posted a 58-10 record with three consecutive ACC championships, one national championship and a school-record 29-game win streak. With a victory against Oregon on New Year's Day, Fisher's Seminoles would play for their second straight national title.
Fisher currently is ranked No. 14 on USA Today's survey of the nation's highest-paid college coaches; he is slated to make slightly less than $3.6 million this season. The new deal, which is still being finalized, likely will place him in the top five, a source with knowledge of the negotiations told Warchant.com.
Texas coach Charlie Strong currently sits at No. 5 on the USA Today list, and he makes just over $5 million per year. So Fisher's deal would have to at least match that. What's not clear is how the deal will be structured.
Fisher's current contract, which was negotiated around this time last year, is weighted on the back end. While he makes $3.6 million this year before bonuses, the fifth and final year calls for him to make $4.5 million. So the average over the five years is just over $4 million.
Over the course of the new contract, he is expected to receive at least a $1 million annual raise, but that deal could be back-loaded as well. The new package also will be longer than Fisher's previous five-year deals, according to the source. This contract is expected to run eight years, which is the length of Alabama coach Nick Saban's current contract.
FSU athletic director Stan Wilcox, reached through a school spokesman, declined to comment when asked if the university is reworking Fisher's contract.
Although Fisher has stated that he wants to stay in Tallahassee, his name was mentioned recently amid media reports that Les Miles might leave LSU for Michigan. And Orlando Sentinel columnist Mike Bianchi wrote this week that the NFL's Miami Dolphins should pursue Fisher as their next head coach.

Fisher has dominated both the ACC and the state of Florida since replacing the legendary Bobby Bowden. He has posted a 34-6 record in conference play, and the 'Noles are a combined 9-1 against rivals Florida and Miami over the past five seasons.
Fisher, whose current recruiting class is ranked No. 2 in the country behind Alabama, is one of 12 finalists for the Dodd Trophy as the national coach of the year.