FSU Football Redshirt Report: Where the freshmen stand at 2021 halfway mark
Now that the Florida State football team has reached the midway point of its 2021 season, this a good time to look at which scholarship players on the team could still be eligible for redshirts this year.
FSU signed 17 prospects out of high school in the 2021 recruiting class. However, the highest-rated of the bunch -- wide receiver Destyn Hill -- did not enroll this fall. (According to sources, Hill is still expected to end up with the Seminoles in the spring.)
That leaves 16 scholarship freshmen on the roster this season, and of those 16, 10 newcomers appear likely to earn a redshirt this year. A few more who have already seen action could still redshirt as well, because the NCAA now allows football players to compete in as many as four games and still retain that year of eligibility.
After practice Wednesday, FSU head coach Mike Norvell delved deeper into his redshirt strategy and explained how he and his staff will make decisions in the second half of the season.
"For us, it's who gets an opportunity to impact for us to win. I don't ever want to just get game experience for game experience, if somebody is not ready to help this team be successful," Norvell said. "I am definitely aware of every play that every young guy gets, and sometimes it's limited in the course of a game.
"There are times where I will hold somebody unless its an absolute emergency with the thought process of what's ahead, to be able to keep the opportunity for a redshirt. But we will get deeper into that here in the back stretch. Some guys that you see are continuing to grow up and are putting themselves in a position to help us. If they continue on that path, we will definitely capitalize on those games."
Don't miss out on any of our great FSU Football coverage. Get your 30-day FREE trial!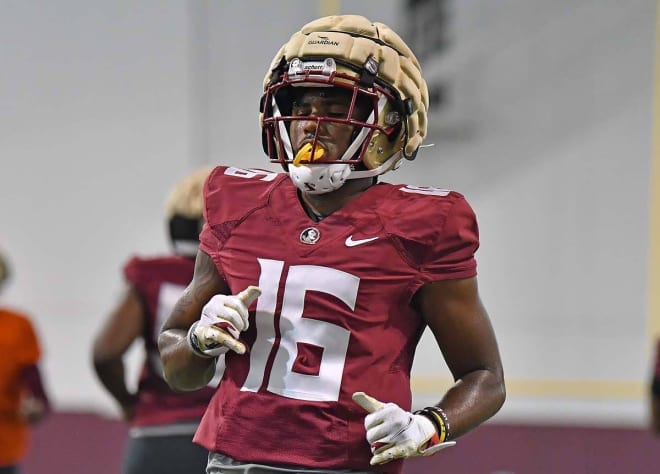 The players most likely right now to receive redshirts this season are: cornerback Hunter Washington; offensive linemen Bryson Estes and Rod Orr; defensive ends Patrick Payton, George Wilson, Byron Turner, and Shambre Jackson; tight ends Jackson West and Koby Gross; and linebacker Jordan Eubanks.
All 10 of those players have yet to see action in the first six games of the season, which means they could still compete in four of the six remaining games and still not lose a year of eligibility.
Out of the six other freshmen, two definitely won't redshirt this season. Wide receiver Malik McClain and defensive back Kevin Knowles have each made an early impact and played in every game this season. McClain has started five times, and Knowles has started the past two games.
For the remaining four first-year players, things are still up in the air whether they'll be classified as sophomores or as redshirt freshman heading into next season.
Defensive tackle Josh Farmer didn't see the field until Week 4 against Louisville, but since then he's played in three straight games and could also see more snaps with starter Dennis Briggs lost for the season due to injury.
Wideout Josh Burrell was used sparingly in the first three games, but he hasn't played a snap since and has been seen on the sideline in a protective walking boot.
Finally, defensive backs Omarion Cooper and Shyheim Brown have seen limited action in the Seminoles' crowded secondary this fall. Cooper played 16 snaps in the last-second win over Syracuse but wasn't utilized on the road the next week at UNC. Brown flashed in fall camp and could still be a factor late in the season, despite only playing in one game thus far.
Here's a complete look at Florida State's 17 freshmen, which games they've played in, and their redshirt outlook.
2021 Freshman Participation
| Name | Pos. | Games played | Redshirt eligibility |
| --- | --- | --- | --- |
| Hunter Washington | DB | ---- | Likely to redshirt; can still play in four games |
| Shambre Jackson | DE | ---- | Likely to redshirt; can still play in four games |
| Destyn Hill | WR | ---- | Not currently with the program; could arrive in spring |
| Malik McClain | WR | Notre Dame, JSU, Wake Forest, Louisville, Syracuse, UNC, (started five games) | Cannot redshirt |
| Josh Farmer | DT | Louisville, Syracuse, UNC | Could still redshirt; can play in one more game |
| Kevin Knowles | DB | Notre Dame, JSU, Wake Forest, Louisville, Syracuse, UNC | Cannot redshirt |
| Joshua Burrell | WR | Notre Dame, JSU, Wake Forest | Could still redshirt; can play in one more game |
| Jordan Eubanks | LB | ---- | Likely to redshirt; can still play in four games |
| Jackson West | TE | ---- | Likely to redshirt; can still play in four games |
| Omarion Cooper | DB | Louisville, Syracuse | Could still redshirt; can play in two more games |
| Bryson Estes | OL | ---- | Likely to redshirt; can still play in four games |
| Byron Turner | DE | ---- | Will redshirt; underwent season-ending surgery |
| Rod Orr | OL | ---- | Likely to redshirt; can still play in four games |
| Shyheim Brown | DB | Jacksonville St. | Likely to redshirt; can still play in three more games |
| Patrick Payton | DE | ---- | Likely to redshirt; can still play in four games |
| George Wilson | DE | ---- | Likely to redshirt; can still play in four games |
| Koby Gross | TE | ---- | Likely to redshirt; can still play in four games |