FSU pulls away from Pitt, 88-75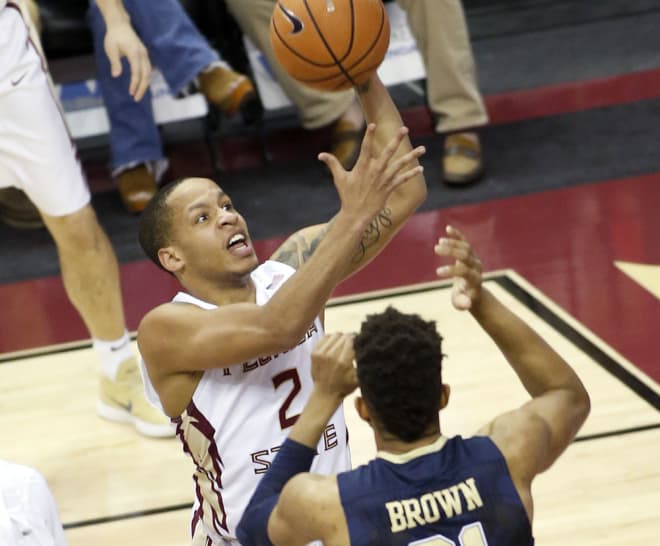 Box Score: FSU 88, Pitt 75
Thanks to a 23-8 run late in the second half, the Florida State Seminoles avoided disaster Sunday night.
Playing the worst team in the ACC, the winless Pitt Panthers, the host Seminoles found themselves in a tied game with six minutes left. But Phil Cofer made some big baskets down the stretch -- scoring all 14 of his points in the second half -- and P.J. Savoy knocked down a dagger 3-pointer with 90 seconds left as the Seminoles escaped with an 88-75 win.
Florida State is now 19-8 overall and 8-7 in the ACC. Pitt drops to 8-20 and 0-15.
It was a big win for FSU, which avoided what would have been a season-wrecking loss to the worst team left on the schedule. And it did it without the services of Terance Mann and Braian Angola in the first half. The team's two leading scorers were benched in the first 20 minutes for disciplinary reasons.
FSU coach Leonard Hamilton described the benching as punishment for a "little indiscretion." He declined to offer specifics.
Savoy finished with a game-high 18 points (including five 3-pointers). M.J. Walker added 14, Mfiondu Kabengele had 11 and Trent Forrest finished with 12 points, five rebounds and four assists.
"I was very pleased with our overall effort," Hamilton said. "Now we're in a position where we need to be thinking mentally and emotionally, connecting ourselves and re-energizing ourselves to try put ourselves in a position to make a run here at the end of the season."
Said M.J. Walker: "It's important. Being connected late in the season like this is when teams find that — they smell blood and (want to) step on teams' throats," Walker said. "So we have to be more connected, more focused, not let the success get a hold of us, stay humble, keep working, trust the process, trust the system, keep our heads down and get the next win."
Pitt made things interesting in the first half, partly because FSU was down two starters, and partly because Pitt was unconscious from 3-point range.
The Panthers hit 10 of 17 shots from long range in the first half. Guard Parker Stewart hit 4 of 5 by himself.
And when Pitt's Marcus Carr knocked down a 3 at the buzzer before halftime, the Panthers went into the locker room with a 39-38 lead. Even more importantly, they went in with a ton of confidence -- something that has been in short supply for Pitt this year.
With Mann and Angola both entering the game early in the second half, the Seminoles seemed poised to cruise to victory. They even took a 10-point lead at one point midway through the half.
But it wasn't easy from there, as the Panthers made another run before Florida State put them away for good. Cofer scored 12 points in the final 6:30 of the game to help propel FSU to the important win.
The Seminoles shot 29 of 40 from the free-throw line. Kabengele was 9 of 11 by himself. Pitt had three players foul out on the night and was whistled for 31 fouls overall.
Stay connected with Warchant.com for more on this game.
Discuss the game with fans on Warchant's Seminole Hoops message board.