FSU gets creative to deal with Winston hype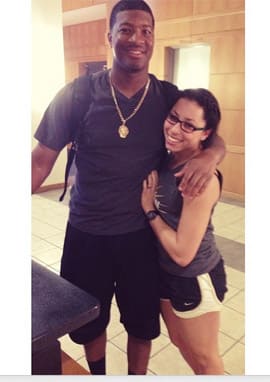 It's the opening day of spring training for the New York Yankees and fans are swarming around the dugout before the game. But the main attraction isn't Derek Jeter or Jorge Posada. It's
Jameis Winston
.
Fans form a crush and crane forward with balls, hats and paraphernalia, begging for Winston to sign. He obliges for as long as possible, before being ushered away by the start of the game
After the game, it's no different. Reporters form a full-out circus , crowding around Winston after the game in a rear exit of the stadium. The circle of reporters goes four or five deep. Winston's teammate Brett Knief went 3-3 on the day, but isn't getting a hero's welcome now. He taps reporters on the shoulder, trying to squeeze through the melee. He briefly gets pinned against a stone column. Winston, fielding questions from all angles, even cranes his head backward to answer a question.
FSU baseball Sports Information Director Jason Leturmy climbs a nearby wire fence to peer over the melee. Clinging to the wire fencing, he calls out:
"Two more questions! … Last question!"
After a few repetitions, his calls are finally heeded and the media horde breaks up enough for Winston to exit. It's just another day in the life of FSU baseball when the closer is also a Heisman Trophy winner. As a reaction, the school is taking some interesting measures to keep Winston from being overwhelmed by everything around him.
Running interference
By every single account, including his own, Winston has handled his rise to national fame with relative ease. Neither cameras nor crushing fans seem to bother him, and teammates both on the diamond and the gridiron say he's still the same person has he was when he arrived on campus.
"He does it as natural as anybody I've ever been around," FSU football coach Jimbo Fisher said. "We've got to make sure we regulate it and make sure it doesn't overwhelm him, but he is a natural people person."
But, if Winston has remained the same, that hasn't stopped the world around him from changing. So far, he's been able to stay relatively normal on campus and going to class. But every time he's in uniform, it's a different story. Not all of the people crowding around the FSU dugout on Tuesday were ardent FSU fans. His signature on a bat or a helmet or a jersey is suddenly worthwhile.
Everything Winston signs immediately has value, and there are always people trying to cash in on that value. A cursory search on Ebay reveals a number of Winston-autographed paraphernalia for sale. An autographed Pylon? $299.99. A signed helmet? $129.99. A pass to the Heisman ceremony with Winston's signature? $999.99.
This season, autograph-seekers have been spotted with duffel bags full of apparel, sending children to get Winston to sign them. Whenever Winston signs autographs, he's instructed to make it out to a specific person so that it's less likely to end up for resale.
"The hard part is when you see people over and over, trying to get multiple things signed," FSU associate athletic director Monk Bonasorte said. "What we've done is we've made sure that when he signs something he has to put a name on it. It has to be identified to someone."
Winston, for his part, says he hasn't curtailed giving autographs and doesn't plan to - it's not worth trying to parse who's a fan and who's trying to hawk a signature for profit.
"I know when I was growing up, I wanted to meet a famous person," Winston said. "I'm not saying I'm famous, I just wanted to go to a game and meet someone that everyone was taking a picture of and everything like that. Every time I see a little kid, even if they have a man that looks like he's an eBay guy behind him, I'm just like, 'I gotta do it for the kids.' And the elderly especially. I love seeing old women and old men come up, struggling to the fence and saying 'Hey Jameis, sign this for me.' I'm just like 'Yes, sir.' It means a lot to give back."
A number of members of the FSU athletic department make sure to be around Winston during most baseball games. Leturmy is the main sports information director for the baseball team. Kerwin Lonzo, Sports Information Director for football, deals with Winston through the fall and continues to show up at most of the baseball games as well. Bonasorte has been a regular face at baseball games as well.
It's not just a posse of FSU employees. A uniformed police officer from FSU follows Winston to every away baseball game, and in Tampa was in the dugout with Winston. The main duties of the support staff are getting Winston and the baseball team in and out of locations, getting him out of the stadium and past autograph-seekers and into his car without being hounded.
Bonasorte added that FSU has asked for additional support from the schools its visiting, meaning extra police officers or support staff used to help FSU's team during football or baseball season to help Winston and those around him get in and out safely.
There have been other issues as well. Bonasorte also said that Winston and his family have met with FSU multiple times to talk about the best ways to keep various situations from spiraling out of control.
A new kind of fame
It's not as if FSU is unfamiliar with how to deal with Heisman-winning football players or high-profile athletes. But players like Charlie Ward and Chris Weinke didn't have to be famous in an era of social media and instant pictures and video.
Social media presents problems for FSU: Winston is always just one picture or video away from owning a news cycle for the wrong reasons - and there's no space for context on Instagram and very little on Twitter with only 140 characters allowed.
It helps that Winston moved out of a densely packed student apartment building with hundreds of students in close proximity. It also helps that Winston plays baseball - limiting his time for public exposure outside of the protection of FSU's athletic department.
"He goes to practice, he goes to school, they're playing every weekend, So it keeps him out of being out in public that much in Tallahassee," Bonasorte said. "It keeps him out of doing things like going to a restaurant, or a club or something. His time is limited and there are more controls on him now, and we've got more staff that are going to be with him on a constant basis."
Lonzo said it helpful to speak with the Heisman Trophy public relations staff back in December about how to handle the hoopla after dealing with Texas A&M's Johnny Manziel the year before. Lonzo said there's also been informal outreach to Texas A&M as well from FSU - especially with a young player winning the Heisman and then returning to school. It's rarefied ground for everyone: a Heisman winning quarterback that returns to school.
"I don't think there's a blueprint in place," Lonzo said. "I know compliance has had conversations with Texas A&M just like this came up or how to maneuver through this situation."
Compliance is another hurdle FSU has to cross. Adding extra security and a police officer to follow Winston around is not the usual student-athlete treatment, and Lonzo said FSU stays in almost constant communication with the NCAA to clear any adjustments made for Winston.
"Johnny and Jameis are not the normal student-athlete anymore," Lonzo said. "You probably have to just think things out differently. You have to think about safety and security. Not only for his own but for fans and people attending the games in general. Obviously everyone wants interaction with him so you have to be aware... There are going to be some exceptions made."
Not going anywhere
If FSU hoped that the attention around Winston would subside in the more subdued baseball season, it was sorely mistaken. In the FSU season-opening series against Niagara, Winston pinch-hit, drew a walk and threw two innings of relief. ESPN ran the 'highlights' on SportsCenter.
"Folks that haven't seen him since he's won it," Fisher said. "So it's going to continue to always be there."
Even Winston's teammates on FSU's baseball team say they're handling the hoopla, and say they understand it's just a part of life from here on out.
"It's going to be like that all year," FSU senior Casey Smit said. "He's a Heisman winner, he won the national championship. Just it's going to be there. Nothing we can change."