FSU gets up early and cruises to 118-63 win over Nicholls State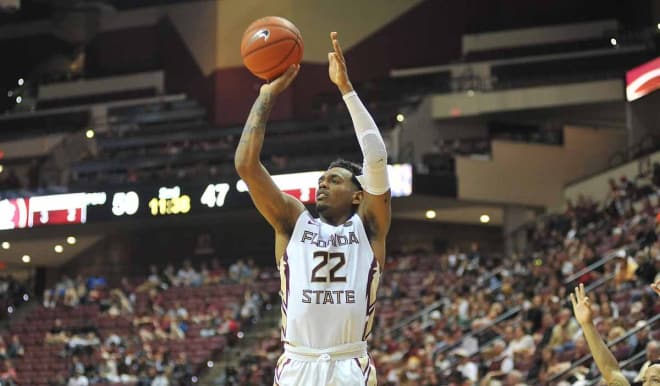 BOX SCORE: Florida State 118, Nicholls State 63
--------------------------
Four games in eight days. It was supposed to be another challenge for a Florida State men's basketball team attempting to take the next step.
So far, it's been more like three blowouts with one significant game left against Florida on Sunday. FSU created a 37-point lead by halftime and coasted to a 118-63 win over Nicholls State on Thursday.
The 118 points are the most scored by the Seminoles in the Leonard Hamilton era. It breaks the previous record of 109, which was set last year against Nicholls State. FSU (9-1) will get two days off prior to hosting its in-state rival at 4 p.m. at the Tucker Center.
"Tonight was one of those games where we knew going into it, we'd have this team out-manned," Hamilton said. "It's about us coming as close as we could to executing the things that we thought we had to do from a defensive standpoint."
FSU opened its run of four in eight with a 19-point win at George Washington on Sunday and a 49-point thumping of Southern Mississippi on Tuesday. It became clear early that another laugher was on the horizon.
The Seminoles jumped out to a 14-0 lead within six minutes Thursday night. Eight of those points came by way of layup or dunk, something the Seminoles did with frequency. Sophomore center Christ Koumadje received the ball and after wearing down his defender, dunked it for a 9-0 lead. Koumadje stared down the Nicholls State player before going to the line and hitting a free throw for a 10-0 lead with 15:55 left.
Nicholls' (4-5) first points came off free throws from Adam Ward. He also scored the team's first field goal, but the Seminoles were already up 24-2 with 10:42 left. By the time the Colonels reached double digits, they were trailing 40-11.
"They jumped us early. They're great defensively," first-year Colonels coach Richie Riley said. "My time at Clemson as an assistant, I had to scout against these guys for the last two years. So, I'm really familiar with them and they really guard you.
"I think Florida State this year is back to guarding like a lot of their traditional teams."
FSU already had Nicholls State at a disadvantage prior to the tip. The Seminoles would go 11 players deep while the Colonels only had eight.
Nicholls State would shoot 21 of 62 for 33.9 percent and 4 of 23 for 17.4 percent from 3.
All 11 of FSU's players recorded at least two points by halftime. The Seminoles shot 67.6 percent in that period on 25-of-37 shooting while connecting for 42.9 percent of their 3-pointers. FSU had 16 assists to just six turnovers.
Junior guard Xavier Rathan-Mayes flirted with a triple-double. He led the Seminoles with 16 points, seven assists and seven rebounds. Sophomore swingman Dwayne Bacon also scored 16 off 6-of-10 shooting in 23 minutes.
FSU had six players finish in double figures including sophomore junior college transfer P.J. Savoy, who scored a game-high 18 points. The Seminoles did all this without star freshman forward Jonathan Isaac and junior forward Phil Cofer.
Hamilton said he expects Cofer and Isaac to play against Florida. Although he was more confident when providing a prognosis on Isaac than Cofer.
Aside from padding their win totals, the Seminoles have used the last three games to figure out rotations while improving in certain areas.

Much of what FSU has learned over the last week will be tested against No. 21 Florida (7-2). The Gators opened the season 5-0. They're currently 2-2 in the last four games with a five-point loss to No. 11 Gonzaga and a 10-point defeat against No. 5 Duke sandwiched between wins.
"It's been fun to see our progress, to see the way we've progressed over the last few days," Rathan-Mayes said. "The way we've gotten better on both ends of the floor. The way we've been able to execute offensively. Get the ball moving, get bodies moving and get great shots each and every time down.
"The way we've been playing defense, at a high level, it's been great. We're making great strides in the right direction. It's definitely special to see."
------------------------------------------
Talk about this story with other Florida State basketball fans in the Seminole Hoops Talk