FSU lands speedy 2021 RB Keyshawn Spencer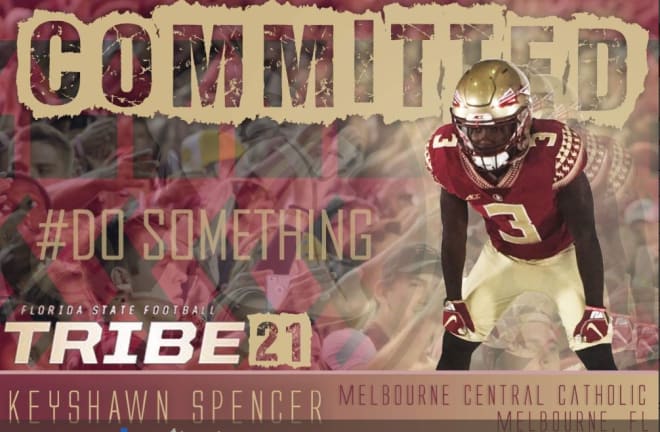 It's never too early to start building for the future, and Florida State landed its first commitment of the 2021 recruiting class on Friday as Melbourne Central Catholic RB Keyshawn Spencer made his pledge to the Seminoles.
Though just a sophomore in high school, Spencer already holds offers from Tennessee and North Carolina, among others.
FSU was the dream offer for Spencer, however, and he could not wait to commit once it came on Thursday.
"FSU is always the place I dreamed about playing. So this was really huge for me," Spencer said.
Spencer chose the 'Noles over impressive offers from Tennessee, North Carolina, Arkansas, and Kentucky, just to name a few. FSU running backs coach Donte' Pimpleton, who recruits the Space Coast area, had a strong hand in helping get the talented back on board. Spencer also talked about his experience at the FSU Jr Day last weekend and what sold him on this FSU staff.
"The energy they (FSU) gave us as visitors made me feel as if I knew them before I actually did," Spencer said.
Spencer made everything official on Friday night when he got a chance to talk with Coach Taggart and officially commit to the 'Noles.
"He was excited," the tailback said. "He said let's make big things happen together."
Spencer also made it clear he's more than just a speedy back.
"My strength is my speed and changing directions, but it isn't my only option," he said. "I'm never scared to go down low."
According to Spencer, his height and weight is 5-foot-10, 177 pounds.
Here's a closer look at Spencer in action as a sophomore.