FSU looks to make history tonight in ACC championship game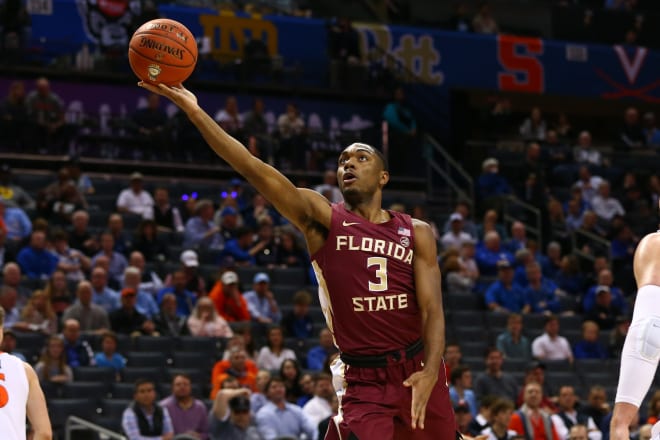 CHARLOTTE, N.C. -- To be fair, it was an incredible semifinal game. That came down to the final seconds. Between two storied rivals.
But when Duke head coach Mike Krzyzewski and freshmen phenoms Zion Williamson and R.J. Barrett sat at the podium late Friday night, following their one-point win over North Carolina, this is how many questions they were asked about the opponent awaiting them in the ACC championship game: Zero.
Not one question about Florida State.
The Seminoles knocked off No. 1 seed Virginia on Friday night in the other semifinal game, and they also came within one rebound on a missed free throw of beating Duke in the regular season. But they weren't brought up once by reporters when Krzyzewski and his two lottery picks were answering questions at the press conference.
There were only 12 questions total because of the late hour. And the Duke head coach did offer praise of his opponent in tonight's title game (8:30 p.m., ESPN), but the prospect of facing FSU was not exactly a hot topic after the Blue Devils' one-point win over the Tar Heels.
"I watched a little bit of Florida State and their defense was outstanding today," Krzyzewski said. "Virginia's as good a team as there is in the country. We have some really good teams. We have some really good teams and players. So -- and Florida State is one of them. They're one of them."
It certainly appears so.
There's at least a decent chance the ACC gets three No. 1 seeds when the NCAA Tournament brackets are revealed on Sunday evening. With the Seminoles' win on Friday, against what might be the No. 1 overall seed in the tournament, they seem to have a strong case to now be a No. 3 seed in the Big Dance.
If they win tonight? Against another potential No. 1 seed? Maybe they could shoot all the way up to a No. 2.
But that would be a secondary accomplishment for Florida State's players and coaches. The main goal, of course, is to do what only one other team in FSU history has done before: Win an ACC championship.
"It would mean a lot," said junior guard Trent Forrest. "The coaches talk a lot about the 2012 team to us. So I would just like to get the story to change so they could talk about us. It would mean a lot to each guy on this team."
The 2012 team, much like the 2019 version, had some low moments during the course of the season, losing to the likes of Princeton and Auburn and then getting blown out in the ACC opener at Clemson. They rebounded to beat Duke and North Carolina during the regular season and then beat them both again in Atlanta on back-to-back days to win the 2012 ACC Championship.
Regardless of what happens tonight, there's a good chance FSU's coaches and fans will remember the 2019 squad fondly.
Still, a win over Duke and another ACC title would be something that could never be taken away.
"Since I've been recruited, that's all I've heard about -- the 2012 team," Forrest said. "Ten years from now, it would be great to hear about teams that have to hear about us."
Said redshirt sophomore Mfiondu Kabengele: "You want to have some hardware to capitalize on your season. No one remembers second place. So you just try to finish out the season and finish strong. And we want to do it for our seniors.
"To see them all have hardware at the end of the season would be great to see."
Florida State is currently 27-6 on the season. A victory tonight would break the record for the most wins in a single season in school history, set by the 1972 team that lost to UCLA in the national championship game.
The Seminoles will be facing a Duke team that is loaded with first-round talent, including the probable first two picks in the NBA Draft, Williamson and Barrett, and another lottery pick in Cam Reddish. You might remember him from the game in Tallahassee.
But the Blue Devils aren't as deep as the Seminoles. And they're coming off of a grueling, emotional win over their arch rivals.
"Hopefully, we have enough in the tank tomorrow to play well against Leonard's team," Krzyzewski said.
---------------
Discuss this story with other FSU fans on the Seminole Hoops Message Board.