FSU men cruise past Georgia Tech, improve to 15-5 overall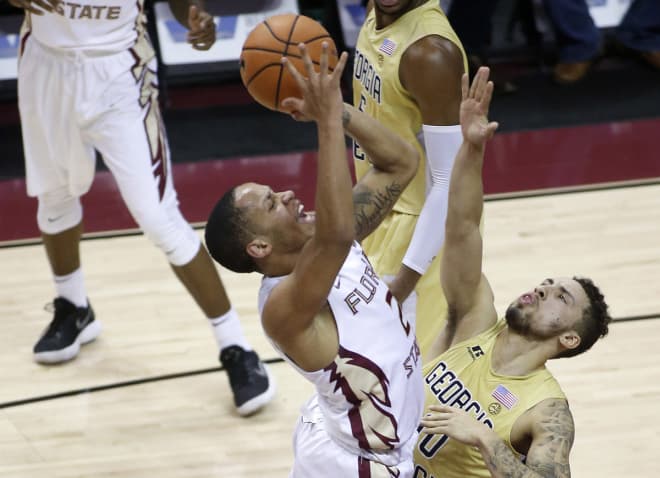 Box Score: FSU 88, Georgia Tech 77
Led by a career-high 30 points from junior Terance Mann, the Florida State Seminoles picked up another big conference win on Wednesday night over Georgia Tech.

Mann scored 21 in the first half - on 7 of 7 from the floor and 7 of 8 from the free-throw line - to help give the Seminoles a 50-36 lead at the halftime break.
"They were changing defenses throughout the whole game," Mann said. "They were going from their matchup zone, which kind of looks like a 1-3-1 so it confuses you, but we were just trying to stick to our zone offense and do what we do."
Mann finished off the first half with a tough turnaround jumper at the buzzer. He also had an and-one dunk in transition that will be on his all-time highlight reel.
But even with the 14-point lead at the break, Wednesday night wasn't easy for the Seminoles.
As has been this case a few times this season, FSU couldn't build on the first-half momentum coming out of the locker room and the visitors were able to whittle the lead down to seven on multiple occasions. But it never got any closer.
"I don't think we played as well as we're capable of playing, but I thought their system had a lot to do with it," FSU head coach Leonard Hamilton said. "I'm very happy we pulled away for a victory. This was a typical ACC game. ... I knew they weren't going to go away. We came out in the second half and they had a little bit more energy than us.
"We called a timeout and I thought our guys adjusted pretty well. We'll look back at the end of the season and realize this was a very, very important game for us. Because these guys are going to beat some people along the way."
Freshman M.J. Walker scored all nine of his points in the second half before fouling out and Braian Angola added 19 points - including two dagger 3-pointers down the stretch - as the Seminoles were able to put away Georgia Tech (10-10, 3-4).
Florida State shot 59.3 percent from the floor and was 19 of 23 from the free-throw line. Mann finished 10 of 13 from the field and 10 of 12 from the line.
"He had 21 in the first half and he was just kicking our butt," Georgia Tech head coach Josh Pastner said. "And a lot of it was just straight-line drives. He's a high-level player and you have to give him credit. He was on."
Georgia Tech was able to out-rebound the Seminoles 34-26, including a 16-6 advantage on the offensive glass, but the Yellow Jackets also turned the ball over 16 times - which led to 24 points for FSU.
"In this league it's hard to string together a lot of wins," Mann said. "So it's definitely important to get back to .500 (in the ACC). And get our names back on the map like it was in the beginning of the season. So we're just trying to keep going with it."
The Seminoles are back in action on Saturday at 4 p.m. at home vs. Miami.
--------------------------------------
Talk about this story with other FSU fans on the Seminole Hoops Message Board.