FSU offering discounted bowl tickets, will take financial hit



When it was announced that Northern Illinois would be Florida State's opponent for the Orange Bowl, it didn't create much excitement for the Seminoles' fan base.
The BCS busting matchup isn't likely to generate a lot of ticket sales either.
With Florida State on the hook to sell 17,500 tickets as part of the participating team's BCS agreement with the Orange Bowl, the school is already taking measures to limit the damage in what's expected to be slow sales for the Jan. 1 game.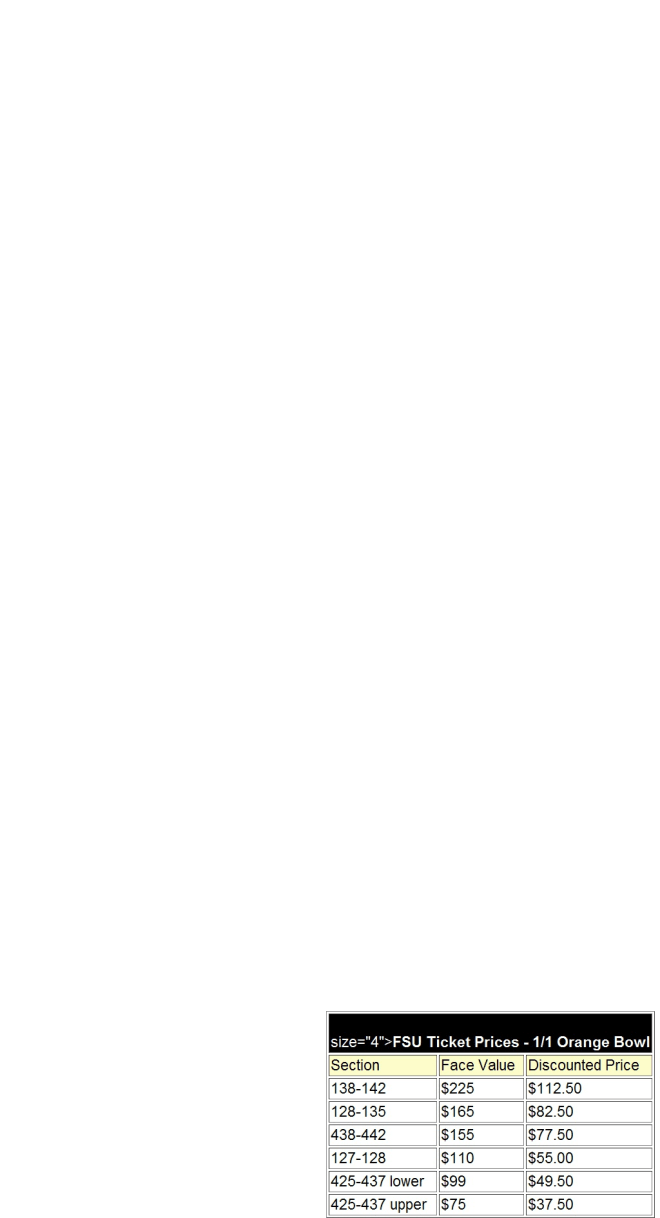 The face values on Florida State's 17,500-ticket allotment range from $75 to $225, numbers that will be a tough sell considering the matchup. As soon at NIU was announced as FSU's opponent ticket prices plummeted on third-party ticket websites. As of Wednesday, upper deck seats were listed for $11 apiece on SeatGeek.com.
In response, Florida State's athletic department announced Wednesday it would sell Orange Bowl tickets at a 50 percent discount to Seminole Boosters, season ticket holders and FSU students, who can order tickets at a discounted rate between $37.50 and $112.50 per ticket (see chart).
As for footing the bill, Florida State's athletic department will take the brunt of the financial hit. The decision was made to offer more competitive prices in hopes of increasing sales and attendance for FSU's first BCS bowl game appearance since January 2006.
"Our feeling is we'll pay the difference to get the tickets closer to market as a sign of loyalty to our ticket holders and booster members," said Seminole Boosters Vice President of Marketing and Communications Jerry Kutz. "We'll make a benefit of booster membership. Try to turn something negative into something positive ... We don't need to be asking our long term customers to buy from us and pay more."
The discounted rate will be applied retroactively to anyone who fits the criteria that already purchased tickets through FSU at full value.
Even if Florida State is able to sell its entire allotment of 17,500, which is unlikely, it's a guarantee that the school and Seminole Boosters will take a hit financially. Taking an average regular face value price of $138 per ticket - meaning FSU would voluntarily concede $69 per ticket with the discount - the net loss to the school would be approximately $500,000 assuming they can sell at least 8,000 tickets.
According to ACC Associate Commissioner Michael Kelly, FSU is financially responsible for selling the first 6,000 tickets and the league begins to help offset the cost between 6,000 and 17,500. The specifics on how the ACC contributes were not immediately available.
If FSU is unable to sell at least 8,000 tickets, its financial responsibly would be greater than the $500,000 estimate.
How will that loss be absorbed by the athletic department?
"Let's say FSU were to lose $1 million revenue on ticket sales. The Athletics budget is the first line affected so they would make adjustments if they can. If we had that loss and Athletics was unable to make adjustments in its budget, its one additional million Seminole Boosters will have to raise to transfer to athletics at the end of the year," said Kutz. "Ultimately Athletics and Seminole Boosters are both in it together."
There was chatter earlier this week that the Orange Bowl might cut a deal with Florida State and/or the ACC and lower the price of its tickets but that isn't the case, at least for now.
"This is completely internal thing," said Kutz. "We are going to take less for our tickets and if we lose money, we lose money. Chances we'll sell more tickets if we get the price point down and maybe more people will go."
In addition to increasing ticket sales, the hope is that a good number of Seminole fans will pack Sun Life Stadium and support the team.
"Our responsibility is to help put as many Seminoles in that stadium to support our football team and coaches," said Kutz. "We are doing our best to put a big crowd in there to give them a competitive advantage."
The good news for FSU is that there are approximately 32,000 alumni in the Dade, Broward and Palm Beach counties along with thousands of other season ticket holders and FSU boosters well within driving distance to the Orange Bowl. The Seminole Boosters are also hoping that several planned events surrounding the game, including a New Year's Eve and pre-game party, will help drive attendance. What could also help is that former Seminole great Warrick Dunn will be inducted into the Orange Bowl Hall of fame.
NOTE: Orange Bowl tickets can purchased through the FSU Ticket Office, the school's official spots website, or by calling 1-888-FSU-NOLE. *Non-Boosters can sign-up for a membership and get the discounted rates.