FSU OL newcomers rave about Atkins' no-nonsense, authentic approach
The Florida State football team made seven newcomers available to the media for the first time Friday morning.
Of those seven, five were offensive linemen. And of those five, they all -- every single one -- talked at length about their relationships with Florida State offensive coordinator and offensive line coach Alex Atkins.
And while some of it was about how he can help them as football players, most was not.
Stay connected to all of your favorite FSU Sports Coverage!
*** Get the FREE Warchant App in the Apple Store or on Google Play
*** Subscribe to our YouTube Channel for fresh new videos every day
*** Sign up for our exclusive Newsletter to never miss important FSU news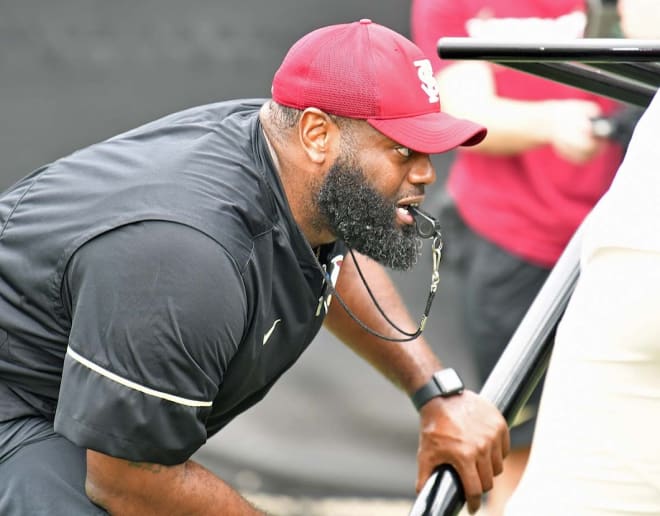 "Coach Atkins doesn't have kids," said four-star freshman Qae'shon Sapp. "So, his players are his kids. He's more responsible for them than anything else because he treats them like they're his own. So, it's like being able to be around him, and me growing up without a father, it just made everything click more.
"Because it's a person I look up to, and I can call him any time I need to about certain things and personal things in my life."
*ALSO SEE: Video interviews with FSU Football summer enrollees
This was a common refrain from the five linemen who spoke on Friday.
From highly touted freshman Julian Armella to senior transfer Jazston Turnetine and everyone in between, they talked about Atkins the coach. And they also talked about Atkins the man.
And it doesn't sound like there is a lot of separation between the two.
The players say Atkins is essentially the same person on and off the field. He is a straight-shooter who has absolutely no qualms about telling you how much you still have to learn. In no uncertain terms.
"Coach Atkins has been the same with me ever since I met him," said freshman lineman Jaylen Early. "He's the same person here. I really respect him. He's the most honest coach, the most respected coach I've ever met. I've never met a coach like him. ... During my recruiting process, he told me what I needed to hear.
"That's what drew me to him more. He wasn't just telling me all the good things, you know?"
Early recalled playing in the state championship game as a sophomore at Duncanville High in Texas. And when he talked with Atkins afterward, the coach outlined all of the things he could have done better to help his team win the game.
It's just how Atkins is with everyone. And the linemen who signed with the Seminoles said it was better than any of the recruiting pitches they heard from other schools.
The no-nonsense approach was especially effective with South Carolina transfer Jazston Turnetine.
"In the process of being in your final year of college football, you don't really look for, I guess, the butt-kissers," Turnetine said with a laugh. "You don't look for them. You look for the people who are paying attention to detail. Who's telling you, 'Hey, these are your problems and this is how we're going to fix them.'
"So that struck my interest."
Turnetine, who signed with the Seminoles earlier this month, understands that he only has one more year of college football to prove himself to the NFL. And he believes Atkins can help him get there.
"I've seen that Coach Atkins has a very good repertoire to give me," Turentine said. "A lot more tools to pick from. And I've seen that he had his eyes not just on the strengths, but he his eyes on the weaknesses."
That message was reiterated by each and every lineman on Friday. And they said he takes the same approach when discussing their play and their personal lives.
He is completely focused on helping them become the best they can be in all areas.
"Me and Coach Atkins' relationship goes way, way back," Sapp said. "And it's like every time he calls me or talks to me, it's never about football. Nothing is ever about football. It's always about how my personal life is going and how I'm doing mentally."
-----------------
Don't miss out on our exclusive podcasts! Subscribe Today!
*** Wake Up Warchant -- Apple | Google
*** Seminole Headlines -- Apple | Google
*** The Jeff Cameron Show -- Apple | Google
Or just search for "Warchant" on your favorite podcast provider.
----------------------------------------------------
Talk about this story with other Florida State football fans in the Tribal Council