FSU open to replacement for Nevada on 2013 schedule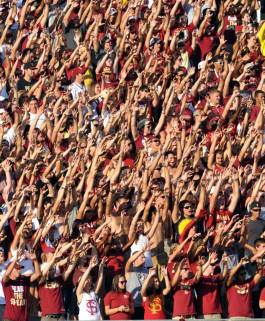 Florida State's 2013 date with Nevada isn't dead yet, but the Wolf Pack are working to find a stand-in for their game in Tallahassee next season.
FSU Senior Associate Director of Athletics Monk Bonasorte told Warchant.com that Nevada is working to find a "suitable" FBS opponent to take its place on the Seminoles' schedule in 2013. As it stands currently, the two schools remain under contract for a game slated for Sept. 21, 2013.
"Right now, there is consideration of a mutual opponent if (Nevada) can find one," Bonasorte said. "Right now, they're under contract, they know that if there's not a reasonable compromise between an opponent then they've got to play us."
Bonasorte said that if Nevada can facilitate a replacement, FSU would be open to accepting a new team given it meets certain criteria: First, the replacement team would have to be another FBS (Division I-A) opponent. The Seminoles would not accept an FCS (I-AA) school because they already have an FCS school, Wofford, on the schedule to open the 2013 season. Second, the replacement team could not increase the $600,000 payout FSU is slated to give Nevada next season.
Bonasorte said that FSU would be open to moving the scheduled date of the game for a replacement team as long as "we're comfortable with where we can put them."
"(If Nevada came come) with a proposal that says 'We're going to find someone else to play that's not going to cost (FSU) any more money, then we'll consider it," Bonasorte said. "But as of right now, they're on our schedule."
The two schools initially inked the contract in 2005 for a game to be played in September 2008. But the schools mutually agreed to postpone the game until 2013.
According to the Reno Gazette Journal, The Wolf Pack's potential solution is bringing in a third team to play its game at FSU in 2013. Then in return, Nevada would play a future game at that third team's stadium.
"We would like to, if possible, get out of the Florida State game completely," Nevada senior associate athletics director Keith Hackett told the Gazette Journal in July. "Some days I feel like we're getting closer to achieving that, and the next day I feel like we're further apart."
Hackett cited a difficult out of conference schedule - Nevada already plays Oregon at home and at UCLA in 2013 - as the primary reason to get out of the FSU game.
"As of right now, we are still exploring all options related to that 2013 game." Hackett said in an e-mail statement when contacted by Warchant.com last week.
Nevada would have the option to cancel the game outright, but the financial consequences would be significant. Bonasorte said that the recent feedback he's received from Nevada leads him to believe a straight cancellation is unlikely.
According to Article 9 of the game contract, Nevada would be on the hook for a $600,000 penalty "as reasonable and contemplated liquidated damages" if it canceled the game. That equates to a $1.2 million loss for Nevada - the $600,000 in lost income and a $600,000 penalty - if it decided to opt out.
While the $600,000 payout from the seven-year-old contract is notably less than what many lower-tier FBS teams are receiving for out of conference games in recent seasons, recouping the $1.2 million with a replacement game would be highly doubtful.
FSU Athletics Director Randy Spetman said that when Nevada initially contacted Florida State this offseason, the discussion revolved around either postponing the contest again or canceling the game altogether.
"They have an opportunity to play somebody else for more money, like we all do," Spetman said at the Florida State Board of Trustees meeting in June. "Just like me, they have budget needs that they're trying to make sure they're good for the long term. It's the nature of the business today when you're trying to keep your budgets going. It's hard to get games these days."
If Nevada did decide to cancel the game, it would be the second time in a year that the Seminoles would conduct a last-minute search for an out of conference opponent. West Virginia pulled out of its game with Florida State on Feb. 4, eight months before they were scheduled to play in Tallahassee. Bonasorte said he called 74 schools before agreeing to play lowly FCS Savannah State, the team FSU will face on Saturday. Savannah State lost at No. 19 Oklahoma State 84-0 last week. Savannah State will receive a $475,000 payout to play the game.
West Virginia and FSU reached a settlement in May with West Virginia agreeing to pay FSU $500,000 for breaching the contract. FSU will not make the return trip to West Virginia in 2013.
Since the Atlantic Coast Conference moves to a nine-game schedule in 2013 and with Florida and Wofford already in place, Florida State's final scheduling question mark rests with Nevada. And with a year before kickoff, Bonasorte says the ball is in Nevada's hands.
"Everything has to fall in out favor, and if it doesn't, then they've got to make a decision on what they want to do," Bonasorte said.