FSU picks up first win of the season in 12-3 win over VCU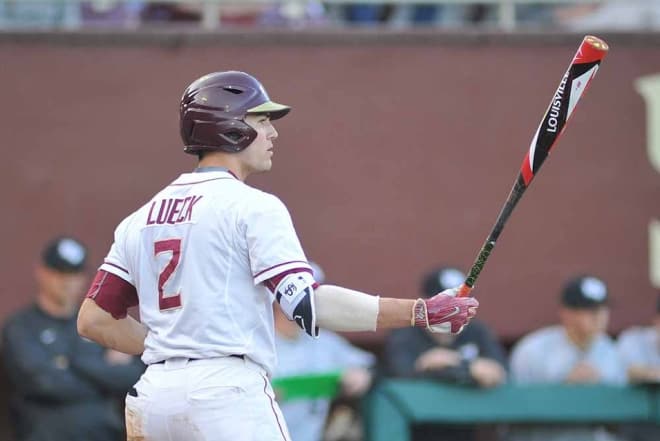 BOX SCORE: FLORIDA STATE 12, VCU 3
--------------------------
The No. 5 Florida State baseball team's bats came to life a day later than many expected, using 12 hits and nine walks en route to a 12-3 win over Virginia Commonwealth on Saturday afternoon at Dick Howser Stadium.
Behind a strong performance on the mound by sophomore Cole Sands (1-0), Florida State (1-1) rebounded from an Opening Day shutout to the Rams.
"What a difference a day makes," head coach Mike Martin said. "We did a lot of things well, and certainly Cole set us straight early. He had some good, solid innings."
Sophomore Jackson Lueck, who had the Seminoles lone hit in Friday's 3-0 loss, was 3-for-4 at the plate Saturday with three RBI and a run scored. His two-run single in the third inning opened the scoring, bringing in freshmen Tyler Daughtry and J.C. Flowers, who reached on walks. Flowers finished a perfect 2-for-2 on the day with a pair of singles up the middle before being replaced in the seventh inning by Donovan Petrey.
With a 2-0 lead in the fourth inning, junior college transfer Rhett Aplin provided the spark for Florida State with a towering two-run home run to right field.
It was Aplin's first hit as a Seminole after finishing with nine last season at Seminole State College in Orlando. All-American shortstop Taylor Walls recorded a pair of doubles, including a two-run double in the fourth, and reached base four times in joining Lueck with three RBI.
"Amazing how a dinger can wake everybody up," Martin said of Florida State's first home run of the season. "A big lift for our ball club, and Aplin is capable of messing up the party."
The visiting Rams plated their first two runs in the sixth inning in chasing Sands, though both runs were unearned on a pair of FSU errors. Sands finished with 5.2 innings pitched, allowing just four hits and two runs.
Senior Will Zirzow closed out the sixth with a strikeout and added two more innings of hitless ball. Freshman Drew Parrish closed out the game allowing a run in the ninth inning while striking out a batter.
Florida State responded to VCU's two runs by adding three of its own in the bottom of the frame. VCU closer Ben Nelson loaded the bases before being relieved by Tanner Winters, who allowed all three inherited runners to cross the plate. Dylan Busby's groundout scored a run, while Quincy Nieporte's single off the right field fence plated two.
Daughtry finished without an official at-bat after being walked four times and scoring three runs. His final time crossing the plate came in the seventh inning on Walls' RBI double. Freshman Ryan Mejia, in the first action of his career, pinch hit for Lueck and singled up the middle to score Walls for run No. 12 on the afternoon.
VCU starter Michael Dailey (0-1), who was 6-0 with a 1.57 ERA in 2016, allowed seven runs (six earned) on five hits and five walks in just 3.1 innings pitched.
Florida State and VCU will play the rubber match of the opening series Sunday at 12:30 p.m. at Dick Howser Stadium. FSU will send sophomore Tyler Holton (3-4, 2.79 ERA in 2016) to face VCU's Brooks Vial (8-4, 4.05 ERA in 2016).
------------------------------------
Talk about this story with other FSU Baseball Fans on the FSU Baseball Forum