FSU Soccer wins third national title! Zhao rips winner in PKs
Last season ended in heartbreaking fashion.
This season ended in exultation.
The Florida State women's soccer team won its third national championship in program history on Monday night in Santa Clara, Calif., beating BYU in penalty kicks after the first 110 minutes -- two halves and two 10-minute overtime sessions -- were played to a 0-0 draw.
*** Don't miss our exclusive FSU football coverage. 30-day Free Trial***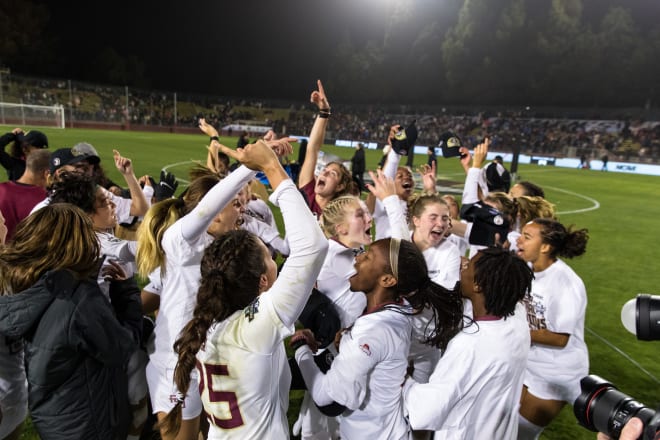 Sophomore Christina Roque made two huge saves in penalties, on the second and fourth shooters, to set up the Seminoles for a chance to win the title.
First, senior star Jaelin Howell ripped her shot into the top right corner of the net for FSU's third successful penalty kick. Then fellow senior, and four-time All-ACC selection, Yujie Zhao stepped up with the national title on her right foot.
She calmly spun the ball past BYU's keeper and into the bottom left corner of the net to win the game, claim the championship and help destroy those demons that may have still lingered from last May -- when the Seminoles lost to Santa Clara 4-1 in penalty kicks.
"That was a great feeling," Zhao said of hitting the winning penalty kick. "I have a faith. … It's a little unfortunate we didn't score a goal in the regular time, but I have a faith that we are going to win in PKs."
"Feels quite nice to be sitting on this side of it," FSU head coach Mark Krikorian said. "Last year I thought that we were quite good and we had some unfinished business that we needed to address.
"Proud of the team, the staff."
Florida State finishes the season with a 22-1-2 record overall. The Seminoles allowed only one goal during their postseason run, and that was on a penalty kick in the second round of a 5-1 win over SMU.
BYU came into the match on Monday night as the highest-scoring team in the country. But the Cougars barely had any legitimate chances against the stout FSU defense, managing just four shots on goal in 110 minutes of action.
"I feel like I had a lot of trust in my teammates, everyone who was stepping up to kick the ball especially (Zhao) finishing it off," Roque said. "I feel like everyone is behind me no matter which way it goes just how last year it didn't just go our way and everyone was behind me then. I knew whatever happened this year they were going to be behind me. I'm not gonna lie it does feel better here."
The Seminoles struggled to get clean looks as well during regulation, and though it seemed like they controlled the action for much of the second half, that breakthrough goal never came.
So, the national championship was settled in PKs for the third straight year.
And this time, Florida State was the one celebrating.
For the season, FSU outscored its opponents 66-13 and recorded 14 shutouts.
With three national titles, FSU is now tied for second all-time with Notre Dame and Stanford. Only North Carolina has won more.
Krikorian's Seminoles have won their three in the past eight years -- 2014, 2018 and 2021. UNC hasn't won one since 2012.
----------------------------------------------------
Talk about this story with other Florida State football fans in the Tribal Council