FSU takes $478,000 hit on ACC championship game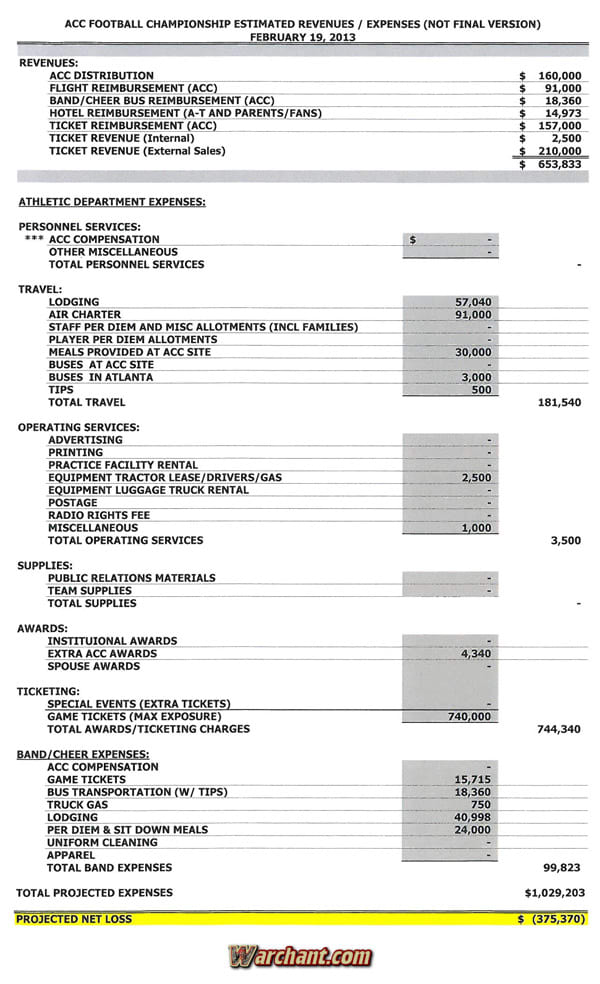 Feb. 20 update
Through a public records request Warchant.com has obtained Georgia Tech's estimated balance sheet from its participation in the ACC Championship on Dec. 1. The school is projected to take a loss of $375,370. The two schools combined to lose more than $850,000 from playing in Charlotte, N.C.
While exact ticket sale figures were not provided in the public records request, the Yellow Jackets estimated $210,000 in external ticket sales, about $25,000 more than Florida State, which sold a total of 2,033 tickets. Georgia Tech's pro forma has been attached below.
Original Story
Florida State took the trophy home from the 2012 ACC championship game in December.
It also brought back debt.
According to the school's income statement from the game, obtained by Warchant.com via public records request, Florida State lost more than $478,000 from its participation in the ACC championship in Charlotte, N.C., on Dec. 1.
About $440,000 of FSU's loss stems from dismal ticket sales for its matchup against 6-6 Georgia Tech. The league announced that 64,778 tickets were distributed, but Bank of America Stadium never reached half-capacity during FSU's 21-15 win. It was the first time in the game's three years in Charlotte that it wasn't labeled a sellout.
Each season, the conference gives each division winner 10,000 tickets to sell at four different price points ranging from $40 to $150. According to FSU's ticket reconciliation form, Florida State sold just 2,033 tickets, totaling $185,210 in revenue.
Florida State Athletic Director Randy Spetman and FSU Assistant Athletic Director for Ticket Sales Ben Zierden declined comment.
The form shows that Florida State was 100 percent responsible for selling the first 6,000 tickets. The ACC then covered 50 percent of the expense for the first 1,000 unsold tickets after 6,000, 75 percent of the next 1,000 tickets and 100 percent of the final 2,000 unsold tickets.
All told, the face value of the 10,000 allotted tickets was $774,190. After FSU's $185,210 in revenue on the 2,033 tickets sold, $3,594 in various ticket fees and the ACC's assistance on the final 4,000 unsold tickets ($144,895), FSU was left with a $440,491 loss on tickets. The net loss for the trip was $478,954.20.
An ACC spokesperson told Warchant.com that ACC Commissioner John Swofford has already initiated internal talks about a plan to assure that no school participating in the league's championship game suffer any financial loss because of an appearance. The spokesperson said the idea would be discussed formally among league members during ACC meetings in April or May. Any measure would have to be approved by the ACC member schools, and if something is approved, the measure could potentially help relieve FSU of the loss it incurred in 2012.
The ACC gave FSU a combined $475,343 to play in Charlotte; $144,895 in unsold ticket assistance, $170,448 in reimbursed expenses and a standard $160,000 payout given to each team according to the league's bylaws. (Note: A detailed breakdown is below).
Florida State's 1/12 share in the TV revenue generated from the championship game was not factored into any losses and is considered part of the league's overall television agreement with ESPN. Schools won't have an exact figure on television revenue for the 2012-13 school year until the league's final distribution in June.
A tough sell
In the days leading up to the game, league officials and Charlotte Collegiate Football, the local organizing committee for the ACC championship game and the Belk Bowl, attributed sagging ticket sales to Georgia Tech not being named the ACC Coastal representative until Nov. 19, the lack of a marquee matchup and both teams' upcoming bowl games. North Carolina was ineligible to compete in the championship due to NCAA sanctions, and when Miami self-imposed a bowl ban on Nov. 19, that made Georgia Tech the Coastal representative.
Florida State locked up its Atlantic Division crown with a 41-14 win over Maryland on Nov. 17 but lost handily to rival Florida at home the week prior to the ACC championship.
"Both were late to qualify, that hurts you; people don't have as long to make their plans, they know they're going to a bowl game a month later. So that short term turnaround, you know, gets in the way," Charlotte Collegiate Football Executive Director Will Webb told Charlotte's News14 Carolina on Nov. 29.
The secondary market reflected the lack of interest in the FSU-GT matchup, and the access to discounted tickets likely aided FSU's inability to sell at face value. According to SeatGeek, ACC championship game tickets sold in the secondary market for an average of $56.15 each, or about half ($110.82) of the average price for the sold out 2011 ACC championship between Clemson and Virginia Tech.
Tickets to this year's championship were available for less than $5 on Stubhub.com in the days leading up to the game.
The ACC spokesperson could not confirm if other ACC schools had lost money with title game appearances at previous venues like Jacksonville or Tampa, but losses seem likely considering the poor attendance and less appealing matchups in some years.
The Tampa Tribune reported that the 2008 game in Tampa between Boston College and Virginia Tech had an actual attendance of just 27,360 and the two schools combined to sell only 5,000 of their combined 20,000-ticket allotment. The Tampa Sports Authority said the actual attendance for the 2009 game between Georgia Tech and Clemson was 44,897.
The league did confirm that the league had not received any request for additional reimbursement from a team competing in Charlotte in 2010 - a game between FSU and Virginia Tech - or 2011.
Notables
Florida State's net loss was $478,964.20. Among the league's $170,448 in reimbursements was the team's round trip charter flight at a cost of $115,718 and bus transportation for the Marching Chiefs at a cost of $39,780.
Florida State spent a total of $196,878.20 on travel for the game. The biggest expenses were the team's lodging for three nights ($78,029.93), the Marching Chiefs' lodging ($50,555.12) and a line item identified as "Team - Banquets" cost $44,008.89.
The total cost of travel (not including game tickets) for the Marching Chiefs including transportation, lodging and per diems was $108,871.12.