FSU to hold groundbreaking ceremony for football ops building Saturday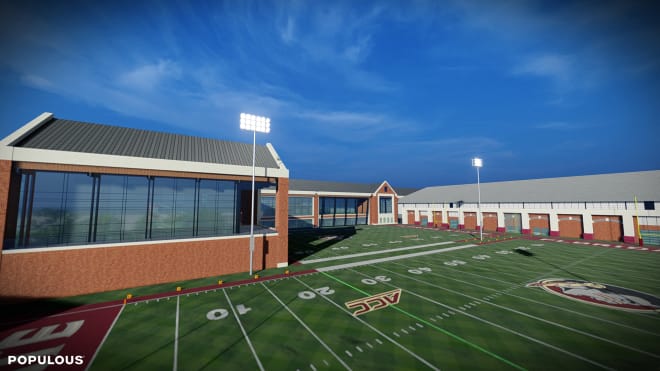 Florida State will officially break ground on its long-awaited football operations building, to be named the Dunlap Football Center, on Saturday.
President Richard McCullough, Vice President and Director of Athletics Michael Alford, coach Mike Norvell, Seminole Boosters President and CEO Stephen Ponder and a representative of the Dunlap Family will make remarks.
Earlier this year, The Osceola reported the university's plan to break ground in December.
"We have an aggressive timeline," Florida State University Athletic Director Michael Alford said at the time. "We're working with the President. We know it's a priority with Chairman (Peter) Collins, President (Richard) McCullough and myself. We need to get this facility built."
At the time, Alford said Florida State and Miami were the only two ACC schools that did not have a dedicated football operations building. Alford also noted that with Florida opening its dedicated football facility last summer, FSU would be one of just eight Power 5 schools to not have a dedicated football building.
"I hate to put a timeline on it, but we're on schedule to break ground in eight to 10 months, to start digging," Alford predicted earlier this year.
This Saturday, the predicted start time will prove to be be on point with an expected completion date of July or August 2024.
"We need to get it built. I'm happy to be starting on it. It's been a focus of mine, the President's (Richard McCullough) and Michael Alford's," said Peter Collins, who serves as Chairman of the Board of Trustees. "It's overdue. We would have done it a couple of years ago but for having to change a couple of coaches."
And then there was the matter of Covid.
"We might be having a different conversation had we gone into a bunch of debt during Covid but because we didn't go into a lot of debt – we managed expenses very well -- we are able to address this need," Collins said.
The Process
The architecture firm Populus, who began work on the design during the Willie Taggart era, has met with Norvell and his staff to be sure the final plans meet current and future needs.
While the final size and cost figures have not yet been released, the football operations space is projected to be 150,000 or more square feet.
Alford and Collns can't put an exact figure on the cost of the project as it is in the process of "value engineering," where every square foot and dollar is scrutinized, but Alford pegs it at $100 million.
"Construction costs have gone crazy the last four or five years," Collins said. 'We've raised enough money to be able to have built it but for the rise in construction costs. We'll build it part with equity. We won't bond the whole project."
The project went to a competitive bid and Childers Construction was awarded the contract.
Alford said Florida State is already laying water lines underground alongside the Stadium Drive embankment next to the Soccer Complex and indoor practice facility parking lot, site of the new football operations building. In January, Childers Construction will relocate the training and equipment room annex to the opposite side of the indoor practice facility to make room for the football operations facility.
The project, which Seminole Boosters began fundraising for in 2018, was delayed for a variety of reasons — fundraising, coaching changes, Covid — but primarily by funding.
Funding mechanism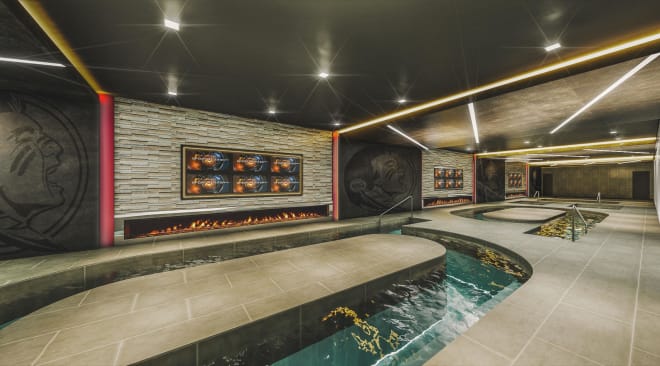 Since athletics facilities cannot be built with state or university money, the operations building must be funded by athletics revenues, private donations and/or a bond issue.
Capital projects of this size are often bond funded with the bonding company requiring a guaranteed revenue stream to pay the debt. Virtually all the facilities built on the FSU campus since the 1990s – nearly $200 million – were funded by bond issues with a variety of athletics revenue streams pledged to guaranteeing the debt. Those revenue streams include season ticket revenue, annual fund donations, existing skybox leases, royalties, pledge payments on those capital project gifts, etc. With those revenue streams already pledged to existing bonds,
Seminole Boosters' donors have pledged more than $63.409 million to the project, with $23.886 million received on those pledges.
While the Boosters will continue to pursue donations for the project, FSU must also secure new revenue sources to pledge toward the bond payment. One incremental new revenue stream will come from an increase in the ACC television agreement.
Alford said another source of new revenue could come from the clubseat and skybox project to be built on the West Sideline of Doak Campbell Stadium. While the two projects are independent of each other, Alford said the incremental new revenue on those leases could be used to fund the bond issue on both the stadium and the football operations building.
The Osceola will provide more details on funding as they become available