FSU trustees express concern about ACCs status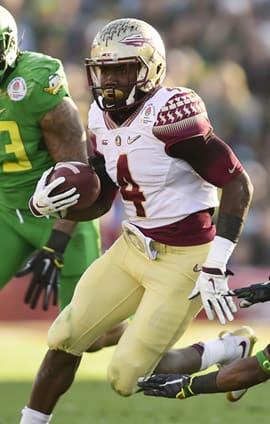 Two years ago this week, with the Atlantic Coast Conference's future in jeopardy, Florida State played a significant and celebrated role in keeping the league intact.
Then-FSU President Eric Barron, acting with approval of the university's Board of Trustees, signed off on a long-term Grant of Rights agreement, which essentially made it financially impossible for any of the league's schools to break off before 2027.
Since that pact was signed, FSU's relationship with the ACC has been as harmonious as it's been at any point since the Seminoles joined the league more than two decades ago. The conference has made some notable changes, such as revamping its ticket requirements and payouts for postseason games, which had been a hot-button topic with the Seminoles, and FSU has hired two top administrators with major ACC clout. Athletics director Stan Wilcox was lured to Tallahassee after serving five years at Duke, and Wilcox has since hired veteran ACC administrator Karl Hicks as his deputy athletics director.
But judging by comments at the most recent FSU Board of Trustees meeting, some old concerns could be creeping up again.
After Wilcox made his regularly scheduled presentation and opened the floor for questions during the board's March meeting, Trustees Joe Gruters and Edward Burr both hit him with suggestions or comments that called into question the ACC's status among college football's Power Five conferences.
First, Gruters complained about the way the College Football Playoff committee seemed to dismiss FSU's conference victories last season and said he has serious doubts about ACC teams earning playoff bids in the future.
"I think the perceived bias of the ACC in general, [with] Florida State falling to No. 4 in the rankings and still being undefeated and being [No.] 3 at the end of the season … a one-loss ACC team or two-loss ACC team is going to have a hard time breaking that top four," Gruters said. "I think the top ACC team over the next four or five years, we're going to be in that [No.] 5 to 8 category. And we're going to be on the outside looking in."
Gruters then urged Wilcox to encourage the ACC to push for an expansion of the new playoff system - from four to eight teams. He said that was the only way, "to guarantee an ACC team will have a shot at winning the national championship each year."
A few minutes later, after the discussion turned to finances, Burr raised a topic that he described as the "800-pound gorilla" in the room - conference television networks and the money they can generate for member institutions.
"All of the Big Five is going to have one except for us if we don't get something moving soon," Burr said. "And that's a major revenue source."
The Big Ten and Pac-12 both had cable channels up and running when the ACC signed its Grant of Rights, and the SEC Network went live last summer. That leaves the ACC and Big 12 as the only Power Five conferences without one … and the millions of dollars they can generate for each school each year.
The ACC never projected it would have a cable channel in place by now - the earliest goals mentioned by conference athletic directors and presidents have been 2016 or 2017 - but Burr said he would like to see signs of tangible progress. He reminded the other trustees that the channel's viability was one of the reasons FSU agreed to the Grant of Rights. Before that agreement was approved, Swofford traveled to Tallahassee and met individually with each trustee to offer them assurances about the conference's future.
There was "a big commitment from the conference to this university a few years ago on that issue. I'm sure no one's forgotten," Burr said.
Burr, reached later at his Jacksonville office, told Warchant that he and the other trustees aren't necessarily alarmed about the lack of a cable channel. But he added that he wants to make sure FSU doesn't "get left behind" while schools in other conferences are clearing more revenue, which can be used for facilities and other improvements.
"I think we understand the curiosity about it, and the desire to move as quickly as possible," Swofford said. "Obviously, all of us involved with it want to move as quickly as possible to whatever is next. But as was indicated when we did the Grant of Rights, we put ourselves in excellent position for whatever the next step is with our television agreements. We've got an excellent partner in ESPN, and our discussions continue in that vein. …
"The whole process is a very high priority for us, but until there's something definitive and substantive to say, it really doesn't help the process to publicly discuss it in any particular intervals, other than to say those discussions continue and are in line with where we expected them to be at this point in time."
Swofford added that the conference is balancing the desire to move quickly with the need to be prudent and protect the member schools' short- and long-term interests.
"Whenever we take that step, it needs to be a positive step right out of the chute. And it needs to be done the right way," Swofford said. "There have been several channel startups that have been very difficult at first, and we don't want to go backward to go forward. We want to come out of the chute ahead of the game from day one, if indeed we take that particular step."

"I think every year is going to probably be unique," Swofford said. "After one year of a playoff, it's hard to get a sense of trends."
Citing a slew of on-the-field achievements during the 2014 season, Swofford said the ACC's performance stacked up well with other leagues.
"We finished the year collectively as a league extremely well," he said, "with the 4-0 against the SEC on the last Saturday of the regular season. And then after the [bowl] selections, we had Clemson's win over Oklahoma and Georgia Tech's Orange Bowl win over Mississippi State. And during the course of the season, Boston College beating Southern Cal certainly was a significant win, and Virginia Tech beating Ohio State. So there were some really good things on top of the previous year for our league that I think trend extremely well for the ACC -- and any perceptions that might be there in terms of internal quality."
Whether or not the league gets its just due, Swofford said he doesn't envision a scenario where the college playoff expands from four to eight teams - at least not in the near future.
"I don't think there's any significant support for expanding the playoff at this point in time, particularly at the presidential level," he said. "The feedback that we are getting is that the vast majority of individuals that make these decisions are completely supportive of the four teams at this point in time. And I would expect that to hold true through this 12-year contract in all probability. That remains to be seen, but there does not seem to be much momentum at all for expanding from four to eight."
While those responses might not be what FSU's trustees wanted to hear, there are no indications that the school's leaders are anywhere near as concerned as they were in 2012, when former board Chairman Andy Haggard caused a stir by telling Warchant the trustees wanted Barron to explore FSU's options of joining the Big 12 or other conferences.
"Whether we can get it up and running by 2016, I don't know. But that's the goal," he said.
Likewise, Swofford said he is encouraged by his initial interactions with Thrasher, who took office late last year.
"He's really engaged, very positive, obviously a very effective leader and a very impressive person," Swofford said. "He is comfortable to be around. He's energetic. He likes athletics. And he's fit in extremely well around our Council of Presidents table. And he's obviously going to be a contributor around that table. In fact, he already is."