FSUs Maguire fueled by confidence, desire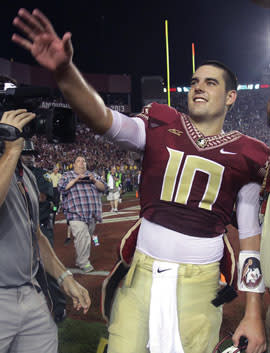 The trip from Sparta, N.J., to Seton Hall Preparatory School in West Orange is longer than your normal high school bus ride. It's a 45-minute commute that covers a good chunk of the state.
Seton Hall Prep boasts one of the top athletic programs in New Jersey. It provided Maguire an opportunity to compete on a higher level than he would have had at home. So he would carpool with another family most mornings, figuring it might be his launching pad for the next level.
"He's the type of kid that accepts challenge," Seton Hall Prep football coach John Finnegan said.
To get to the next level, Maguire soon would take an even longer trip. After starting at quarterback for three years for the Pirates, Maguire accepted his next challenge at Florida State.
"I think that's exactly what he was looking for," Finnegan said. "He would go as high as he could go. I think his aspirations are high. I think he wants to play on the next level, and he saw that as an opportunity to get him there. He's in love with football and has been since I met him."
Supreme confidence
Maguire was beginning to show he possessed the physical tools to be a special player when he first met Barney Lantry in 2008. He was in the eighth grade. Lantry, Seton Hall Prep's quarterbacks coach and passing game coordinator, worked with him in the summer.
"The first time you saw him, you kind of felt as an eighth-grader that he was going to be special," Lantry said. "He just had this enthusiasm and love for football, especially the quarterback position. He was just super-enthusiastic and obviously talented."
But more than that, it was Maguire's confidence that caught their eye. Kevin Monangai, who became a star running back at Seton Hall Prep, was a year older than Maguire but started to notice him as an eighth-grader at 7-on-7 competitions during summer. Maguire's confidence grew as he gained more experience, but it was always there.
"Even back then," Monangai said, "he was pretty legit."
Maguire split time between football and baseball during his first two years at Seton Hall Prep, but he began to focus on football when he became the starting quarterback for the varsity as a sophomore. Seton Hall baseball coach Mike Sheppard said Maguire would have been a pitcher for the varsity as a junior and senior, throwing in the mid- to high-80s, but it had become obvious that football was his future by then.
The Pirates ran a Wing-T offense for most of Maguire's career. Monangai was the star of the attack, rushing for over 2,000 yards as a senior, while Maguire's opportunities were limited. But in the final game of the 2011 season, Monangai was injured against Bergen Catholic, another powerhouse program in New Jersey. Seton Hall Prep lost the game -- Bergen Catholic's quarterback was Tanner McEvoy, who became the starter at Wisconsin -- but Maguire had one of his best games of the season. He threw for more than 200 yards and two touchdowns.
That was all the Pirates' coaches needed to see. With Maguire coming back for his senior year, they started installing more pass plays in the system. They added play-actions and waggles from the Wing-T, and even added some spread plays from the shotgun.
"Whatever we gave him, he just grasped it immediately," Lantry said.
Maguire's confidence was also showing. Although Seton Hall Prep's coaches already knew he was their best bet going into his senior year, he wasn't afraid to lobby for more chances.
Maguire was just starting to realize what he was capable of, and what he could become if he continued to develop. His teammates were figuring it out as well.
Monangai remembers Maguire hitting him on a corner route for a touchdown at the end of his sophomore year to win the conference championship. The coaches sent the play in, but when Maguire got the play call, he told Monangai the ball was coming to him for a score.
By the time he was a senior and in command of the offense, it was plain for everyone to see. Maguire never complained about running a Wing-T offense; his coaches say he was always willing to put the team first. But by the end of his high school career, he had taken a central role. He finished his career with every significant school passing record.
"I'd be on the (press box) phones with him and he'd make an outstanding play, an outstanding throw against tight coverage and hit a touchdown," Lantry said. "He'd come back to the bench and be all smiles and he'd say, 'How'd you like that one, Coach?' He just knew."
Maguire also knew what he was getting himself into at Florida State. He committed to the Seminoles in June before his senior year, when FSU was his only major offer. Two months later, there was another quarterback in the class. Jameis Winston committed in August.
Maguire, a three-star prospect, would be arriving in Tallahassee at the same time as Winston, a quarterback some believed to be the best in the country.
He talked privately about the situation with Finnegan and Lantry. As Finnegan recalls, Maguire figured Winston would only be at FSU for three years, leaving after that to play either football or baseball professionally. Maguire had always assumed he would redshirt at Florida State to learn the offense, so that timeline would still have given him time to start if Winston beat him for the job early in their careers.
There was a logjam at quarterback when Maguire got to Florida State in 2012. FSU had five scholarship quarterbacks and an incumbent senior starter in EJ Manuel. The future at the position didn't start to clear up until spring of 2013, when Winston began to pull ahead in the quarterback competition.
Clint Trickett could tell that Winston was taking over and transferred to West Virginia for playing time. Jacob Coker, one year older than Winston and Maguire, did the same and left for Alabama at the end of the 2013 season.
Maguire stayed.
He went to Florida State to compete at the highest level he could. He knew that opportunity was still in Tallahassee.
"He was very, very determined that he was going to go to a place where he could compete at a high level and get coached at a high level," Lantry said. "Obviously, if you look at any place in the country, Coach [Jimbo] Fisher and his system for quarterbacks, his record with quarterbacks obviously is outstanding. I think what Sean felt was, 'I'm going to go there, I'm going to compete, I'm going to work and I'm going to get better. I'm going to become the player I envision myself becoming.'"
Finnegan, who still talks with Maguire regularly, said the prospect of transferring never came up. The kid who used to drive 45 minutes to school each morning would ride it out, waiting his turn and learning everything he could.
"To me, I think it showed Sean has confidence in himself," Lantry said. "He believes in himself, and that rubs off on the football team. For him to go through what he did to stay there and to work, to know he wasn't the guy right away, for him to stick it out and continue to work and develop and get better, I think says a lot about his passion, his desire and his character."
Patience pays
The opportunity Maguire desired years ago is finally here. He has waited through three seasons, and he finally has his chance to be the starting quarterback for Florida State.
He's the only quarterback on the roster with any game experience in college. Fisher has said all along it would be an open competition now that Winston has moved on, but Maguire appears to have distanced himself from the pack.
Teammates say he is the only quarterback seeing extensive action with the first-team offense.
"Our school motto here is 'Hazard Zet Forward,'" Finnegan said. "Basically, 'Through the hard times, you have to keep pushing forward.' I think Sean exemplifies that."
Maguire took a trip back home before spring practice began. He caught up with Finnegan, Lantry and a few friends. They said he looked different than he did in high school -- bigger, sharper in his passing -- but still sounded the same.
He never lost the confidence they saw in him early. He never lost sight of what he was after.
"When everyone around him thought probably, 'You're never going to get a shot playing at FSU because of Jameis and how long his career is going to be,' I think it's funny how it kind of worked out," Monangai said. "It worked out to his favor. He's in position to really take the starting job."