Holton sets new career high with 13Ks; Seminoles rout Oakland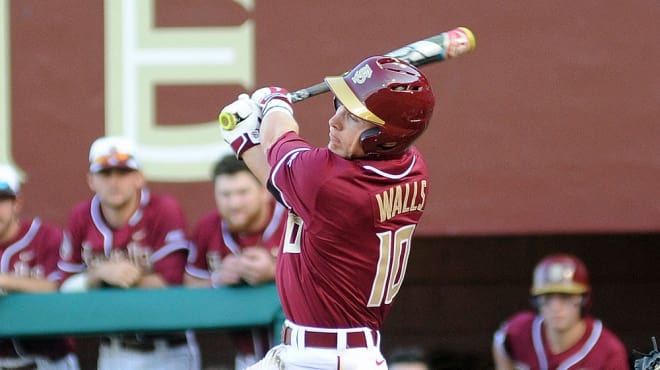 One week after setting a career high with 11 strikeouts, Florida State sophomore left-hander Tyler Holton pushed his own mark even higher.
Facing an Oakland team that scored 10 runs against FSU on Friday, Holton struck out 13 batters in leading the Seminoles to a 12-1 victory. FSU was led offensively by sophomore Taylor Walls, who recorded 3 RBIs on a bases-clearing triple.
With the victory, FSU clinched the series victory. The teams will finish the series Sunday at 1 p.m.
Release from FSU:
Sophomore Tyler Holton recorded 13 of his 18 outs via strikeout Saturday as Florida State (8-2) beat Oakland (1-9) 12-1 on Mike Martin Field at Dick Howser Stadium. The Seminoles used 11 hits from nine different players to move to 9-0 all-time against the Golden Grizzlies.
"Our guys played extremely well and extremely hard," head coach Mike Martin said, "and no doubt the key to the ball game was Tyler Holton. What a great outing he had. Struck out more than two an inning. That's phenomenal."
Holton, the reigning ACC Pitcher of the Week after an 11 strikeout performance last week against Samford, had 13 strikeouts against Oakland in just six innings of work. In three starts this season, the Tallahassee native is 3-0 with a 0.47 ERA, allowing just one earned run in 19 innings while striking out 32 and walking just four. He is the first Nole since Sean Gilmartin in 2011 to have double-digit strikeouts in consecutive appearances.
Holton's 13 strikeouts Saturday are the most for an FSU pitcher since Luke Weaver had 14 against Troy in the 2013 NCAA Regionals. Holton and Weaver both allowed no walks in their performances.
"I was just trying to pound the strike zone," Holton said. "We know they can swing the bat, especially after yesterday that was pretty obvious. I just wanted to get ahead in the count and use that to my advantage.
"I felt great today – all pitches, all sides of the plate. Having (Cal Raleigh) behind the plate helps with that."
A day after trailing 7-0 against the Golden Grizzlies, Holton's performance on the mound gave the Seminole bats time to warm up in the fourth and fifth innings.
In the fourth, freshman Nick Derr, starting at second base for the first time in his career, had an RBI single to score Rhett Aplin, who opened the inning with a double to left field. Aplin finished 2-for-4 on the afternoon with a pair of runs scored, while Derr was 1-for-2. Derr (.444) and Aplin (.364) are No. 1 and 2 on the team in batting average through 10 games.
Junior Dylan Busby followed with a single that scored Cal Raleigh, and Tyler Daughtry's fielder's choice scored Derr as the Noles led 3-0 through four innings. Aplin and Busby were the only FSU players with more than one hit on the day.
In the fifth, Florida State struck for nine runs on five hits and a pair of Oakland errors to put the game out of reach. Nine consecutive Seminoles reached base in the inning, starting with Jackson Lueck getting hit by a pitch (one of six times FSU was hit by an Oakland pitcher) and ending with Taylor Walls' three-run triple, FSU's first of the season. In between, Quincy Nieporte, Raleigh and Daughtry had RBI singles.
Meanwhile, Holton continued to dazzle on the mound. Holton struck out at least one batter an inning, and the Golden Grizzlies reached second base just once – in the first inning, when an error on Derr, a single from Zach Sterry and a wild pitch put runners on second and third with two outs. Holton got out of the jam with a strike out.
Following Holton were three freshman arms making their second career appearances. Grant Stewart walked one and struck out two in the seventh; Brandon Reitz allowed a pair of hits and a run in the eighth; and Clayton Kwiatkowski allowed a hit and struck out a batter in the ninth.
For Oakland, starter Tyler Palm (0-2) allowed 11 runs (10 earned) in 4.1 innings of work, walking one and striking out two.
In the seventh inning, senior Will Zirzow, who kept FSU in the game with 3.0 scoreless innings against Oakland Friday night, pinch hit for Stewart and singled to left field. It was Zirzow's first career hit in only his second at-bat.
The Seminoles improved to 8-2 on the season and 7-2 at Dick Howser Stadium. FSU will go for the sweep of Oakland Sunday at 1:00 p.m. with Drew Parrish (1-0, 2.45 ERA) on the mound.