Holton, Walls help FSU sweep doubleheader against Boston College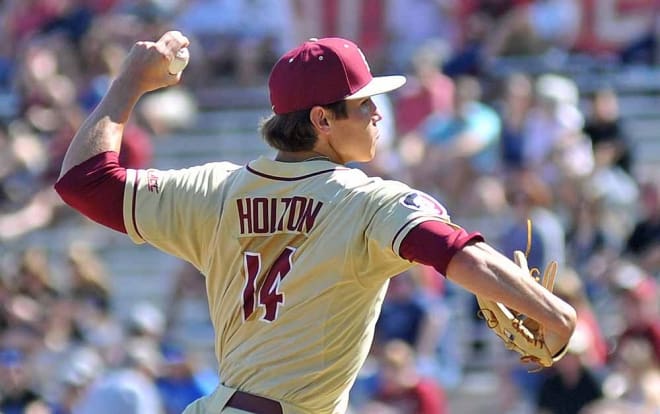 A two-hitter by sophomore pitcher Tyler Holton and two relievers set an early tone with the No. 2 Florida State baseball team sweeping a doubleheader against Boston College on Saturday at Dick Howser Stadium.
Holton was instrumental in Game 1 by striking out eight batters in FSU's 11-1 win. Junior shortstop Taylor Walls was 3 of 5 with 3 RBI in the Seminoles' 13-0 win in Game 2. FSU (13-3, 2-1 Atlantic Coast Conference) takes the series after BC (6-8, 1-2) opened with an 8-5 win Friday.
FSU held a 4-1 lead going into the top of the third inning. The Seminoles scored two more in the bottom of the fourth and added five runs in the bottom of the sixth for a 11-0 lead.
Freshman left fielder Tyler Daughtry went 3 of 4 with 2 RBI while freshman center fielder J.C. Flowers was 1 of 4 with a three-run home run.
Holton (4-0) gave up a run in the second inning and would allow only one more hit over six innings. The former Tallahassee Lincoln High star now leads the Seminoles with a 0.34 earned run average this season.
Walls, who drew four walks in Game 1, was one of five Seminoles in Game 2 who recorded at least 2 RBI.
The Seminoles took a 1-0 lead in the first and exploded for six runs in the fourth for a 7-0 lead. FSU tacked on two more runs in the bottom of the fifth for a 9-0 lead.

Freshman starting pitcher Drew Parrish (2-0) went six innings allowing six hits, one run and five strike outs.
-----------------------------
Talk about this story with other FSU Baseball fans on the FSU Baseball Forum