Hot-shooting Irish hand FSU first lopsided loss of season, 84-69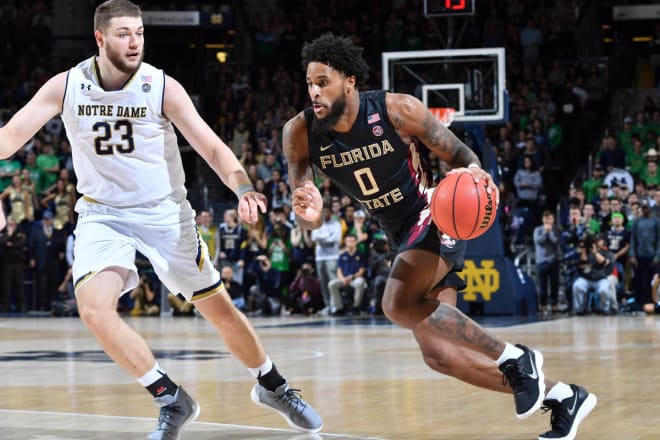 Box Score: Notre Dame 84, FSU 69
The roller coaster that has been the Florida State men's basketball season took another downward turn on Saturday as the Seminoles came up short at Notre Dame, 84-69.
The Fighting Irish, who are playing without star forward Bonzie Colson, had lost seven of their last eight games before knocking off FSU on Saturday. They have now won two straight to improve to 15-10 and 5-7 in ACC play. The Seminoles fall to 17-8 and 6-7.
FSU was looking to bounce back from Wednesday's second-half collapse against No. 2 Virginia, but the 'Noles trailed from the very start at South Bend, Ind. They now have suffered consecutive losses for the first time in more than a month.
Notre Dame did most of its damage from 3-point range (10-for-26) and at the free-throw line (20-for-24). Guard Matt Farrell led the Irish with a career-high 28 points, and they also got 19 apiece from guards Rex Pflueger and T.J. Gibbs,
This marked the first lopsided loss of the season for the 'Noles, whose previous largest margin of defeat was seven points (100-93 at Duke).
FSU was led by guard C.J. Walker with 16 points, forward Phil Cofer with 12 and guard P.J. Savoy with 11. It was Savoy's first game back after missing nearly a month with a knee injury.
The Seminoles got a total of eight points combined from leading scorers Braian Angola and Terance Mann. The pair also struggled against Virginia, scoring a combined 10 points on 2-of-16 shooting. They were 3-of-13 from the field on Saturday.
Next up for Florida State is a home game Wednesday against Clemson at 7 p.m.
------------------------------------
Discuss the game with fans on Warchant's Seminole Hoops message board.