Hot-shooting Wolfpack blitz Florida State, 92-72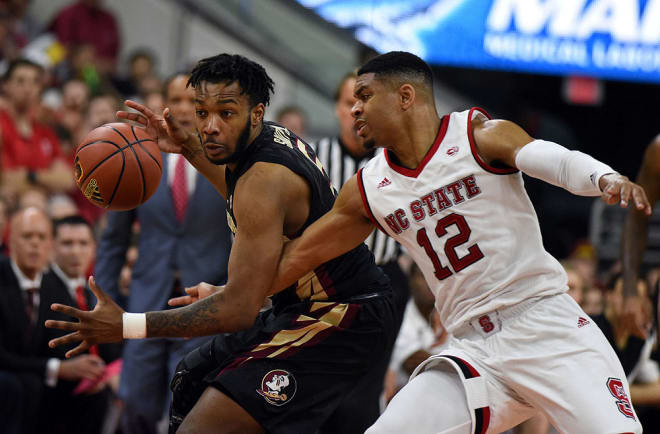 Box Score: N.C. State 92, FSU 72
The N.C. State men's basketball team wasted no time jumping out to an early double-digit lead Sunday night against visiting Florida State, and the Seminoles never recovered before suffering their worst loss of the season.
Thanks in large part to a brilliant shooting performance from the perimeter, the Wolfpack led by 19 points at halftime and cruised to a 92-72 final score. N.C. State connected on 13 shots from 3-point range in the victory.
With the loss, FSU falls to 19-9 overall and 8-8 in the Atlantic Coast Conference. N.C. State improves to 20-9, 10-6.
Florida State, which was coming off a one-week layoff, picked a bad night to have a brutal outside shooting performance. The 'Noles missed all 15 of their shots from 3-point range, while N.C. State connected on 13 of 22.
FSU was led offensively by guard Trent Forrest with 16 points and guard Braian Angola with 14.
Guards Allerik Freeman and Torin Dorn combined for 44 points for the Wolfpack.
Before Sunday, FSU's previous most lopsided loss was a 15-point defeat at Notre Dame.
Next up for Florida State is another road trip Wednesday to Clemson. The 'Noles then finish the regular season on Saturday against visiting Boston College.
-------------------------------
MORE FROM THE ASSOCIATED PRESS
N.C. State shot at least 50 percent from the field for the fifth straight game, winning its fourth consecutive ACC regular season game in the same season for the first time since 2006.
''We're just sharing the ball, getting to our spots, and everybody is shooting the shots that they're good at and that they work at,'' Dorn said. ''Guys are just clicking right now, and it's great to click at this time of the year.''
Omer Yurtseven scored 13 points and Markell Johnson had 12 for the Wolfpack, who led by as many as 28 points in the second half.
N.C. State shot 50 percent from the floor, including 13 of 22 from 3-point range.
''They were so focused in the moment that I didn't think they would ever miss,'' Florida State coach Leonard Hamilton said. ''And, really, some of them almost didn't miss.''
Terance Mann scored all 10 of his points in the second half for Florida State.
''I thought our guys played a really good game from start to finish,'' N.C. State coach Kevin Keatts said. ''We did a tremendous job, especially in the first half, defensively.''
BIG PICTURE
Florida State: The Seminoles are still on track to achieve a second straight NCAA Tournament berth, but they must play much better than they did against N.C. State. They need to beat either Clemson or Boston College next week to finish at .500 in league play and avoid carrying a losing streak into the ACC Tournament. ''I thought today I saw our guys kind of panic a little bit when they got trapped,'' Hamilton said. ''The size of the moment, I thought, emotionally affected them.''
HOT AND COLD
The Seminoles were 0 for 7 on 3-pointers in the second half, but they barely missed from 2-point range after halftime. Florida State made 17 of its 20 shots from inside the arc, doing damage on a variety of drives to the basket.