Jimbo Fisher signs new contract, quiets Texas rumors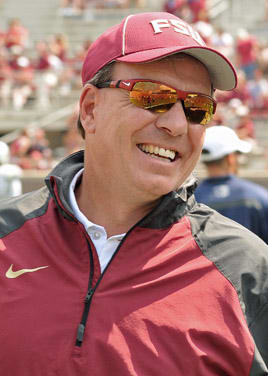 Seminole fans have another reason to be optimisic about the future.
Shortly before the start of the Dec. 7 ACC Championship game it was reported that Fisher had agreed, in principle, to a new contract. That report might have been a bit premature since it took over three weeks to finalize all the details and get the contract signed. With a base salary of over $4.1 million a year, Fisher will become one of the 10 highest paid coaches in college football. The contract is also reportedly very "incentive laden" and is tied to his team's success both on and off the field.
Fisher's overall record at FSU is 44-10, which includes last year's ACC Championship and Orange Bowl victory. But it's his team's performance so far in 2013 that spurred on Florida State to offer a new contract with a substantial bump in salary. The Seminoles just completed the program's fourth ever perfect regular season and wrapped up the team's 14th ACC championship. Fisher and FSU will look to capture the program's third national championship versus Auburn in the BCS National Championship game on Jan. 6 in Pasadena, Calif.
Florida State Athletic Director Stan Wilcox released a statement regarding Fisher's contract Tuesday morning as well.
"We are extremely pleased with the direction of our program and believe that this new contract will assure that Coach Fisher is in place to lead the Seminoles for a long time to come," Wilcox said. "Coach Fisher enjoys the full support of the leadership of the university and we look forward to the continued success of our football program on the field and in the classroom."
Florida State has concluded its pre-bowl practices in Tallahassee and will resume on Jan. 1 at Orange College in Costa Mesa, Calif.